DIT announces FinTech Mission to Canada – April-July 2021
Joe Roche / 30th April 2021
---
We are pleased to share details of the next stage of the FinTech Mission to Canada as part of the Northern Powerhouse FinTech Mission Programme. We are working with Department for International Trade, DIT Canada, the Canada-UK Chamber of Commerce, the High Commission in Canada and the Ontario Trade and Investment Office to deliver this mission.
The mission will be suitable for businesses in FinTech and related areas (InsurTech, RegTech, Open Banking etc).
Northern powerhouse Virtual Trade Mission – FinTech Canada (click for additional info)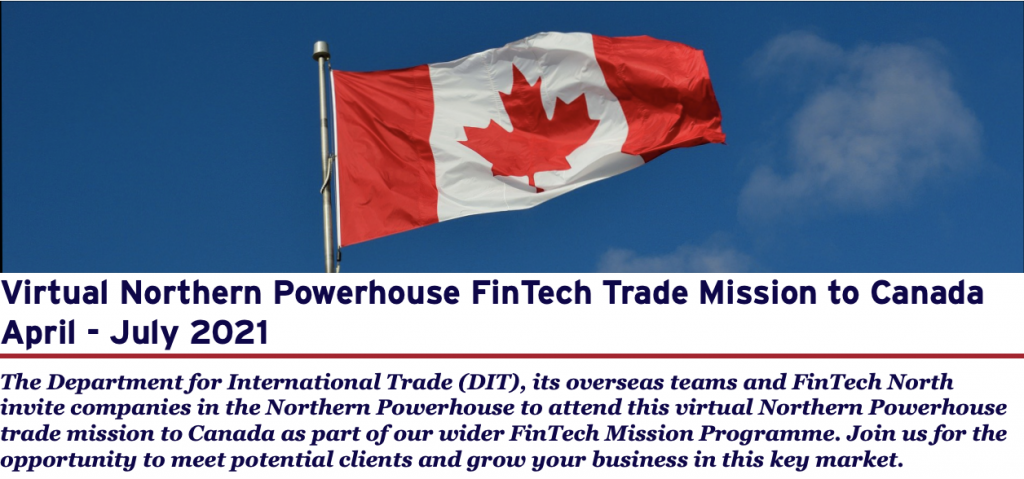 Our FinTech Mission to Canada is designed to help companies in the Northern Powerhouse access the wealth of opportunities in the market, gain introductions to potential clients and partners and gain up-to-date knowledge on key issues relating to international growth in FinTech. This is an exciting mission for companies from the industry wishing to expand their business into an important international market and be part of a key FinTech ecosystem.
Companies who have already registered for the programme can update their booking to express interest in this mission and will not need to re-register.
Click here to register and find out more. 
---
Share this article...