Business opportunity with Deluxe and the DIT – Payments, FraudTech, Data & AI solutions urged to apply by 30th June
FinTech North / 7th June 2022
---
FinTech North has worked extensively with The Department for International Trade (DIT) on FinTech trade missions. On the back of really successful trade activity, we're delighted to introduce yet another opportunity to UK FinTechs in our community.
After a successful January pitching event, the DIT are hosting their second meet-the-buyer event for UK FinTechs which will take place on the 7th of September. The event provides an opportunity for Northern UK FinTechs that specialise in payments, FraudTech, Data and AI Solutions to pitch to tech-enabled finance and business solutions provider, Deluxe. They serve more than four million small businesses and thousands of financial institutions and key enterprises. Companies can now apply for the pitching session, and are urged to do so by the 30th of June.
Companies can choose to participate virtually or in person at the Deluxe FinTech innovation centre in payments hot-spot, Atlanta, Georgia.
Atlanta as a FinTech hub:
Atlanta in the SE US processes 70% of all US payments
Georgia's FinTech players include big companies like Global Payments, Equifax, NCR, Fiserv, Elavon, SunTrust, InComm, Cardlytics, OneTrust, Kabbage and eVestment
The DIT will shortlist the 10 top companies from the applications that will participate on the day. Unsuccessful applicants will still be approached and offered other business opportunities.
Successful applicant companies can expect to:
Grow their network and develop great connections
Learn about Deluxe and their business needs
Generate fantastic business opportunities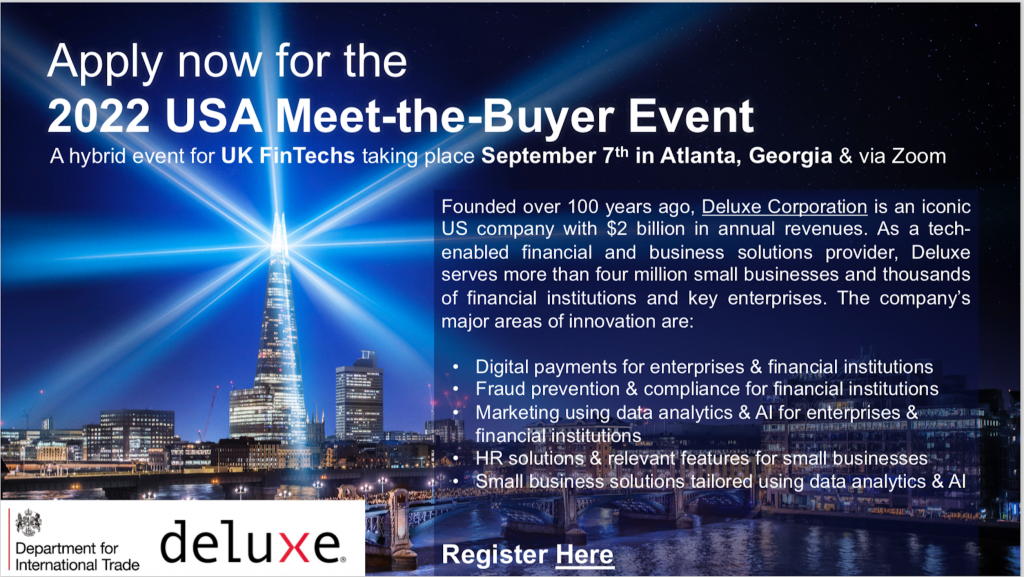 For any queries, please contact Trade & Investment Officer at the DIT, Magda Lowisz (Magda.Lowisz@fcdo.gov.uk).
For more information and to register, follow the link here.
---
Share this article...