Event Round-up: FinTech North Leeds Seminar 1312
Joe Roche / 16th December 2019
---
On Friday 13th December, the FinTech North community gathered for the final event of 2019 at Kirkstall Forge in Leeds.
Julian Wells, Director at Whitecap Consulting and FinTech North, opened the event, welcoming attendees before handing over to Joe Roche, Engagement Manager at FinTech North, who gave an overview of FinTech North in 2019 and a look ahead to plans for 2020. 
Paul Richardson, Assett Manager at CEG and our host for the event, provided some background about Kirkstall Forge, one of Leeds newest business destinations. Paul also gave a sneak preview of Temple, a new office site in Leeds city centre.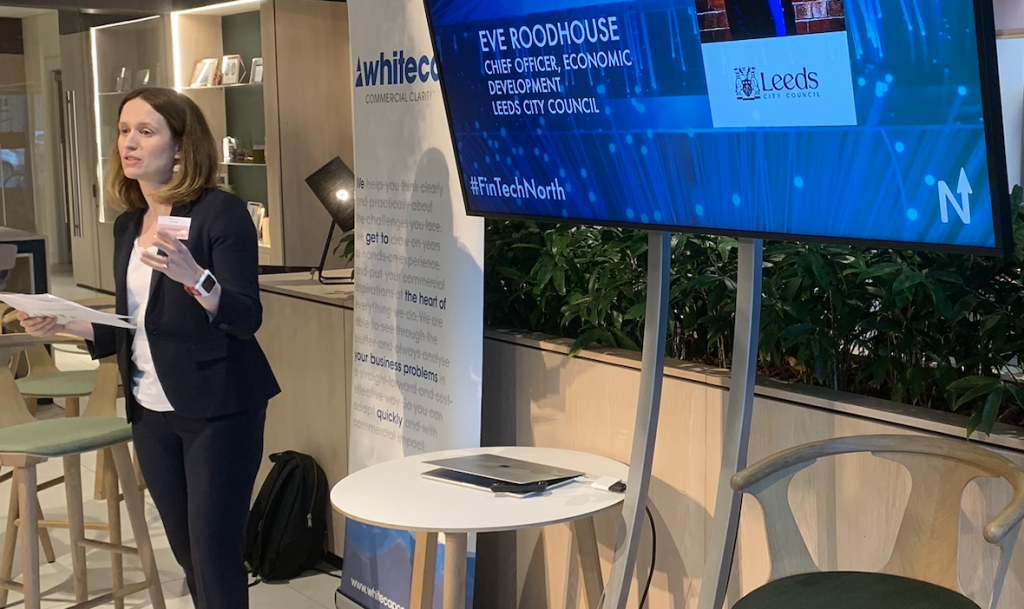 We heard from Eve Roodhouse, Chief Economic Development Officer at Leeds City Council who gave an overview of some of the key digital developments in the Leeds City Region, including outlining the significance of Leeds being the only city in England outside London to have participated in the MIT REAP programme. Eve also added some festive cheer to the event, Eve shared her 12 themes of Christmas which make Leeds a great place to do business. this included the facts that Leeds was the first provincial town to have a stock exchange and is the 2nd largest financial hub in the country.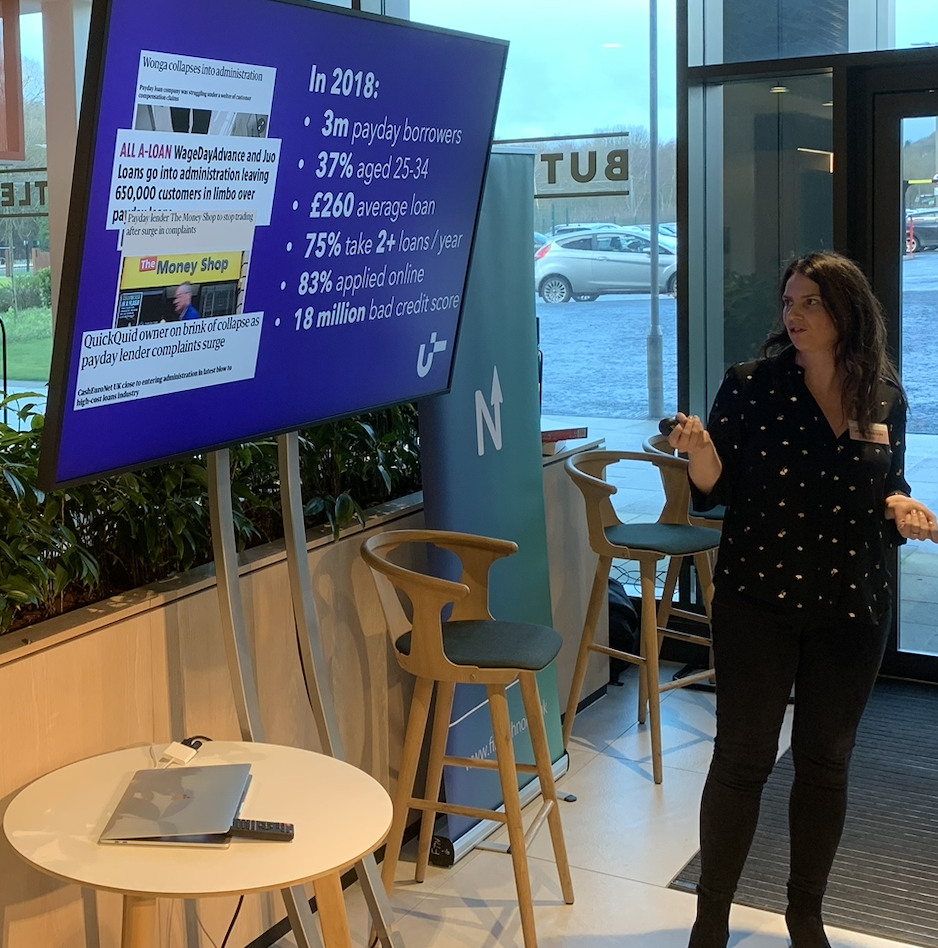 Jen Anderson, CTO of Ilkley-based FinTech incuto, then gave us an overview of how incuto's technology platform helps people who are in debt. incuto are working with credit unions and community lenders to provide a solution to ensure that affordable lending is available to everyone. Incuto's saving club 'Lifesavers' is working in schools with over 3k young savers. Incuto's API platform allows other FInTechs to link into credit unions to allow them to improve access to their services.
Julian Wells, Director of Whitecap Consulting, then provided a preview of the Leeds City Region FinTech Ecosystem Research.
Setting the scene, Julian highlighted some of the key stats about the UK FInTech sector, which adds £6.6bn to the UK economy and at the last count includes 1600 FinTech firms and 76,500 people, with both numbers set to grow substantially by 2030. Over the course of 2019 an increasing focus has been placed on the national sector beyond London, including the formation of the FinTech National Network in April.
The new Whitecap report into the Leeds City Region will be published in January, with the highlights from the preliminary findings including:
• 
120,000 people working in FS & FinTech
•  6,300 people working in FinTech related roles
•  5.3% of UK FinTech GVA
• 
3 of top 5 building societies in the region
• Leeds is the only 
city outside of London where all 3 major credit ref agencies have an office
• 
Technology consulting sector thriving in Leeds, with companies like BJSS and Infinity Works working for numerous FS organisations and creating significant numbers of tech jobs
• 
Lending and outsourced processing is a strong sector, including consumer finance, loans and mortgages
• 
Centre for Financial Technology and Innovation is launching at University of Leeds
• 
Leeds City Region has had 3 of the 19 regional based participants in the FCA Sandbox
Whitecap's report has identified 22 FinTech startups and scaleups in the Leeds City Region, 82% of which have a B2B element tot their proposition (36% have a B2C angle). The average age of founders is 41, with the average age of the firms being 6 years old.
The full report will be published in January.
We then moved on to an interactive audience Q&A with a panel which in addition to the speakers included: Richard Carter, Managing Director of Equiniti Credit Services, Dan Rajkumar, Founder & Managing Director of White Label Crowdfunding and rebuildingsociety, and Michael Peeters, Partner at DAC Beachcroft.
Panel reflections on 2019 report:
"I think it's great news. We are seeing more startups coming through and if you look at where we were years ago, there were FinTech businesses around who didn't know this is what they were. Where we are now we have FinTech North bringing everyone together, and we have spaces like Eagle Labs. We've made a great start but there is still much to be done" Richard Carter
"All the evidence is showing we need investment available outside of London as far as FinTechs go. There's more collaboration going on now, such as the FinTech National Network. We do need more impetus from the public sector" Dan Rajkumar
"Reflecting on the recommendations, this is something we have been thinking a lot about in terms of what interventions we need to make to increase confidence. We are being bullish about our ask" Eve Roodhouse
"It can be difficult but we are finding people who don't want to be working in Leeds or Bradford and those who appreciate walking up on the moor! Lots of London based FinTechs are now looking outside London because they're struggling to get the talent. Having FinTech North and the research really helps them see the community that is up here" Jen Anderson
"I think we will see an increase in graduates staying in Leeds. But we shouldn't fixate on graduates, we are also looking to focus on people who have been out of work, including working on a 'tech returners' scheme which will hopefully improve diversity" Eve Roodhouse 
"The property industry is slow to adopt change, but that change is happening. The landlords have to change the way they deal with tenants to provide for their needs. We feel the picture is changing and we are adapting, offering flexibility" Paul Richardson
"We used to be based in Harrogate, and when you are not in a main city you have to recruit on your strengths. the lack of available talent has been a pain for me for years, but it's something that is in the process of changing and it's going to be great for my kids here" Richard Carter
"London is dominant with regards to startups. The good news is there are a lot of minds being put on this, particularly in terms of things like angel funding. We aren't short of affluent people, but people don't know where to go to access funding, we need to unpick this more" Eve Roodhouse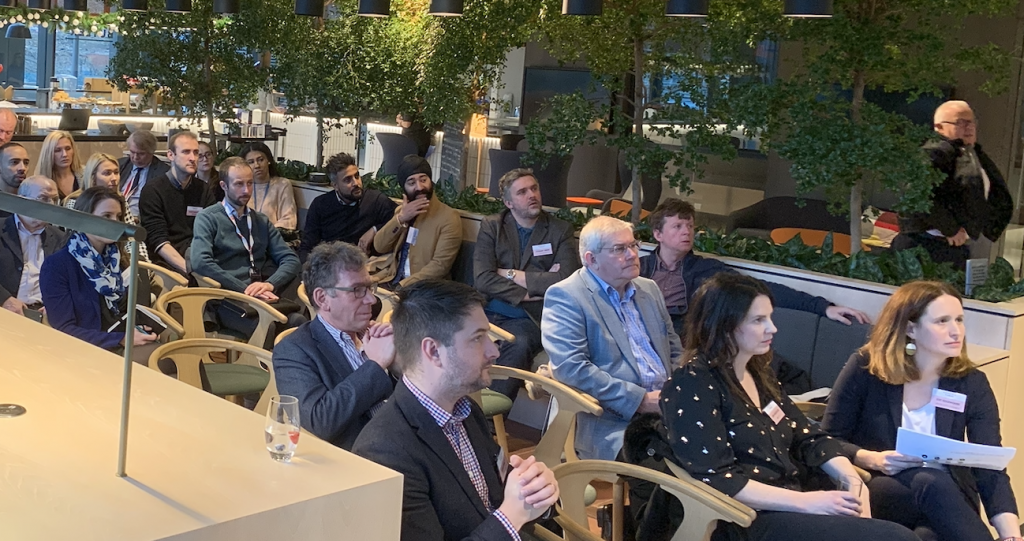 One audience member asked whether the region does enough to market itself, to stop talent going south:
"I can relate to that, in our business we attract a lot of people who start a career in London then when they want to settle down, they move back to Yorkshire. Yes of course we need to do more" Michael Peeters
"Showing the graduates that there are great things going on on your doorstep is key" Dan Rajkumar 
"I think especially in the Tech and Tech for Good space you attract a different sort of person, people who are interested in growing and building something" Jen Anderson 
"Comparitiively speaking we have a lot less money because we don't have an elected mayor, and we don't have a devolution deal. For the amount of money we do have we have been really successful if you think of big announcements such as Channel4, Leeds digital festival, and the Leeds in London events" Eve Roodhouse
---
Share this article...