Event Round: Up – North West International FinTech Showcase 26/11
Joe Roche / 29th November 2019
---
The North West FinTech community welcomed a group of international FinTech visitors on 26th November 2019 as part of a FinTech North event which aimed to showcase opportunities and challenges in the region.
Julian Wells, Director of Whitecap Consulting, kicked off the agenda with an introduction to FinTech North – which was running its 49th event since its inception in 2016.
Chris Sier, Chairman, FinTech North was next up to discuss the growth of FinTech in the north. He highlighted how regions outside of London each have their own strengths in innovation across technology and FS sectors. He also highlighted that the North of England would be the 9th largest economy in Europe.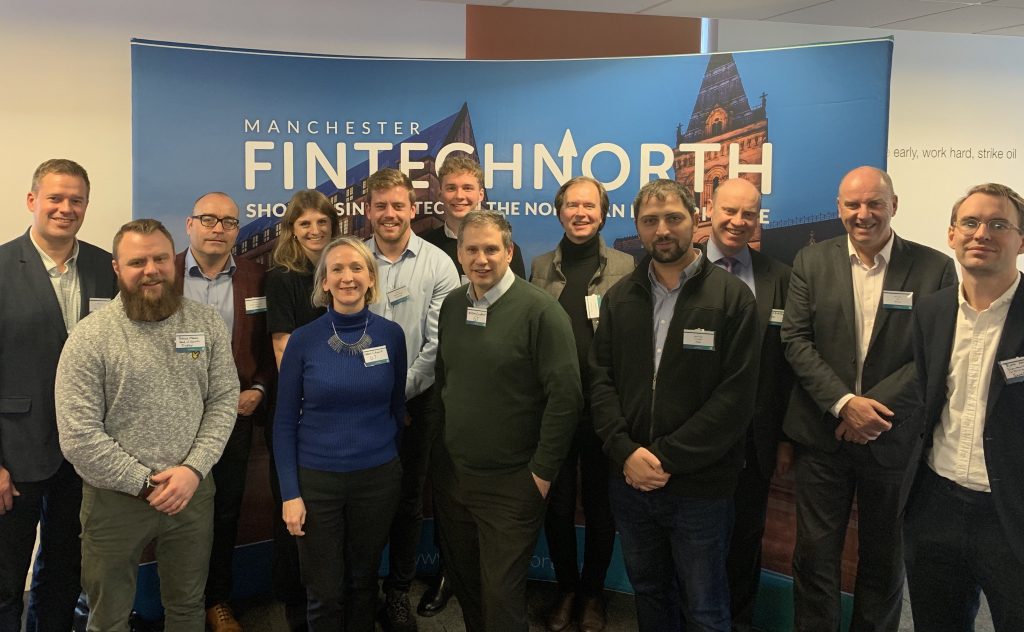 Rachel Eyre, Business Development Manager at Midas, then gave an overview of the Manchester FinTech sector. Midas supports companies who are looking to expand internationally and focusses on driving investment into Manchester.
Ilona Alcock provided an update on the work pro manchester are doing. Pro Manchester are a collaborative organisation focussed on promoting Manchester as a key destination to do business. Pro Manchester run over 180 events per year.
Charlotte Scott, Entrepreneur Coach and Investment Director at North Invest, explained more about the funding and investment landscape in the North of England. North Invest are a not-for-profit who aim to address a lack of funding for early stage startups. Founded in 2017, North Invest facilitate investment deals, provide free advice and host networking events.
Rob Thickett, Digital Policy Officer at Building Societies Association, spoke about the Building Society sector here in the North. Starting with the history of building societies, Rob outlined the community ethos and engagement in the sector, as well as explaining about the evolution that is happening with FinTech adoption.
We then moved onto the International FinTech Showcase.
First up was Patrick Olsson, Head of Partnership Growth at Findity who explained how Findity provide technology to digitise receipts and automate expense management. Findity differentiate themselves by factoring in mileage and allowances and can cover the tax regimes of different countries.
We then heard from Adam Kogan, co-founder of PayMe. PayMe are based in Tel Aviv and have developed a white-label payments and services platform. PayMe services over 250 partners and 40,000 merchants, working with SME's and POS providers.
Fabian Grapengiesser, CEO of StockRepublic was up next. StockRepublic are a Swedish-based open investing platform who rank and rate investors to build a model allowing customers to take guidance from other investors and track investment trends.
Liam Cronin, CEO of RDI Hub, explained the concept of RDI Hub. The RDI hub is a research and development hub in the south west of Ireland. The focus of the RDI hub is to get more investment into the regions outside of Dublin, the hub itself is an research and innovation hub, providing training, education, space, mentoring and incubation.
We heard from Kristo Koppel, Sales Associate at Veriff Inc. Veriff is an online identity verification company that protects businesses and their customers from online identity fraud.  Veriff uses AI to analyse behaviorial and technological variables. Launched in 2015, Veriff services a global portfolio of internet businesses including FinTechs.
After lunch we heard from Phil Stubbs, Product Owner at Barclays. Phil spoke about Barclays Ventures, highlighting some of the innovation that Barclays have driven over the years. Phil spoke about the 'disruptive mandate', examples of partnerships include providing integrated cards to use in football stadia and the Eagle Labs co-working spaces.
Matt Whalley, Head of Delivery at BJSS, spoke about the work BJSS do. BJSS deliver digital transformation, they also provide advisory and consultancy expertise, data insights, AI and analytics. Matt spoke directly to the visiting FinTechs and gave them BJSS's view on how to make a success of entry into the UK market.
Next we had Paul Fryers, Managing Director of Topaz at Computershare. Computershare is a lender and also a platform for mortgage providers. Computershare services the end to end mortgage cycle via a number of platforms. Topaz is a mortgage lending platform, focussing on making the customer and broker journey as frictionless as possible.
Allan Doyle, Partnerships Group Corporate Development at Virgin Money outlined their digital platform, which has 6.4million customers. Virgin Money operates using the iconic Virgin brand, aiming to be purpose-led and disruptive.
Mark Robinson, Client Director at Finch Insurance explained that Finch is a general corporate insurance broker and one of the UK's largest. Finch has a focus on tech and fintech, with an emphasis on quality data modelling which allows Finch to alter insurance premiums throughout the year.
Jamie MacKay, head of innovation at NCC Group, gave an overview of the work NCC do in the Cybersecurity space. NCC are an established global cybersecurity firm headquartered in Manchester, specialising in assurance and escrow services. NCC also provide advisory, consultancy and risk mitigation services to FinTechs around the world.
Lee Stretton, Chief Operating Officer of Raisin then spoke about the Raisin platform. Raisin work with individuals, banks and other partners such as Amazon.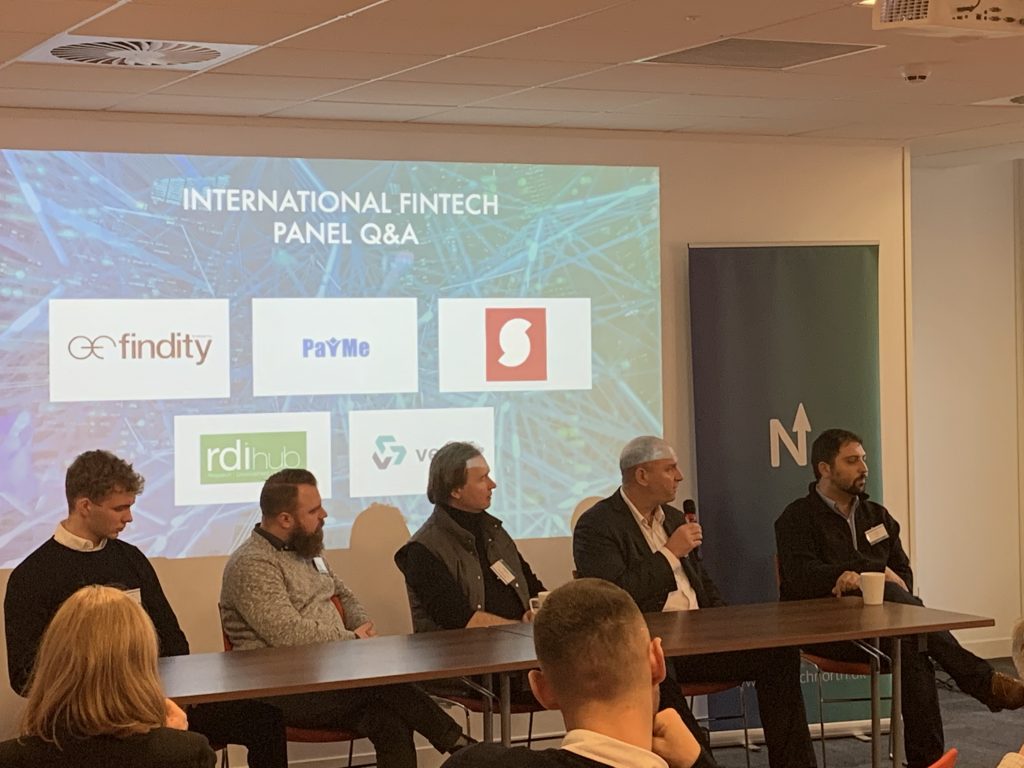 We then broke off into a panel discussion featuring the visiting FinTechs. Chris Sier asked them all for their key takeaway points and the reasons they came to Manchester:
"The key thing for me was seeing how Manchester is collaborating as a region and is succeeding outside of London." – Liam Cronin, CEO, RDI Hub
"From a payments perspective the UK operates as one market so it was key for us to explore all the regions." Adam Kogan, Co Founder, PayMe
 "We are almost working in the open banking space, I was in Germany recently and they are lagging behind in terms of PSD2. In the UK you are ahead which is great for a company like us." Fabian Grapengiesser, CEO, StockRepublic 
"In terms of expense management we have been dominating in Scandinavia so we wanted to expand into the UK market, second it was to find a partner such as a bank. We also needed to find out more about what market players we needed to work with." – Patrick Ollson, Head of Partnerships, Findity
"We were mainly focussed on the US market, even though most of our customers are coming from the UK. The UK has huge potential in FinTech." – Kristo Koppel, Sales Associate, Veriff
"For me this has been eye-opening, I don't see why we wouldn't set up in Manchester." – Fabian Grapengiesser, CEO, StockRepublic
 "It's been great talking to people about the RDI hub and getting feedback."Liam Croinin, CEO, RDI Hub
 "Today was an eye-opener, I'm embarrassed to say we hadn't considered Manchester or Leeds. I think we need to find the right distributors here in the North as the relationships we have in London aren't as effective up here." Adam Kogan, Co Founder, PayMe
---
Share this article...