Event write-up: FinTech Leaders Roundtable, in partnership with Infinity Works
Joe Roche / 23rd February 2021
---
On Tuesday the 23rd February FinTech North gathered together business leaders from both northern FinTech and FS to discuss customer centric service design. The FinTech Leaders Roundtable was hosted in partnership with leading engineering and technology consultancy Infinity Works.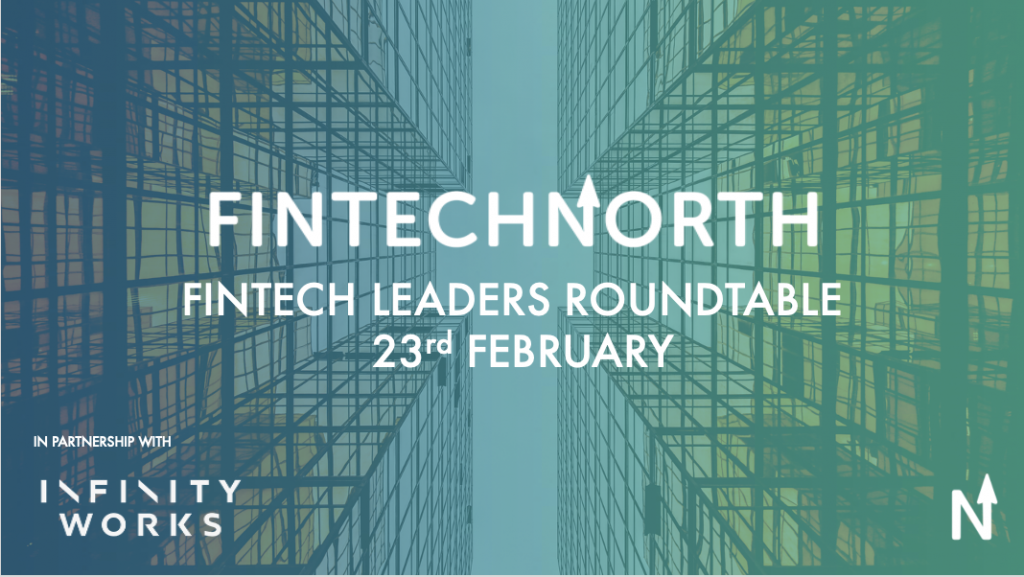 Customer centricity is incredibly important for both challenger FinTechs, such as neobanks, and heritage banks and providers of financial services. It is also supremely important for start-ups, as often there is only one chance to properly engage with potential customers.
The event was chaired by FinTech North chairman Chris Sier. We were joined by CEOs, founders and CTOs of northern FinTechs, regulatory experts at neobanks, payments specialists at heritage banks and digital transformation professionals.
"Two years' worth of Digital Transformation has happened within two months" – Satya Nadella, CEO, Microsoft
Sam Quayle, Head of Design at Infinity Works, got the discussion underway speaking about the pace of innovation and talking us through the journey from the first transatlantic cables, ATM's and credit cards, right through to online and mobile banking and the advent of PSD2 and Open Banking. These developments have fundamentally changed the way customers interact with providers and products.
"Particularly in times of crisis, the customer interactions that people have with providers can trigger an immediate and lingering effect. FS has the opportunity to exceed those expectations, but you can also let your customers down when they're most vulnerable and have the most complex needs." – Sam Quayle, Head of Design, Infinity Works
Sam then spoke about the unintended consequences of innovation. For example faster transactions meaning lower patience in customers, or a decrease in loyalty as it becomes easier to switch providers.
Chris then welcomed Andy Leitch, CTO of thinkmoney, as our next speaker. thinkmoney started out as a telephone-based bank, transitioning into a digital first bank. Andy provided an overview of customer-centricity at thinkmoney. thinkmoney was launched to serve the under-served customer; one of the largest challenges they faced was customers not having access to a bank account.
Andy was able to highlight increased digitalisation of previously digitally averse people as one of the driving factors behind their transformation.
We then opened the discussion out to delegates to provide their perspectives. Themes emerged from the discussion around:
Pace of innovation
Unintended consequences of innovation
CX (Customer Experience)
Covid Pandemic: enforced digital transformation
The attractiveness of neobanks to the consumer
Transition from profit-centricity to customer-centricity
Post-covid: looking ahead to the 'bricks & mortar experience'
The future of FS: almost resembling the past – trust and personalisation becoming key
The balance of customer centricity vs commerciality
Data driving CX: legacy tech limiting this, augmenting
Large transformation projects becoming less common with heritage banks
Regulation vs fraction
Sustainability
Multi-product approaches
"Standing still is risky" – Andy Leitch, CTO, thinkmoney
To find out more about customer centric service design, please contact Infinity Works.
For more information about FinTech North Roundtable events, please contact FinTech North engagement manager Joe Roche (joe@fintechnorth.uk)
---
Share this article...