FinTech North and Lloyds Banking Group conclude Dragon's Den style pitching competitions for regional FinTechs, awarding £50,000 to prize winners
FinTech North / 17th March 1999
---
From November 2022 to April 2023, FinTech North hosted a series of Dragon's Den style pitching competitions in partnership with UK retail banking giant, Lloyds Banking Group, as part of a wider internal initiative.
The pitching workshops were opened up to regional FinTechs whose propositions impact people, planet and purpose. In total, 30 FinTechs were brought together at the Science Museum in Kensington, Central London, across 10 separate evenings, to pitch to a group of 30 senior executive's at Lloyds Banking Group.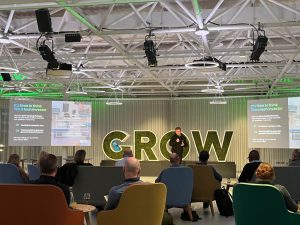 The participating FinTech founders pitched without slides, speaking about their journey as entrepreneurs and how their proposition impacts people, planet and purpose beyond profit. One FinTech from each cohort was then selected by the group of executives to win a prize of £5,000, as recognition for their innovative and impactful work. Congratulations to;
We've now brought the Dragon's Den style pitching competitions to a close. We would like to thank Lloyds Banking Group for their support and for providing a platform for Northern Fintechs to share their journey – ultimately delivering:
The opportunity for 30 regional FinTechs to share their innovative propositions and
The opportunity for c.300 senior executives to learn more about FinTech and regional innovation.
A prize pot of £50,000, split between 10 winners.
We would like to thank all of the participants, whose innovative propositions and inspiring journeys made a lasting impression on the attendees from Lloyds Banking Group, including:
PrinSIX
Locio
Spark EPOS
WealthOS
Inicio.AI
EzPayz
Ekko
BEX
Rupee
Ondato
rebuilding society
Gratuu
PollenPay
Sportfin
RD Vault
CIRCA5000
ScribePay
Kani Payments
Stratiphy
We're certain that this was a valuable experience for all involved, with some long-lasting business connections being made!
"Seeing and hearing the impact purpose-led fintech founders have on friends and colleagues has always been one of the biggest perks of my job. The energy and passion is infectious. Embracing the change that fintech embody is core to success for all in the banking industry. We will be better, the UK will be stronger and we all benefit when we work together. Partnerships and investment in fintech is a catalyst for great change." – Kirsty Rutter, FinTech Investment Director, Lloyds Banking Group
"We know there's superb FinTech innovation going on in the North of England. Showcasing regional innovation is one of our objectives as an organisation, so to be able to bring that to life in these pitching competitions, in partnership with one of the UK's largest banking providers, has been really exciting. Hopefully we've been able to provide a platform to kickstart some flourishing relationships between Lloyds Banking Group and regional FinTechs." – Joe Roche, Engagement Manager, FinTech North
–
FinTech North is an events-led, ecosystem facilitator established to provide a platform to share ideas, celebrate innovation, champion diversity, and share best practice in regional FinTech. The focal point for Northern FinTech, FinTech North occupies a unique position in the ecosystem; working neutrally to promote and support FinTech innovation across the entire North, whilst collaborating nationally as part of the FinTech National Network. In 2023, FinTech North is a community of over 5,000 people that share an active interest in FinTech and Financial Services. 
---
Share this article...