Webinar Review: FinTech North Emerging Vulnerability Webinar
admin / 5th May 2020
---
On Thursday 30th April we held our first webinar, which was delivered in partnership with EQ Credit Services and attracted around 300 sign ups on the subject of Emerging Vulnerability. this was part of Leeds Digital Festival and UK FinTech Week.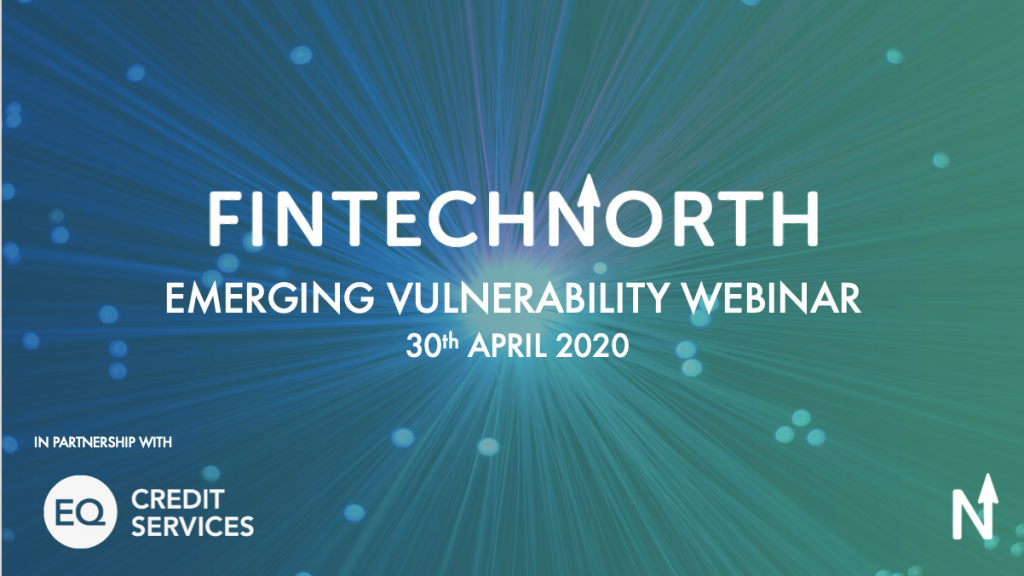 The event was facilitated by Julian Wells of FinTech North & Whitecap Consulting, with guest speakers Richard Carter (Equiniti), David Fletcher (Credit Kudos), Jon Pepper (RSM UK) and Harjit Moore (Freeze Debt).
Richard kicked things off with an overview of the lending market, highlighting some of the issues that mean that the market is set for restart in the same way an F1 race is impacted when the safety car comes out. Lenders were prepared, now things have changed and they need to consider new environment, new measures etc.
Recently there has been an increase in demand from consumers, but lenders have been withdrawing products and the credit risk has fundamentally changed. Future models need to cater for more reactive and immediate data due to Covid. Real time credit data is more important than ever.
How quickly can the market recover to anything like normality? It will be a long recovery and for firms who have not grasped vulnerability, they can expect to be closely monitored. We can expect to see some regulatory fallout.
You can watch the webinar back here.
---
Share this article...