FinTech North Leeds Conference 2023: Write-up
Ryan Walsh / 9th July 2023
---
On Thursday 29th June, the FinTech North community came together for our 7th annual Leeds Conference. The event was hosted at Cloth Hall Court and was supported by our fantastic headline sponsors Leeds Building Society. We were also joined by several wonderful brand sponsors, including Axiologik, TransUnion, Mastercard and Leeds City Council.  
Over 220 people gathered to hear from a stellar line-up of FinTech experts, entrepreneurs and Financial Services thought-leaders. We would like to thank all of our speakers and our brilliant sponsor group for their support; we were overawed at the level on insight shared and we count ourselves lucky to have some of the UK's brightest and best FinTech and Financial Services brands as our partners.  
For those of you who were unable to join us on the day in Leeds, don't fret, you don't have to miss out. We have captured the day via Louis Wilcox' excellent photography and Bradley JP Productions exquisite video recording of all the content.  Check out our photo gallery here, & check out the full recording of the Leeds Conference here. 
For ease, we have added in the timestamp for each speaking segment, which correlates to the video below.
Developments and insight at the event was also picked up by the FinTech press, including The FinTech Times and FinTech Intel.
Joe Roche, Engagement Manager, FinTech North kicked off proceedings, introducing FinTech North and the work that we do in facilitating the Northern FinTech community.
[30:25] Kicking off the first morning session, we heard from Eve Roodhouse, Chief Officer Culture and Economy, Leeds City Council, who discussed her role in the council, recent developments and the collaborative strength of Leeds as a city and region. [43:40] Next, was Stuart Clarke MBE, Festival Director, Leeds Digital Festival who discussed the Leeds Tech ecosystem, the pertaining new tech map and echoed Eve's sentiment – collaboration is key!
[55:50] Our first keynote came from the brilliant Janine Hirt, CEO of Innovate Finance, who joined us to discuss Innovate Finance's role in the ecosystem and the UK FinTech investment landscape.
"The global picture is a very encouraging story. The UK is second only to the US, with $12.5 billion invested into UK FinTech last year."
 "The UK is ahead of other countries because of progressive regulators. We need to ensure that we can continue to move quickly. Other countries are watching and following us." 
Janine went on to discuss how to foster the continued growth of UK FinTech, how FinTech can assist with the cost of living crisis and more Fintech related innovation.
[1:16:37] Ez Britton MBE, CEO of the Centre for Finance, Innovation and Technology was up next to discuss CFIT's coalition-led approach to regional FinTech success. "Collaboration and meaningful connections: that's why we're here."
"The UK has a great reputation as a tech hub, but we need to break down barriers to getting funding." 
Ez pointed out some embarrassing figures as to where investors put their money. In the UK, only 0.2% goes to black founders, and even less to a black women founder.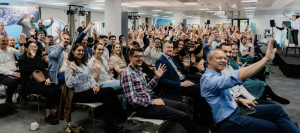 [1:38:00] We also brought together the Northern regions for a panel discussion focussing on Northern FinTech developments. Thanks to Joseph Beaden, Business Development Manager, MIDAS; Danielle Carrington, Sector Champion for Professional and Business Services, Growth Platform; Dawn Dunn, Senior Inward Investment Manager, Invest Newcastle and Katy Raife, Sector Manager, Digital & Creative, WYCA for updating us on developments within their regions.   
"Greater Manchester is aiming to be the UK's first technical education city region – working with industry to outline where skills gaps are & what we need to be teaching the next generation." – Joseph Beaden, Business Development Manager, MIDAS
"A new initiative is coming this summer that will help organisations across public and private sectors & academia come together to power tech for good." – Dawn Dunn, Senior Inward Investment Manager, Invest Newcastle
The panel reflected on how collectively, we're planning to expand the FinTech North campaign. We're building a knowledge platform where companies who want to land in the UK can see what the North has to offer and what the respective specialisms each of our regions offer.
[2:53:00] We then heard fascinating insight about Inclusive Growth with Natasha Jamal, Vice President – Social Impact, Mastercard in her keynote titled "Advancing an inclusive and sustainable economy.". Natasha discussed how FinTechs are helping under-represented entrepreneurs to overcome inequalities and get access to finance.
[03:09:00] Next up, we heard from Matt Shelton, Strategy & Partnerships at headline sponsors, Leeds Building Society, who discussed how they are "putting home ownership within reach of more people, generation after generation" and the importance of purpose and partnerships in Financial Services.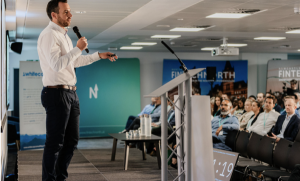 Firstly, Matt discussed the hard-hitting facts about generational home ownership, and how the market has evolved over time.
49% of prospective first time buyers fear they'll never be able to buy.
Home ownership rates are down by a third amongst 23-35 year olds.
974% increase in house prices over the last 40 years.
Additionally, Matt tells us why the "stop eating avocados" mantra doesn't make much sense. A 6% mortgage interest rate today is equal to a 23% mortgage interest rate in 1980!
What are Leeds Building Society doing in FinTech?
First lender in UK to integrate Experian boost – enabling them to say 'yes' to more people.
Gone from 30 days to 30 seconds from application to offer, in period 2016-2022.
One in five LBS staff work in tech or change.
Matt then introduced Ben Leonard, CEO of Life Moments – of whom, have been working in partnership with Leeds Building Society.
[3:32:00] Next up, we heard from Polly Price, Principal Product Consultant and Ben Davison, Director of Axiologik in their keynote, 'A blueprint for a better society – how to build high performance tech teams.'
"Why should businesses invest in tech? Trust the science. It tells us that organisations that are good at digital innovation are twice as likely to exceed goals around profitability and market share."
Closing off the morning session, we heard from Andrew Lloyd, CCO of PEXA [4:04:24] – a FinTech driven to remove barriers to home ownership, who have decided to base their UK headquarters in Leeds and Jayne Sibley, Co-Founder of Sibstar [4:15:01] – sharing a powerful story of building Sibstar based on personal experience with her own parents. The app empowers people with dementia to safely spend their own money. Jayne is also working to debunk the idea that it is dealing with a niche demographic.
[5:18:40] In the afternoon, we hosted a pertinent panel discussion focusing on Inclusion and Accessibility in Financial Services, sponsored by global credit reference agency TransUnion. Speakers on the panel included our chair Neil Harris, Chair of board of directors, The Inclusion Foundation; Lisa Meynell, Head of Sales – Digital Banking, TransUnion; Andrew Rabbit, CEO and Co-Founder, incuto and Elizabeth Reed, Executive Director, JP Morgan.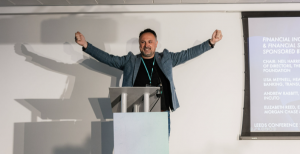 "I want government to be brave and proactively point people to the right place rather than being wishy washy with advice, before those people fall off a financial cliff" – Andrew Rabbit, CEO and Co-Founder, incuto
"1.3 million people in the UK don't have access to a simple current account." – Lisa Meynell, Head of Sales – Digital Banking, TransUnion
"JPMorgan completes a bias assessment for any new operational initiative. They're also very careful with how they use certain data, such as postcode use, from a credit strategy perspective." – Elizabeth Reed, Executive Director, JP Morgan.
"I don't think a Digital Pound makes much difference to you if you don't have a Pound in your pocket" – Andrew Rabbit, CEO and Co-Founder, incuto
We had presentations from Julian Wells focussed on the latest ecosystem analysis of the Leeds City Region [6:15:32] and Joe Roche raising awareness of the FinTech Challenge Leeds [6:29:20].
Finally, we hosted our trademark FinTech showcase, which featured 11 innovative start-ups and scale-ups from across the North and beyond. Our thanks to:
Bruntwood SciTech, Female Founders Incubator – Katherine Megson, Innovation Events & Programmes Manager [7:12:25]
Whitelabel Loyalty – Achille (Ash) Traore, CEO [7:18:20]
Tred – Peter Kirby, Co-Founder [7:25:20]
AnswerPay – Ismail Bhana, Head of Engineering [7:34:45]
Mind Yourself – Jan Smith, Founder [7:41:53]
Exizent – Nick Cousins, Founder and CEO [7:48:16]
Prinsix Technologies – Julian Graham-Rack [7:55:41]
FGC Capital – Sher Khanagha, CEO [8:02:16]
Earthchain – Dan Graf, Founder and CEO [8:08:48]
LiveMoreOffline – Alessandra La Via, Founder [8:16:09]
Snugg – Mike Teall, Co-Founder [8:24:07]
Start up Sherpas – Hugo Pickford-Wardle, Founder [8:31:00]
We'd also like to say a huge thank you to the team at Cloth Hall Court for looking after us. Thanks too to xDesign for their incredible support of our pre-conference get-together.   
See you next time! Get your early birds for our Newcastle Conference whilst you still can by clicking here.
This project was funded by the UK Government through the UK Shared Prosperity Fund. The UK Shared Prosperity Fund is a central pillar of the UK government's Levelling Up agenda and provides £2.6 billion of funding for local investment by March 2025. The Fund aims to improve pride in place and increase life chances across the UK investing in communities and place, supporting local business, and people and skills. For more information, visit https://www.gov.uk/government/publications/uk-shared-prosperity-fund-prospectus
---
Share this article...