FinTech North Newcastle Conference: Re-cap and Re-watch
Ryan Walsh / 19th July 2022
---
On Thursday 14th July, the Northern FinTech Community came together in Central Newcastle for FinTech North's first physical conference in the North-East Since 2019. Over 130 people joined the event in person at the Common Room of the Great North in the old mining and mechanical engineering institute, for what was a resounding celebration of the North East's thriving FinTech ecosystem. We were also joined by many delegates virtually across YouTube and LinkedIn.
We'd like to say a huge thank-you to our speakers and all of the attendees for making the event a success.
The FinTech North Newcastle Conference was hosted in partnership with Invest Newcastle, Kani, Atom bank, Dare Technology and Mastercard.
For those unable to join the event, we have produced a write-up so you can catch up. We're also delighted to share a recording of the full event, which can be viewed below: 
(15:53) Joe Roche, Engagement Manager at FinTech North, opened the conference and welcomed attendees on behalf of FinTech North. Joe explained more about the work FinTech North does across the North, before being joined on stage by Dawn Dunn, Senior Inward Investment Manager (Digital & Tech)  (16:25) at Invest Newcastle. Dawn spoke about the region's strengths and contextualised the conference and partnering with FinTech North with the region's FinTech strategy.
We then heard from Julian Wells, Director at Whitecap Consulting and FinTech North, who welcomed attendees on behalf of both organisations and spoke about the National FinTech landscape. (22:55)
Our next speakers joined the event virtually via a pre-recorded video message. We heard from Chris Sier, Chairman of FinTech North (27:45), and Sir Ron Kalifa, chair of the Kalifa Review into UK FinTech (34:08).  Ron acknowledged the importance of regional clusters and outlined how the Northeast is home to some real FinTech stars.
(40:02) Peter Cunnane, Director of National and International Initiatives at Innovate Finance joined us to provide a UK FinTech Sector Update. Peter exclaimed that "now is the moment to drive forward and consolidate our position as a global leader" – recognising the real potential of the UK FinTech sector internationally.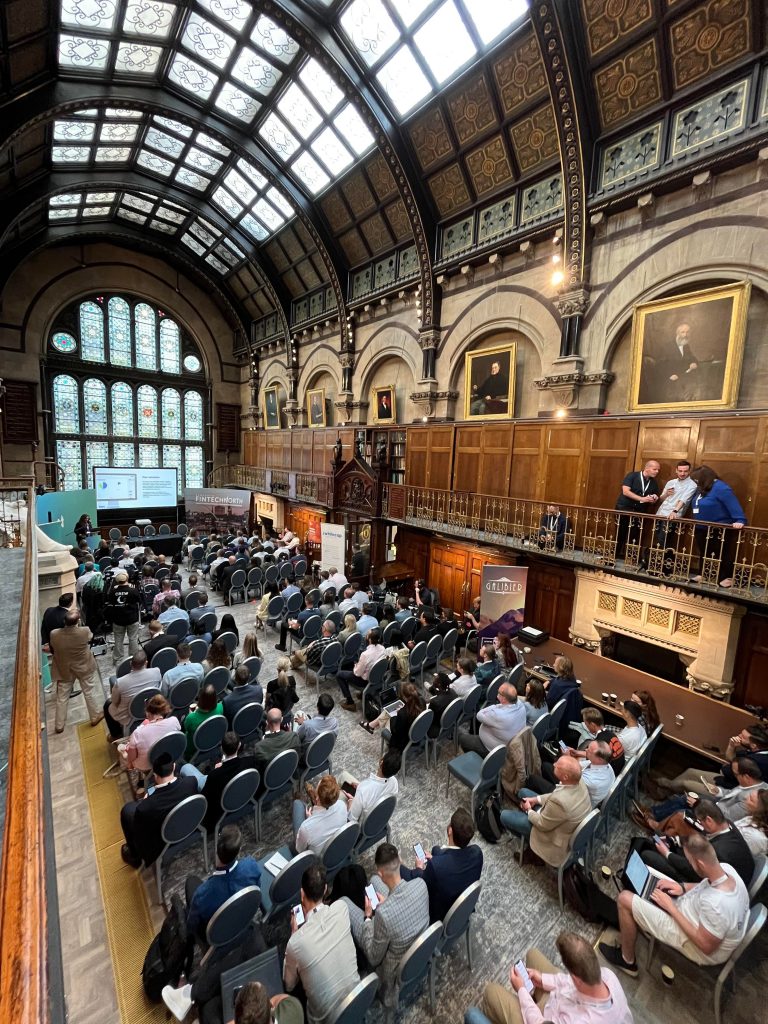 Andy Sturrock, Chief Technologist of Atom Bank and Maria Harris, Director, Digital Cat Consultancy were up next with a fireside chat about scaling a FinTech in the Northeast. They discussed Atom's impressive growth, before exploring the huge potential and growth of the Northeast FinTech ecosystem. (50:54)
Maria Harris exclaims "The NE has a huge pool of home-grown talent. I'm really proud that we're truly contributing to the levelling-up agenda – if you're a kid here and you want a career in tech, you don't have to go to London or the Southeast. It's about unleashing the power of the whole of the UK."
This flowed nicely into a Panel Discussion into Developing UK FinTech chaired by Kevin Telford, Director of Financial Services, Parser with Patrycja Maksymowicz, Chapter Director, North East, Start-up Grind; Kate Patton, Regional Engagement Manager, NorthEast England & Yorkshire, Tech Nation; Paul Lancaster, Senior Consultant – IT / Tech, Nigel Wright Recruitment and Founder, Newcastle Startup Week; Peter Cunnane, Director of National and International Initiatives, Innovate Finance and Melissa Beckett, Chief Marketing Officer, Kani Payments. (1:13:50)
Patrycja reflected on how we can open our doors to fresh talent, "We need to encourage students to join our events and engage with our initiatives to better understand what FinTech really is"
Melissa Beckett, Chief Marketing Officer, Kani Payments added that engaging new talent entails communicating to candidates what the working culture really is; "you can't beat the dynamic start-up culture and that's ground on which companies should compete to attract talent."
After a quick coffee break, we were back with our first of the partner keynotes with Melissa Beckett. She discusses the challenges Kani are addressing; approximately $253 trillion goes through the payments ecosystem and that often comes in different formats and is difficult to interpret. With Kani Payments, complex payment data is made simple. Where it would normally take weeks to reconcile and report on data in an accurate way, with Kani it takes seconds. (2:33:05)
What's next for Kani? They're planning to expand into North America to capitalise on a huge payment's opportunity. Closer to home, they're growing from 26 to 40 employees in the next few months.
Next up, was Karen Elliott, Associate Professor, Newcastle University Business School with her keynote titled FINTRUST, FINCLUSION & THE FUTURE: Theory, Insights & Impact. (2:52:21)
"To hold companies accountable, we need to look at corporate digital responsibility and assess what they do with digital data". Karen states that the Newcastle University Business School has created an ethical toolkit to produce trusted algorithms.
"We're moving to a point where data is a human right."
Our final Keynote speaker before lunch were from sponsors and Cyber Security experts, Dare Technology. Featuring Joe Grant, Supervisor, Jamf & Jamal Issouquaein, System Engineer, DARE Technology. They began by outlining alarming statistics from their report on security threats. (3:21:00) They found;
Malware installations doubled from 2021-2022
7% of work devices were found to be compromised
Remote work has quadrupled in the past decade; coinciding with more sophisticated phishing attacks
Wondering how to mitigate against this?
Your users are remote, so build solutions around this
New devices bring new threats, so adapt
Make sure your solutions aren't turning you into Big Brother
Remembers that end users are your weakest links.
After an hour-long lunch and networking break, we welcomed Julian Wells, Director of Whitecap Consulting; James Thwaites, Associate Director, Whitecap Consulting and Daniel Ryan, Junior Strategy Consultant, Whitecap Consulting; who delivered a research presentation on the North East FinTech Development Strategy. (4:41:50)
Whitecap Consulting, the regional strategy consultancy, is collaborating with key regional stakeholders, across the public, private and higher education sectors on an expansion plan for growth and jobs in the North East FinTech sector. The project follows an independent national strategic review which identified the Newcastle and Durham area as one of the top ten clusters in the UK.
Daniel Ryan presented some analysis from the report and outlined the positive growth of the FinTech Ecosystem in the North East. "We've seen more FinTech activity that we expected. Often the FinTech cluster is somewhat correlated to the strength of the FS workforce. The number of FinTechs we've seen in the North East is now at 41 – which is a number that is still growing."
"The growth we've seen over the last 3 years is amazing – the FinTech workforce has increased by 56% and the proportion of FinTechs headquartered outside the region has seen a 220% increase."
North East FinTech Strategy – 5 MIN SURVEY
Have your say in the new FinTech strategy being developed by Whitecap Consulting, supported by a number of regional stakeholders including FinTech North:
https://www.whitecapconsulting.co.uk/articles/north-east-fintech-strategy-online-survey/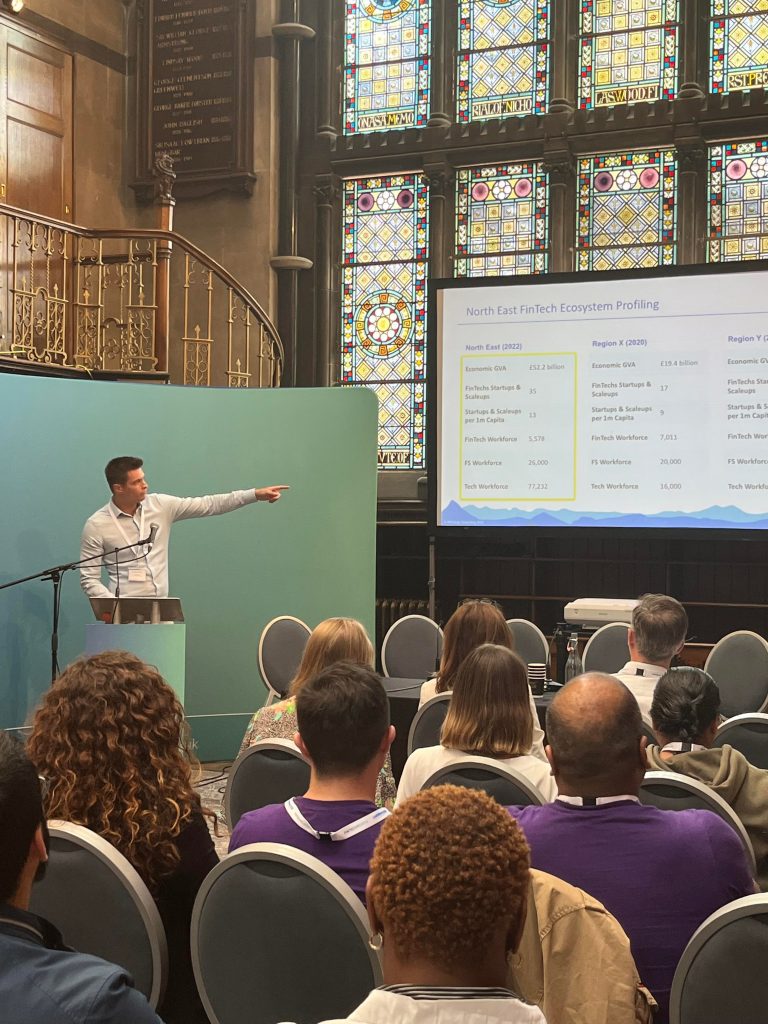 Following this was our second panel on the North East FinTech Development Strategy, chaired by James Thwaites, Associate Director, Whitecap Consulting; featuring, Dawn Dunn, Senior Inward Investment Manager (Digital & Tech) at Invest Newcastle; Dr Karen Elliott, Senior Lecturer / Associate Professor (FinTech), Newcastle University Business School; Manila McLean, Chief Information Officer, Newcastle Strategic Solutions; Rachel Burdis, Inward Investment Manager, Invest North East England; Vincent Robson, Business Development Manager, Business & Enterprise, Northumbria University and Edward Twiddy, Chief Customer Officer, Atom bank. (4:52:40)
"There's definitely a role of the universities to look at what we're teaching and ask ourselves; is this actually what is needed as we move into the digital sector?" – Dr Karen Elliott, Senior Lecturer / Associate Professor (FinTech), Newcastle University Business School
"We are a high quality region, with high-quality people, who deserve to be paid the proper amount." – Edward Twiddy, Chief Customer Officer, Atom bank.
We closed the event with our popular FinTech showcase, which featured 13 companies with FinTech propositions. For more information company/speaker, we have provided a link to their website. We massively encourage you to check them out.
Newcastle Strategic Solutions – Manila Mclean, Chief Information Officer (5:41:32)
SPARK EPoS/ SPARK PAY – Eric Guo, Founder (5:50:30)
Enteruptors – David Jordan, Founder (5:58:40)
The Data Shed – James Mackenzie, Principal Consultant (6:09:30)
NayaOne – Kris Dickinson, Director, Financial Services (6:18:13)
Sportfin – Siddesh Iyer, Founder & CEO (6:29:00)
North East ROCU – Paddy O'Keefe, Detective Sergeant (6:38:05)
Mastercard – Josh Berle, Business Development Director – Social Purpose FinTech (6:50:15)
Dialect – Laura Scott, Chief Operating Officer (7:03:10)
WealthOS – Anton Padmasiri, CEO & Co-Founder and Shri Krishnansen, CCO (7:13:20)
Brewin Dolphin – Gareth Johnson, Head of Digital Channels (7:35:30)
SAGE – Ceara Metcalf, Head of Product for HR & Payroll (7:23:45)
Life Moments – Leah Annett, Impact & Growth Lead (7:47:00)
Joe Roche and Julian Wells brought the event to a close and invited guests to the drink's reception for some more networking.
The FinTech North Newcastle Conference was hosted in partnership with Invest Newcastle, Kani Payments, Atom Bank, Dare Technology and Mastercard.
---
Share this article...