FinTech North Partner EY launches Newcastle Digital Labs
Ryan Walsh / 26th June 2023
---
Professional services firm and FinTech North Partner EY has launched Newcastle Digital Labs, a delivery hub that facilitates technology-enabled transformation and end-to-end digital services across a range of sectors and accounts for clients.
The hub is made up of a multi-disciplinary team, equipped with wide-ranging domain knowledge and strong experience in financial services and FinTech.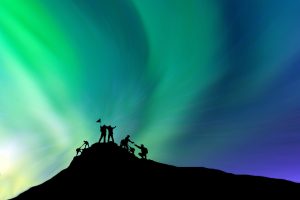 EY's Newcastle Digital Labs will focus on the region's growth strategy for the next three years, with objectives to:
Support the digital skills gap, creating industry-aligned jobs in the North East.
Operate a collaborative FinTech hub that supports sustainable growth for small, medium and large organisations in the region.
Foster regional, national and international connectivity, using the history and profile of EY.
With the North already boasting a strong FinTech footprint and a track record of attracting world-leading businesses to the region, the EY Newcastle Digital Labs team will focus on the continued development of the North East as an exciting place for FinTech to grow and prosper.
Michelle Crosby joined EY in August 2022 as the Director of Newcastle Digital Labs. Prior to this, she ran an application service line for DXC Technology, leading a digital workforce of over 2,000 people. Michelle believes the FinTech North and Newcastle Digital Labs collaboration represents an exciting opportunity for EY to address digital skills gaps locally and nationally.
She said: "We're delighted to be launching EY's Newcastle Digital Labs in collaboration with FinTech North. We're committed to closing the digital skills gap in the North East, helping to upskill the workforce across the region and deliver increasing employment prospects. We also want to support North East businesses as they explore the potential of digital technologies and capabilities."
"This launch is the latest in a series of investments EY has made in the FinTech sector in response to growing market demand, and we're relishing the chance to build on opportunities to support the development of FinTech expertise in the North East."
EY's work with FinTech North will align with industry demands for transformation, data analytics and engineering, providing FinTech capabilities to support and enhance businesses across the UK.
If you would like to learn more about EY's Newcastle Digital Labs, please contact Michelle Crosby (Michelle.Crosby@uk.ey.com) or Joe Roche, Engagement Manager, FinTech North (joe@fintechnorth.uk) for more information.
---
Share this article...