FinTech North partners with TISAtech to open up opportunities for Northern FinTechs
Joe Roche / 27th August 2021
---
FinTech North is delighted to announce a partnership with TISAtech aimed at opening up business development opportunities for Northern FinTechs to engage with established financial services organisations.
TISAtech is a global digital platform that connects FinTechs with financial services firms, predominately banks, insurers, retail platforms and asset managers to provide solutions to issues such as outdated legacy systems.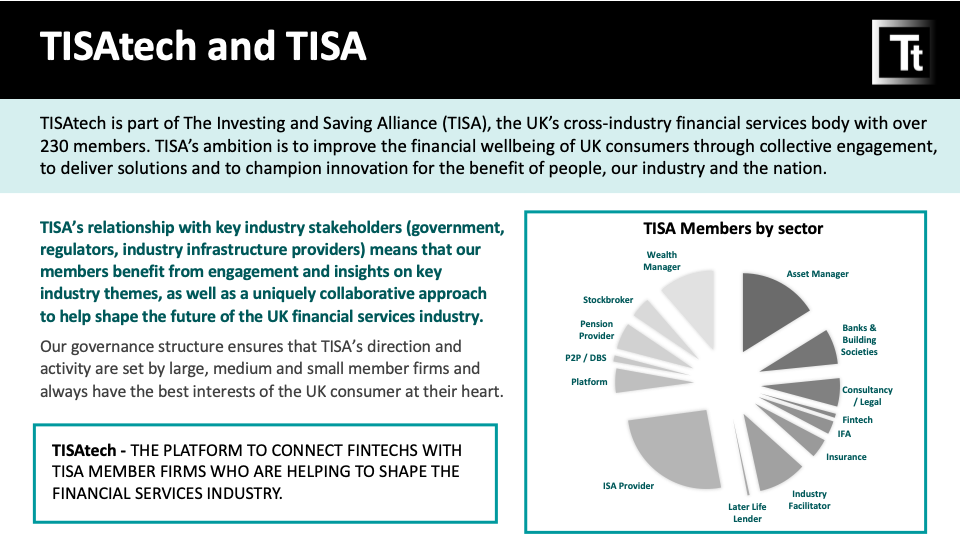 FinTech North helps build and sustain a dedicated FinTech community across the Northern Powerhouse, bringing together a community of over 4000 people who are interested in and work in FinTech in the North, through virtual and face to face events and related activity.
Gary Bond, CEO of TISAtech, said: "Our goal at TISAtech is ambitious. We want to change the way the entire financial services sector operates so that FinTechs can thrive and drive growth. Ambitious FinTechs are at the forefront of financial services innovation and, as an industry initiative, we are determined to help the FinTech sector achieve its full potential.
TISAtech's, FinTech Club, will allow the FinTechs to build their business using a host of recommended partners, who all offer free or discounted value add whether you are Seed or Series D and above. Our collaborative alliance to help grow the FinTech sector in key regional growth hubs across Europe, the Middle East and Asia."
Julian Wells, Director at FinTech North said; "We are delighted to be partnering with TISAtech, which is an innovative digital market place connecting FinTechs and Financial Institutions. We look forward to working with the TISAtech team and helping them continue to raise awareness of the many FinTech opportunities and developments they are involved in."
As part of a year long partnership, TISAtech will support activity that assists in developing the ecosystems and growing FinTechs in the North, including identifying overseas opportunities for Northern FinTechs and promoting TISAtech activity that is of value to Northern FinTechs.
FinTech North will also be represented on TISAtech's advisory board, which is a collegiate body with a vision to 'facilitate the accelerated partnering and adoption of transformational digital solutions across the financial services industry'.
At the first meeting in July, the TISAtech Advisory Board adopted seven key problem statements out of an initial 100 proposals) to focus its efforts on, ranging from a platform to support the most vulnerable manage money during the pandemic, to accurate and standardised ESG reporting to automating insurance claim procedures.
1. Leverage government authentication infrastructure for people identification (digital ID).
2. Embed tech to encourage investors and retail consumers to make sustainability considerations in investments or consumption.
3. A solution with data and technology that regulated firms are embedding ESG into their investment processes
4. A technology that automates the insurance claim procedures. Benefiting in lessening filing time, speedier reimbursements, and reduced fraud
5. A new approach to understand consumer requirements and provide better and real-time financial advice.
6. A solution with technology to help regulators determine the key areas and data points to consider as part of their methodology for designing a robust, reliable and accurate sustainable investment label so that consumers can better understand their choices and compare the ESG characteristics of different financial products/providers.
7. A platform to help the most vulnerable people – mental health and/or low-income families – to manage their money better during a pandemic or global crisis.
Northern FinTechs interested in finding out more about getting involved with TISAtech can register for free and attend the launch of the FinTech Club, where TISAtech will elaborate on the benefits and reasons to join the Global FinTech Market Network of TISAtech.
The open event runs from 09:00am-11:00am on Thursday 23rd September. Click here for registration and additional info.
---
Share this article...