FinTech North returns to Manchester to celebrate the city's thriving FinTech ecosystem
Ryan Walsh / 6th November 2023
---
FinTech North will make its anticipated return to Manchester for its sixth annual conference on Tuesday 14 November, with the event celebrating the best of FinTech in the city region. The event returns at a milestone moment in Greater Manchester's FinTech story, with the sector on track to surpass £1bn in regional economic value by the end of this year, according to research by Whitecap Consulting.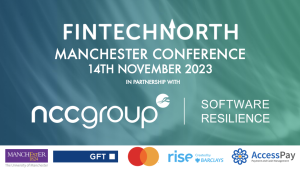 Hosted at the University of Manchester's historic Whitworth Hall, the line-up includes sector leaders and FinTech up-and-comers from sectors including payments, cyber security, AI, and data.
The FinTech sector in Greater Manchester is now one of the largest and most vibrant ecosystems outside of London, employing 10,000 people. Those in attendance will gain unparalleled access into the catalysts behind this growth and the future opportunities it presents.
The conference will focus heavily on the theme of "Trust in FinTech and Financial Services", with headline sponsor NCC Group Software Resilience delivering a keynote and panel session on the topic.
Sessions throughout the day will focus on the regulatory landscape, operational resilience, cyber security, green finance, financial inclusion and more.
In addition to NCC Group Software Resilience, delegates will hear keynotes speeches from Innovate Finance, the Centre for Finance, Innovation and Technology (CFIT), and Rise, Barclays' new FinTech academy. Max Lambertson, Economist at Mastercard, will also return to the conference to deliver a keynote on macro-economic trends, following his hugely popular session last year.
The conference will feature the classic FinTech showcase session, seeing FinTech start-ups from the region participate in a quick-fire pitching exercise. This year's showcase will feature 15 FinTech firms, including local firms green digital bank Tandem, software solutions provider Elando, and payment experts Sticky.
The hybrid event is gaining momentum, with a growing number of over 250 attendees expected to join both in person and virtually.
Chris Sier, FinTech North Chairman, comments:
"Greater Manchester is undoubtedly one of the leading lights for FinTech nationally, so we're excited to be back to provide a platform for the region to tell the story of its incredible growth and scale. The city region is a hotbed for start-ups and I'm particularly looking forward to hearing from some of the emerging FinTechs about how they're carving out a name for themselves in the sector."
Andrew Lemonofides, Global Managing Director at NCC Group Software Resilience, adds:
"Being headquartered in Manchester, we understand the importance of celebrating the breadth of talent on offer in the Northern powerhouse, so we're delighted to be lead sponsors of this year's FinTech North Manchester conference."
"I'm proud to say that at NCC Group Software Resilience, we're at the forefront of making businesses more operationally resilient and enabling Fintech's and software vendors of all sizes to complement the business continuity plans of their customers. Maintaining trust is critical in every sector, particularly in financial services, so I'm excited to see the wider FinTech community discussing how they can continue to build trust for customers".
FinTech North Manchester is proudly supported by NCC Group Software Resilience, Mastercard, Rise created by Barclays, AccessPay, GFT and the University of Manchester.
The Manchester agenda and registration page can be accessed here. Attendance is free for students and virtual delegates.
---
Share this article...