FinTech North set to close record-breaking 2023 on a high with sixth-annual Manchester Conference this November 14th
Ryan Walsh / 21st September 2023
---
It's no secret that Greater Manchester's FinTech scene is evolving at an unprecedented pace. We've seen the size of the sector double in the last 3 years and witnessed its establishment as one of the largest FinTech hubs outside of London. Armed with the relentless spirit of innovation that defines this region, FinTech North is set to close a record-breaking 2023 on a high with our sixth-annual Manchester Conference, this November 14th!
With a relentless commitment to nurturing innovation, fostering collaboration and propelling the FinTech sector forward, we'll be bringing our passionate community together once more to celebrate FinTech excellence in the North of England. We can't wait to cover a comprehensive and insightful glimpse into the intricate tapestry of FinTech, with Manchester's scene taking the spotlight.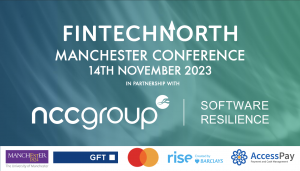 We're delighted to announce global leading software resilience specialists, NCC Group Software Resilience as headline sponsors, whose expertise will bolster a key theme of the event; Trust in FinTech and Financial Services.
Trust in FinTech and Financial Services is a recurring topic of interest in our community, and one that we've wanted to cover in detail for a while. We'll be exploring this through multiple perspectives, including Consumer Duty, vulnerability, operational resilience, cyber-security and the role of AI.
This theme will come to light with a in-depth keynote from NCC Group Software Resilience and a panel discussion centred around regulation policy Consumer Duty.
We're ecstatic to be making our return to The University of Manchester's iconic Whitworth Hall. For those who have joined us at our previous Manchester Conferences, you'll know how magical a venue it is – we can't wait to hear a group of FinTech wizards share their spellbinding expertise, spanning from national developments to regional FinTech excellence.
Keynotes and insight from Mastercard, GFT Group, Rise, Created by Barclays, CFIT, AccessPay, Innovate Finance and more are on the agenda, as we explore themes such as green finance, payments, EDI, regulation and regional FinTech innovation.
Global digital transformation specialists GFT Group are set to deliver a thought-leading keynote on banking disruption.
Anish Kapoor, Chief Executive Officer of Manchester based embedded banking and leading-edge solutions specialists, AccessPay will grace the stage with a shrewd keynote
FinTech North strategic partners Mastercard will bring the heat with an in-depth keynote discussing the macro-economic environment and what that means for the FinTech Sector, delivered by Europe Economist, Max Lambertson. Max previously delivered a tour de force virtual keynote at last years Manchester Conference 2023 and we're delighted to feature him again – this time in person!
We're also thrilled to have the backing of leading global FinTech incubator, Rise, created by Barclays.
We'll feature a panel discussion on pertinent topic Green Finance, starring one of the UK's original challenger banks – Blackpool based Tandem Bank and providers of the UK's first ever green debit card, Tred.
We'll be returning with our popular FinTech showcase segment, where we'll feature some of Greater Manchester's brightest minds and boldest innovators in a fast-paced pitching environment.
Tickets for the Manchester Conference 2023 can be purchased here for the early-bird rate of £59.99, which is on sale until the end of October. General admission tickets are £99.99. Attendees can expect a breakfast, lunch, refreshments and unparalleled networking opportunities across the day. To claim your spot, click the link here.
For those unable to join us on the day, we will be providing a free virtual ticket so attendees can join via live stream from anywhere in the world.
For any speaker or sponsor enquiries, please contact FinTech North via email at info@fintechnorth.uk
---
Share this article...