FinTech North to support 2022 Investment Series by FinTech Alliance x DIT
Joe Roche / 19th January 2022
---
FinTech Alliance has announced its third annual Investment Series, with signups now open for FinTechs and investors to take part.
The series has a nationwide focus in partnership with the UK's regional hubs.
It will help companies at Seed and Series A raise capital and meet investors.
Angel and VC investors will be able to find and support new, innovative FinTechs.
Signups are open now and will close on 30 March 2022.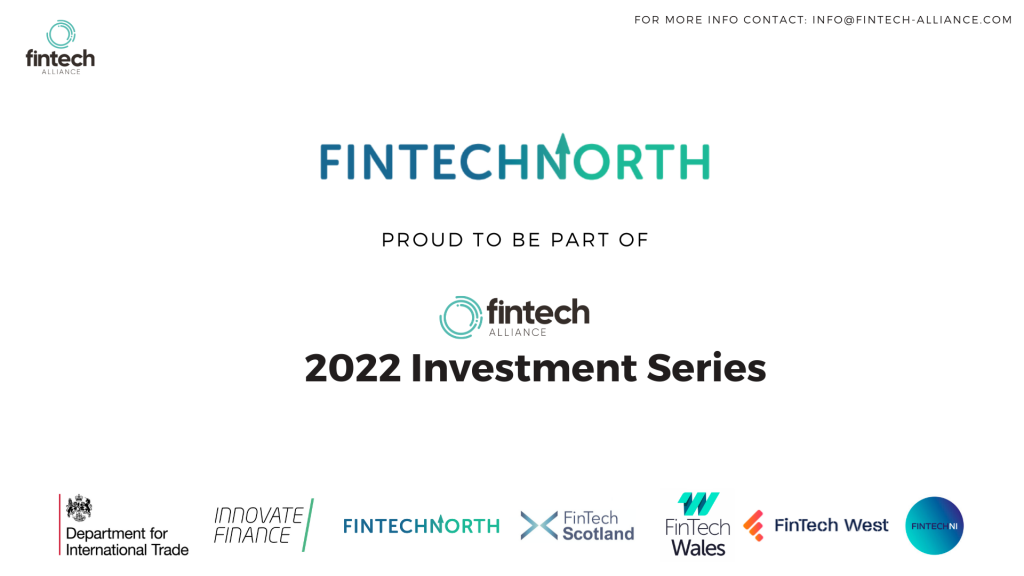 Access to capital remains a challenge for FinTechs looking to grow across the UK – and this year's Kalifa Review acknowledged that a major funding gap exists, especially when FinTechs outgrow friends and family or angel investment but are not yet ready for traditional private equity.
Moreover, a key part of the Government's policy as the UK seeks to build back better form the Covid-19 pandemic will be levelling up each and every region in the UK – and FinTech investment will play a huge part in that.
FinTech Alliance has announced it will run an Investment Series from April-June 2022, which will support companies at each stage of their investment journey. Signups for FinTechs, Angel investors and VCs raising or investing at Seed or Series A are now open.
FinTechs that are not currently raising are also invited to take part to learn from experts on pitching, negotiation and more – those that are seeking investment will have the chance to take part in a pitch day in front of key investors.
Previous series have boasted hundreds of FinTechs and investors, some of which went on to sign deals or gained valuable feedback.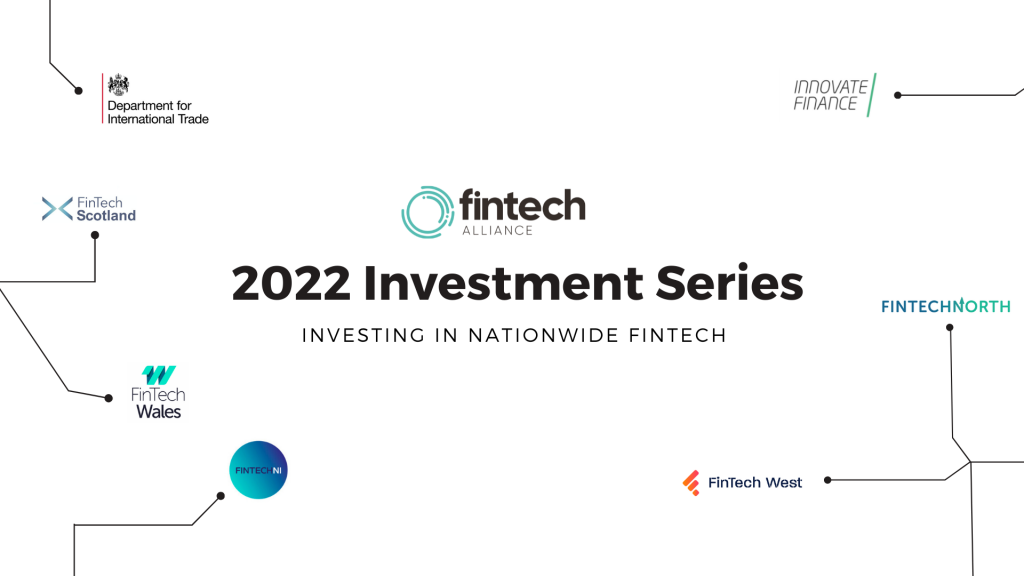 This year, the series will have a hybrid approach and is set to travel around the entire UK to find the widest selection of FinTechs yet, and highlight the unique qualities of various hubs, clusters and regions. It will then bring a plethora of resources to each FinTech including education, networking and feedback.
Run by FinTech Alliance and the Department for International Trade, the series is supported by Innovate Finance, Fintech North, FinTech Wales, FinTech Scotland, FinTech Northern Ireland and FinTech West – with many more partners to be announced.
Signups for FinTechs and investors close on 30 March.
In joining the series, FinTechs can:
  Use the FinTech alliance platform for the duration, including the regulated Investment Hub.
  Build their pitch deck with advice from FinTech leaders.
  Network with high profile investors.
 Learn from a series of hybrid workshops on pitching, negotiating deals and more.
Investors can:
  Use the FinTech Alliance platform to find and invest in the latest innovative UK FinTechs, including the regulated Investment Hub.
  Review pitch decks and meet founders during organised networking.
  Meet potential Limited Partners and co-investors in the FinTech ecosystem.
FinTechs can sign up here. 
Investors can sign up here. 
More information is available by emailing info@fintech-alliance.com.
Phil Vidler, CEO of FinTech Alliance, said:
"We're delighted to announce our Investment Series for a third year in a row – it will be bigger and better than ever, with a hybrid approach and renewed commitment to finding innovative FinTechs in every corner of the UK.
"Access to capital remains a challenge for FinTechs across the UK. Whether it's Founders having to learn on the job how to pitch and negotiate, or simply not having connections with the right investors, we have recognised these problems especially at Seed and Series A level, and hope to resolve them through the series – which last year saw some significant investment as well as invaluable learning and feedback for founders.
"In every region of the UK there are unique qualities and we're seeing huge innovation in all areas of FinTech from artificial intelligence and cryptocurrency, to payments and SME banking. A commitment to FinTech growth will be vital in levelling up the economy as we build back better after the Covid-19 pandemic.
"It's my hope that we can bring the latest ideas to investors, while platforming up-and-coming FinTechs and preparing them to make the most out of these opportunities."
Press contact: Olivia Minnock, Editor at FinTech Alliance: olivia@fintech-alliance.com
About FinTech Alliance:
FinTech Alliance, in partnership with the UK Government, is a multifaceted digital engagement platform that brings the global FinTech ecosystem together to explore, engage and do business. This will be the first ever, community-driven platform for the whole FinTech industry, where all the profits made will be reinvested back into the FinTech sector, providing a fully inclusive environment to support FinTech growth and empower UK business with comprehensive information, services, and intelligence.
The Department for International Trade (DIT) helps businesses export, drives inward and outward investment, negotiates market access and trade deals, and champions free trade.
Website: https://www.gov.uk/government/organisations/department-for-international- trade?utm_source=DIT&utm_medium=shorturl&utm_campaign=DIT-shorturl
---
Share this article...