FinTech x Gamification: Re-Cap and Re-Watch
FinTech North / 13th October 2022
---
On Thursday the 13th of October, FinTech North and event partners DTM Legal and 300Brains, welcomed the FinTech North community to Barclays Eagle Labs and Avenue HQ's state of the art 'The Lobby' facility in Liverpool for a thought-leading afternoon seminar, exploring the links between FinTech and Gamification.  The event saw over 50 attendees in the room and across the livestream, for what was a celebration and rallying cry for the inevitable crossover of FinTech and Gaming!
Firstly, we'd like to say a huge thank-you to all of our engaging speakers who made the event a special one. There was some amazing insight and expert opinion provided. It really felt like a trailblazing discussion, as we being to navigate the vast world of FinTech and gamification. We could have been there all evening to discuss the endless possibilities of where gamification can take us!
Another huge thanks to our event sponsors, DTM Legal and 300Brains for supporting and shaping the event.
For those unable to join us on the day, we have produced a write up of the event. This article also includes a full recording of the event, courtesy of Barclays Eagle Labs. To view the full recording, click the embedded link below. To read our write-up, continue scrolling:
FINTECH X GAMIFICATION WRITE UP
We kicked off proceedings with Joe Roche, Engagement Manager at FinTech North, who welcomed the Northern FinTech and gaming community, before introducing FinTech North and the work we do in facilitating the development of the Northern FinTech sector. Siobhan Crinson, Operations Manager at Avenue HQ, briefly joined us to introduce the amazing co-working space.
Our first speakers were Kate Roberts, Partner and Head of Liverpool Office & Alison Brennan, Partner & Head of Compliance and Service Delivery at DTM Legal – our event partners. Kate brilliantly introduced the Northwest law firm, the work they're doing in the FinTech sector and endorsed the strength of Northern talent.
"We have the talent here in the Northwest to service FinTechs needs. We want to grow the ecosystem here, but when we ask them where they get their professional services from – lots will still go down to London! We've got the talent, expertise, and services here, you don't need to look down South!"
Kate linked back to gamification and told of the high potential of FinTechs operating with a gamified proposition. "There are real opportunities for FinTechs to get that investment. What FinTechs need to do is be able to withstand these legal and regulatory headwinds. At DTM, we're here and we're able to do just that."
Alison Brennan, Partner and Head of Compliance and Service Delivery followed Kate from the DTM contingent and highlighted key points that every business should bear in mind in the hunt for investment and growth. This included:
Ownership, management, and structure of your business – "Knowing it in your head is not the same as documenting it and implementing it."
Intellectual Property – "All businesses have intellectual property – and it's really important to protect this. You need to know it, understand it, and make sure you know how to protect it. It's of great interest to investors."
Employees – "Employees who work for your business, can, and should be, your greatest asset. Gamification could be a game-changer for employment."
Supply chains – "Ensure you put together a strong due diligence, this minimises the chance of disputes later down the line."
We thank Kate, Alison, and Richard from DTM Legal for their support, for setting the scene brilliantly and providing superb insight into the UK Investment market.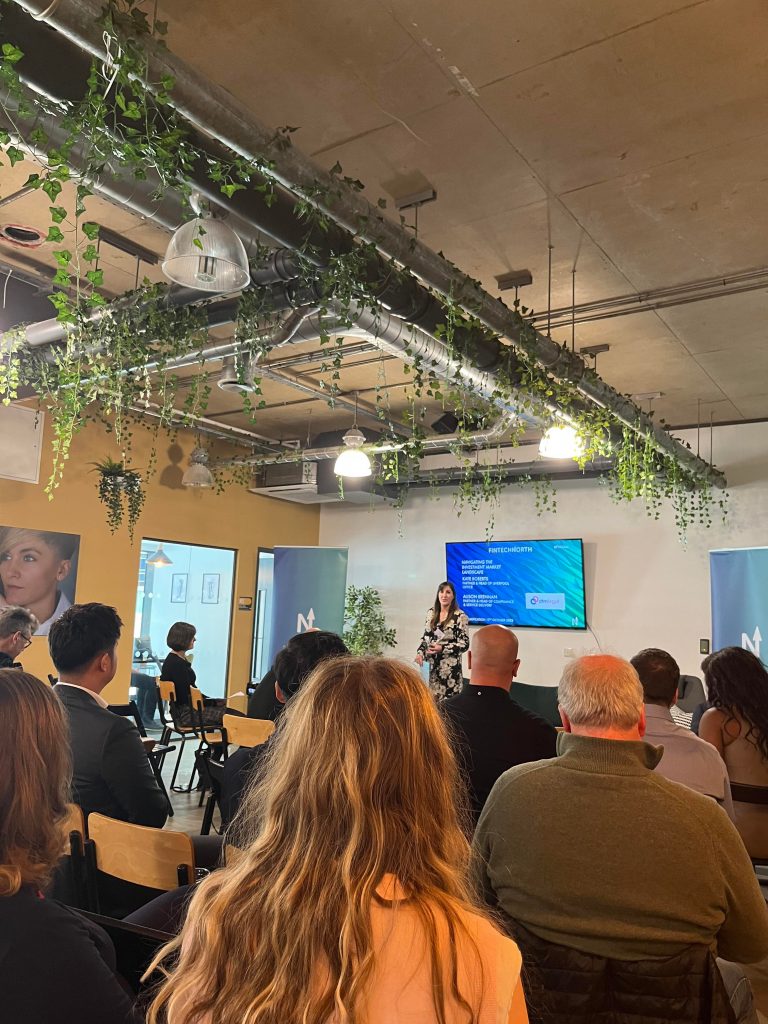 Next up, was Dave Martin, COO of British esports. Dave introduced esports to the room. "All esports are human vs human, across a wide range of titles. It can be played anywhere between a bedroom to a fully sold-out stadium.". Dave acknowledged that professional players are incredibly good at what they do, and subsequently, bring in huge audiences. He demonstrated the incredible, yet oddly unbeknownst to many, size of the industry:
Twitch users watched 1.5 trillion hours of streams in 2021
Over 62 million hours of streams are watched daily on Twitch
Twitch was bought by Amazon for $970 million
Twitch accounted for 76% of streamed gaming content in Q1 2022.
League of Legends 2021 world championship – 73 million peak concurrent viewers
The International 2021 – $40,018,400 prize pool
Dave highlighted the huge audience growth, value drivers in the industry, esports revenue streams and the depth of the esports industry.
"There are a lot of intrinsic rewards that come through esports. During the pandemic, lots of things stopped, connections between human beings stopped. Esports continued – we could do that online. We could allow them to connect and allow them to communicate."
"What esports does, in a very similar way to sports, is teaches you teamwork, resilience, communication and strategic thinking – we're huge advocates for it."
"It isn't just the players – there's a whole ecosystem that revolves around it. There is business learning contextualised around esports. There are many careers in tech, digital and stem industries, academic links as well as the more overt roles in esports."
Dave closed his segment by sharing how the British esports are looking into ways to prevent toxicity in the space, encourage more UK "world champions" and facilitating young people with an interest in gaming and esports to build and join communities.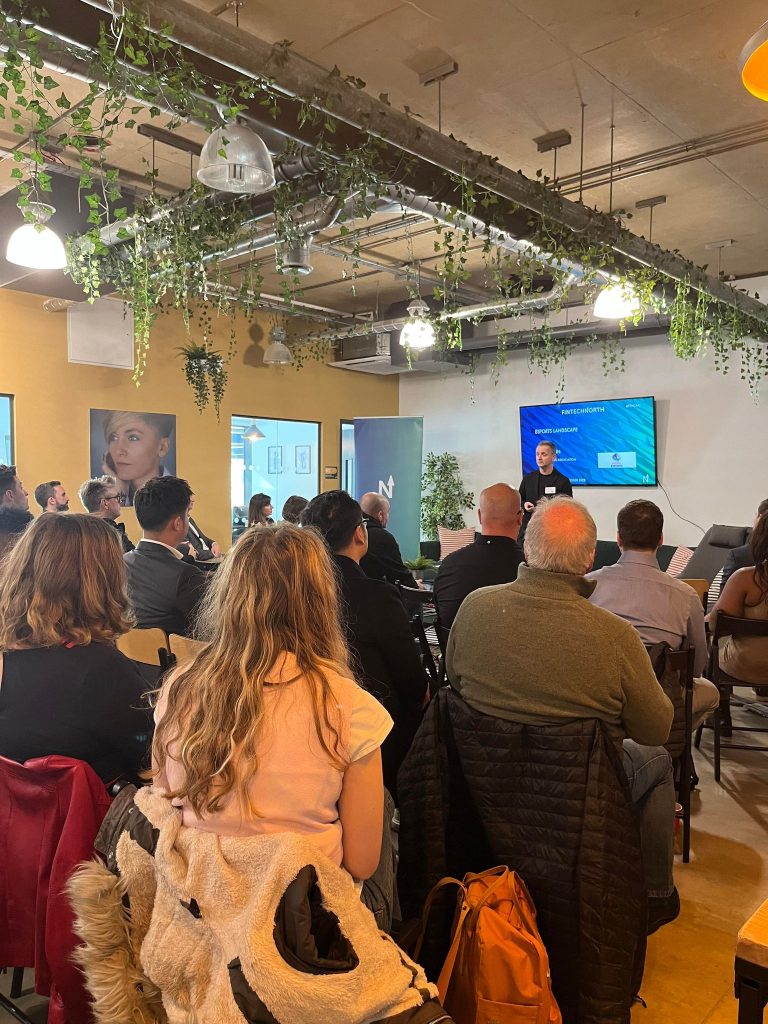 Next up, was David Gowans, Head of Creative Technology, Games and esports at Barclays. David joined us to introduce Barclays and their gaming programmes and initiatives. "For us, it's all about what we can do to help support the industry in authentic ways. We want to help at every end of the journey in gaming – such as giving entrepreneurs a chance to set up and start their own games through the Eagle labs network."
"We get to see every single angle of the gaming industry, esports included, and the incredible amount of growth in the sector. There has never been a better time to be in the industry. We have seen an incredible amount of innovation through games. A lot of innovation moving across all businesses come through games."
"If you want to be at the forefront of technology, you cannot ignore gaming."
Our final keynote speaker was Adam Roney, CEO and Founder at Calls9. Adam joined us to provided expert insight into the state of play for "gamification in the Web3 era." He went on to explain the new "playbook of FinTech and gamification" and how Web3 allows us to create compelling user experiences and new business models, stressing the wide range of ways gamification can be applied outside of traditional gaming.
He continued to introduce the idea of the gamified feedback loops, "Increasingly, we're looking at points and rewards that have real-life value to you."
"You can gamify most things, for example, I'm into my fitness – why can't my Garmin fitness watch send information to my health insurers, and that subsequently charges me less on my premium?"
"It's connecting a feedback loop through this digital ownership method of Web3, back into the real world. Gamification is only just beginning. It will drive behavioural change."
"Coming back to the FinTech element, everything I've spoke about, has some sort of financial transaction element to it."
Adam continued to suggest ways in which the gap can be bridged between the digital and physical world. The possibilities, to which are endless, was a real eye opener for our audience.
The final segment of the afternoon seminar was the "Gamification for Good" panel chaired by James Hodgson, UK CEO of 300 Brains – our event sponsors. Featuring; Yodaly Sierra, CEO and Co-Founder, eco2wallet; Susan Falola, Founder and CEO, JUUBIX and Latimer King, Chief Development Officer, British esports The panel aimed to bring together the aforementioned themes and discussion points from the keynote speakers, to then explore gamification for good, and it's pertaining talking points.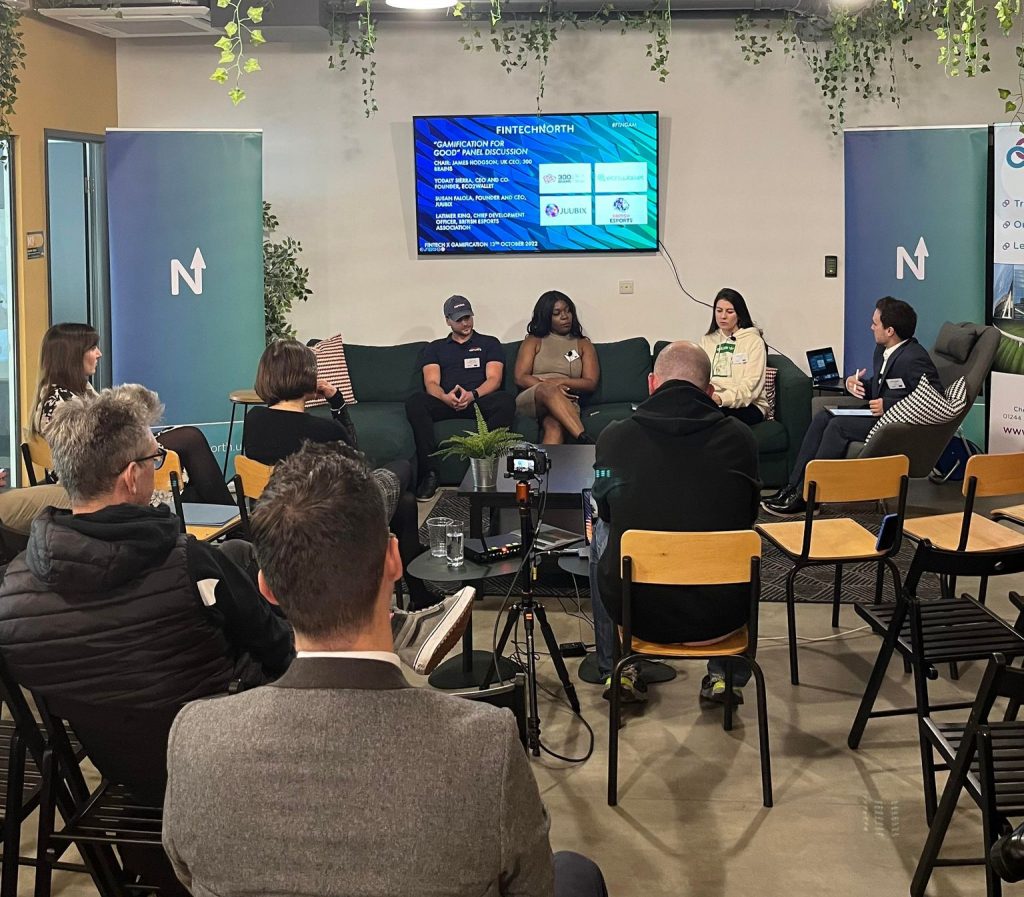 Yodaly Sierra is the CEO and Co-Founder of eco2wallet, a digital wallet that tracks CO2 emissions from spending, using gamification elements to encourage sustainable financial behaviour/
Susan Falola is the Founder and CEO of JUUBIX – Global award Winner – Frontrunner in FinTech 2021. Juubix supplies 'Stakeholder as a service', by providing a new collaborative marketplace for talent, companies and investors.
Latimer King is the Chief Development Officer for the British esports – the national body for esports in the United Kingdom.
Yodaly, Susan and Latimer all introduced their roles and business propositions, before sitting down to dive into a highly pertinent topic.
What are the risks you had to consider when setting up your business?
"Every time you think about money and games – alarms start getting raised. There are many benefits around the gamification side, but you need to try and change the language of what we're trying to portray. That's a key challenge." – Yodaly Sierra, CEO and Co-Founder, eco2wallet.
"For me, it's more about the compliance, KYC and AML in regard to FinTech. We want to be able to make sure that our organisation meets the requirements of each and every country that it interacts with." – Susan Falola, Founder and CEO, JUUBIX
"From the esports background, it's quite a young audience that we're serving. If you're gamifying most of these financial services, it can be quite addictive depending how rewarding the features are. It's nothing too in depth we've addressed yet in the esports community quite yet – but it's something we need to know about." – Latimer King, Chief Development Officer, British esports.
James builds on Latimer's point on addiction, and segued into how these issues can be addressed.
"It's all about trying to make a change in the purchasing behaviour of the user – such as setting limits." – Yodaly Sierra, CEO and Co-Founder, eco2wallet.
"What we've done is put some educational value into our game. While doing that, we have questions pop up based on strategy and problem solving. We base your score on your skills; speed, problem solving and creativity. When we score you, we match you with people who have strengths in area that you don't. Even if you may be addicted to the game, you're getting a lot of value from elsewhere. That is one way of 'making addiction beneficial'." – Susan Falola, Founder and CEO, JUUBIX
"In esports and assisting player wellness, there's lots of elements we need to look at. If we have some of our esports athletes playing 10 hours a day for weeks on end – we need to look at new ideas such to address physical and mental wellbeing. Having a limit on things is vitally important."- Latimer King, Chief Development Officer, British esports.
We'd massively implore you to check out the full panel discussion and listen to ways in which gamification can be used for good.
Joe Roche brought the event to a close and invited delegates for some drinks and more networking.
It was so great to bring together the FinTech and Gaming communities in Liverpool, for what really felt like a pioneering discussion. We can't wait to be back, and to build on the next frontier of FinTech!
The FinTech x Gamification event was brought to you by FinTech North, DTM Legal and 300Brains.
---
Share this article...