Innovate Finance release Summer Investment Report for 2022
Ryan Walsh / 28th July 2022
---
Innovate Finance, the industry body representing the UK FinTech industry, has recently released their Summer Investment Report for 2022. The report outlines the investment landscape for the first half of 2022.
The data presents proof of continued growth of levels of investment in the first 6 months of 2022, on the back of a record-breaking year in 2021.The UK FinTech sector continues to grow with investment reaching $9.1bn – a 24% year-on-year increase from H1 2021.
Founders and enthusiasts were optimistic that FinTech investment would continue to hit previous records this year.
Despite global shutdown, Innovate Finance report total capital investment in FinTech in the first half of 2022 reaches $59bn – flat year on year, across 3,064 deals analysed.
The global slowdown in investments comes with some notable exceptions, mainly the UK, which has reported a 24% growth in FinTech investment compared to the first half of 2021. While these results pale in comparison to the 217% YoY growth of UK FinTech last year, the country maintains its strong position as the second in the world for the amount invested, more than the rest of Europe combined.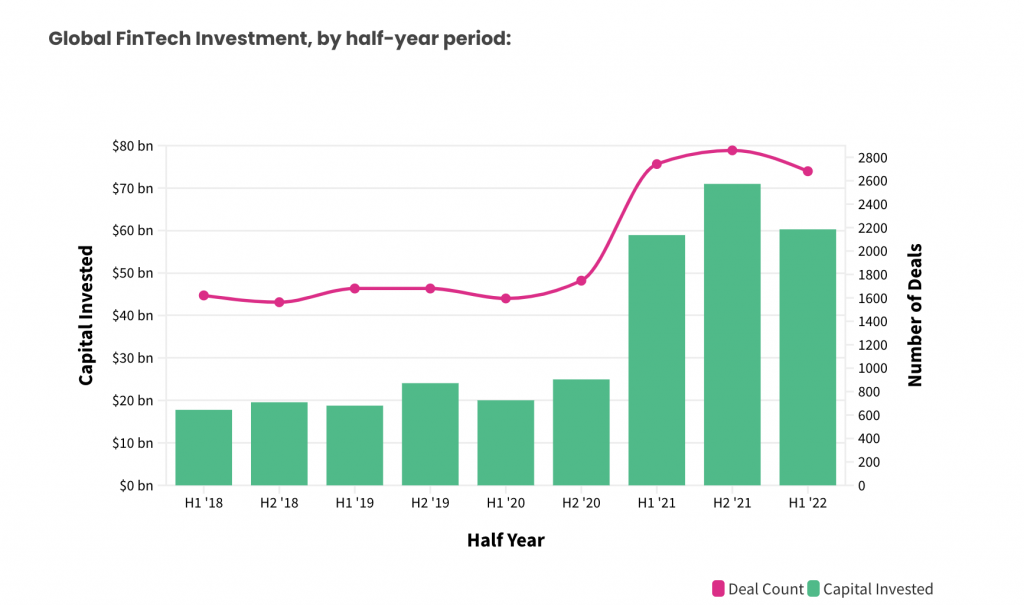 Janine Hirt, CEO, Innovate Finance commented:
"It is fantastic to see that UK FinTechs are continuing to secure outstanding levels of investment – this is a testament to the strength of our ecosystem, including our innovative entrepreneurs and founders, strong and diverse talent pool, and a supportive government and regulatory framework"
"It is critical that we now keep up this momentum. The UK is currently receiving more investment in FinTech than all fo Europe, second only in the world to the US. We must continue to work together – industry, government and regulators – to build on this leadership and ensure the UK remains the best place in the world to start, build and scale a FinTech business. This will positively impact not only the financial services sector but the entire population of the UK as a whole who will benefit from new, innovative and more effective products that drive greater financial wellness."
It's so great to see the continued growth of the UK FinTech scene. It's great to see regional FinTech ecosystems go from strength to strength – and we look forward to continuing work with regional FinTech hubs as part of the FinTech National Network.
To read the full FinTech Summer Investment Landscape 2022 report, click here.
---
Share this article...