International FinTech Showcase, as part of Leeds Digital Festival: Re-cap
Ryan Walsh / 29th September 2022
---
On the 29th of September, FinTech North and partners, Squire Patton Boggs welcomed a delegation of 7 visiting Polish Tech and FinTech companies to Leeds alongside a raft of established financial services brands in the area for our International FinTech Showcase, as part of Leeds Digital Festival.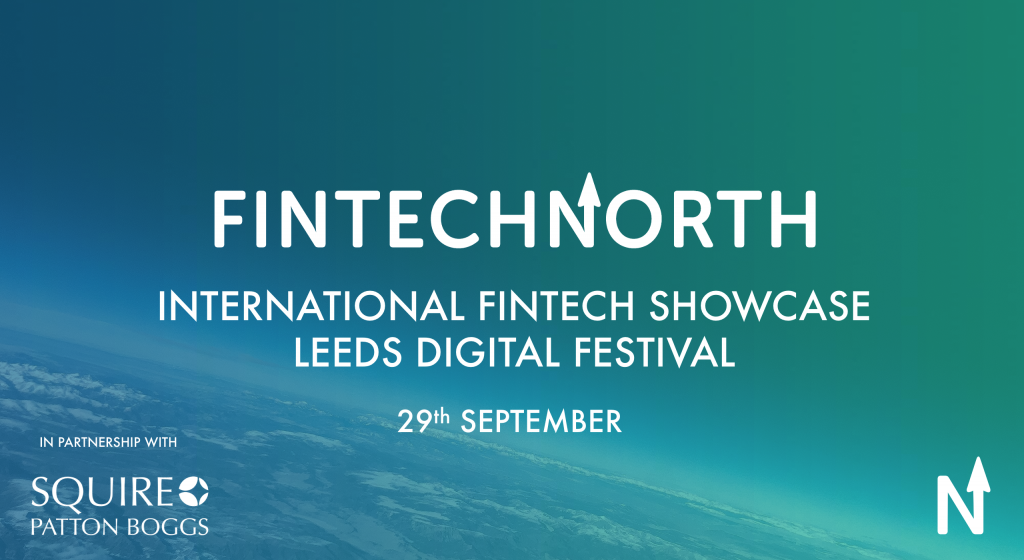 Following our visit to Łódź earlier this May, we were glad to return the favour at an event of our own! Over 60 attendees joined us for what became a celebration of the vibrant FinTech and Tech ecosystems from Poland and the North of England. With excellent networking opportunities and a chance for the visiting companies to showcase their proposition, we were delighted with the engagement and are certain the event was a valuable one for all involved.
Firstly, we'd like to say a huge thank-you to all the speakers who aided in making the event a successful one. To the visiting Polish companies, we hope you enjoyed your time in Leeds – that the trip proved valuable and that you made some useful connections here in the North. We wish you all a very safe journey home, and we hope to see you soon!
The FinTech North International FinTech Showcase was hosted in partnership with Squire Patton Boggs, as part of Leeds Digital Festival.
For those unable to join us on the day, we have produced a write-up of the event:
We kicked off proceedings with Julian Wells, Director of FinTech North and Whitecap Consulting who welcomed the visiting delegation before introducing FinTech North and the work we do in facilitating the development of the Northern FinTech sector.
Paul Anderson, Partner, FS Group at Squire Patton Boggs was up next, and was delighted to showcase what Leeds can offer to those in the audience thinking about international expansion.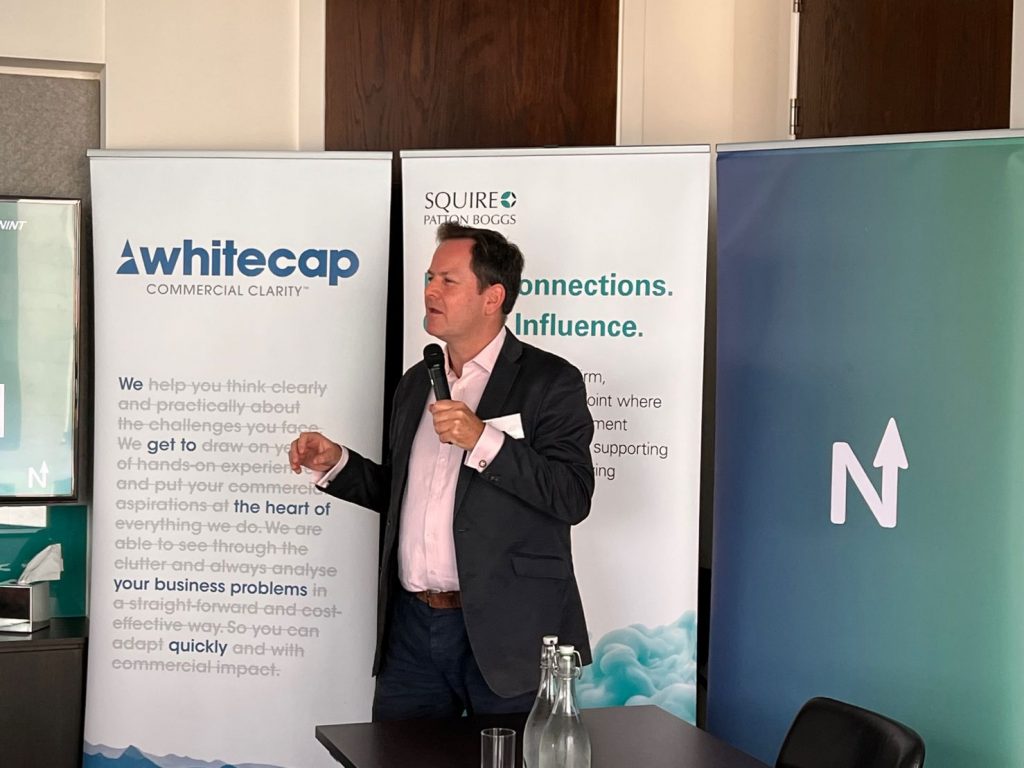 Christopher Sier, Chairman of FinTech North and FinTech Envoy for HM Treasury was up next; and in usual fashion, brilliantly delivered an overview of the UK FinTech market, citing macro environmental and sector trends before sharing the value proposition of Leeds and what the city has to offer in comparison to our 'noisy neighbour' down South.
After the scene was perfectly set by our introductory speakers, it was time to hear from a range of well known, financial services brands in the North.
First up, was Richard Carter, Executive Chair at Equiniti, and member of the Advisory Board at FinTech North. Richard introduced Equiniti Credit Services; their services and their clients, before basking in the fact that they are relatively "unknown", to quote – "We're quite proud of the fact that nobody knows us, as that means we're doing our job.".
Richard Carter continued and acknowledged huge advocacy for Leeds as a city; not only its current quirks and beautiful surrounding scenery, but it's history and development as a FinTech and Tech sector. He affirmed the running theme of the event – the strong attractiveness of Leeds as a destination for expansion.
Vanessa Roberts, Head of Strategy and Responsible Business at the "original peer-to-peer lenders", Leeds Building Society joined us to discuss how they are "accelerating and activating their purpose.". Specifically, "to put home ownership in reach of more people for generations to come.".
Vanessa Roberts addressed affordability and current trends in the mortgage sector before acknowledging the main reason for their attendance. Leeds Building Society are looking to invest, partner and support Northern FinTechs to aid in their goals of accelerating their purpose.
Our partners, Paul Anderson, Partner, FS Group and David Harford-Jeffrey, Senior Associate at Squire Patton Boggs joined us to deliver an insight into the "UK FinTech regulatory landscape and work-force talent and culture trends". Paul opened the discussion, who cited the direction of travel for legislation and Brexit, specifically the excellent progress of cryptocurrency, investment into the North and regional hubs as well as "the war on talent between London and the North" and the "reverse brain drain".
Paul Anderson passed over to David Harford-Jeffrey, Senior Associate at Squire Patton Boggs, who talked us through 3 key trends on employment law:
Culture; The FCA have an increased focus on culture – it's not about governance but about setting the tone in leadership roles. Expecting a Hard-line approach in regulation to ensure health culture (in regulated organisations). David also acknowledged the virtual and physical working challenges for organisation leaders.
Talent; David spoke about the shortage of talent, particularly in FinTech and Tech or complex programming and IT. He believes that Brexit has a big part to play in this and that organisations need to think creatively about how you can replace talent. Talent retention is hugely important!
Diversity and Inclusion; We're seeing an increased focus on D&I, especially in the regulated space.
We then welcomed Richard Johnson, Interim Head of PMO at Global Shares. Richard introduced Global Shares, who are a multi-award winning, comprehensive equity compensation management solution for some very exciting public and private companies. He continued to detail a Leeds-based operation that has been established in the last year as a key strategic hub in the UK. It's great to see that Leeds is such an attractive destination for so many organisations.
Ed Thewlis, CCO at The Data Shed, a data services/analytical business born out of Leeds, was up next! Ed introduced The Data Shed, their work in "unlocking the value in data" and outlined a model for reducing fraud in FinTech.
To wrap up the UK showcase was our very own, Dan Rajkumar, CEO of Rebuildingsociety and Director of FinTech North. Dan introduced Rebuilding Society, who are a peer to business lending platform. Dan is a Leeds-based founder of a two FinTech companies – he knows exactly what it's like building a business from the ground-up in Leeds. It was great for our visiting delegates to tap into his experience and expertise.
After a short coffee break, we invited the delegation of Polish FinTechs to the stage. Adam Brzostowski, Director of Business Development and International Relations Bureau at the City of Łódź Office and Director of Invest in Łódź joined us to say a few words about the history of Łódź and the FinTech ecosystem and the pertaining relationships in Poland, before chairing the Polish Showcase segment – where 7 FinTech and Tech companies showed off their business propositions!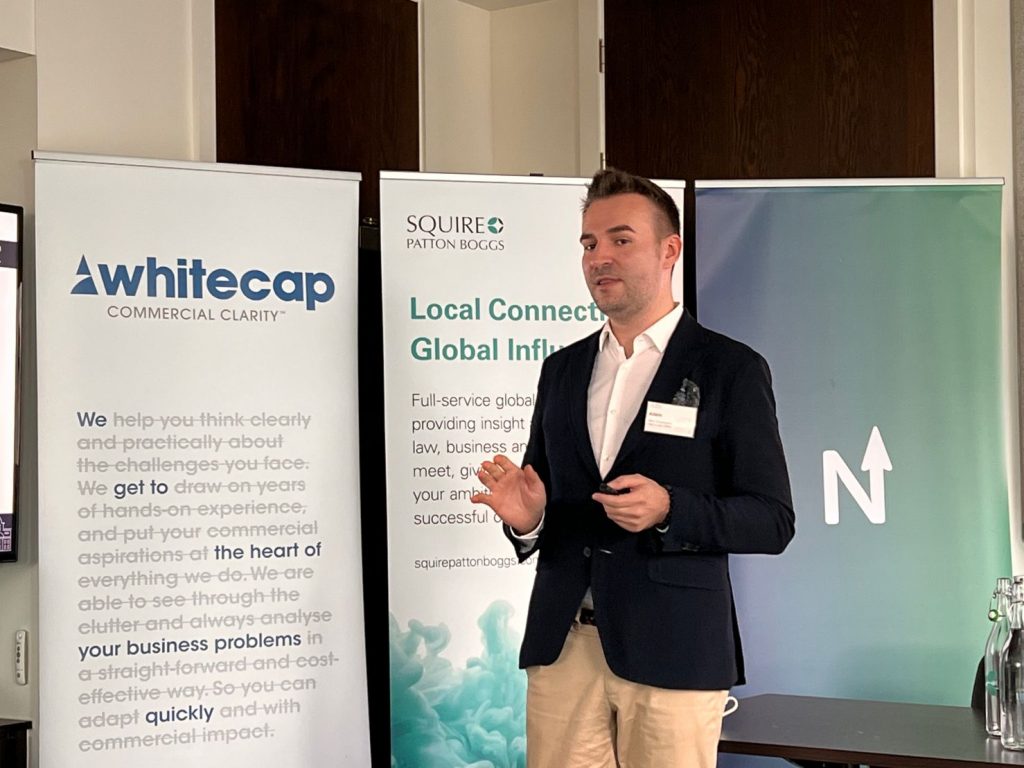 To find out more about each company, you can find their website through the hyperlinks below. We massively encourage doing so!
GoodyLabs – A company that has been on the market for over 10 years, GoodyLabs creates tailor made digital products and offer an extensive portfolio including mobile apps, eCommerce platforms, digital signage and integrations. Talk delivered by Pawel Lipka, Head of Engineering
Incubly; empowers your digital business with exceptional engineering teams. Talk delivered by Adam Federowicz, Managing Director
iTechArt; an industry-leading software development partner to 500+ fast-growing companies and start-ups worldwide on the cutting-edge of tech across several industries. Talk delivered by;  Matt Stocker, Senior Engagement Manager, Tom Evison, Engagement Manager & Bartlomiej Nagorski, Group Manager
New Horizons Capital; the first fund that invests in whole start-up portfolios. Their goal is to facilitate the way start-ups raise funds through their Venture Transaction Platform (VTP). Talk delivered by Sebastian Bacinski, Product Manager
BinarApps; IT company with 8 years experience in designing, building and maintaining web and mobile applications for start-ups, medium and large companies across the globe. Talk delivered by; Maciej Krasowski, Co-Founder
MakoLab; a digital project house with an innovation-driven approach. Their team of 350+ experts deliver custom-designed solutions for companies in the financial and insurance sectors. Talk delivered by Michal Hertel, Head of Communications and Business Development & Piotr Adamkiewicz, Vice-President of the Board/COO
Likims; a software development agency with a clear goal – to implement ambitious projects using their vast experience and skills. Talk delivered by Piotr Heflich, Sales Representative.
We then welcomed our final speakers; Megan Noble, Sector Manager of Business, Professional and Financial Services at the West Yorkshire Combined Authority and Tony Corby, Sector Manager – Tech and Creative at Leeds City Region: LEP. Megan and Tony gave a great overview of the Leeds City Region, covering a whistle-stop tour of everything you need to know about the area. From it's diversity and excellent quality of life to the impressive FS and Tech ecosystem, home to major organisations and several collaborations. It was a great way to end the event, and was certainly very insightful for the Polish delegation, specifically those thinking about international expansion. Leeds is the place to be!
Julian Wells then brought the event to a close, and encouraged guests to join us for some more networking, and to come along to more of the events as part of Leeds Digital Festival.
Once again, it was so great to bring together a mixture of international delegates from Poland and attendees from popular Leeds-based financial services brands. What a great morning we spent fostering the creation of links between Poland and the Northern of England!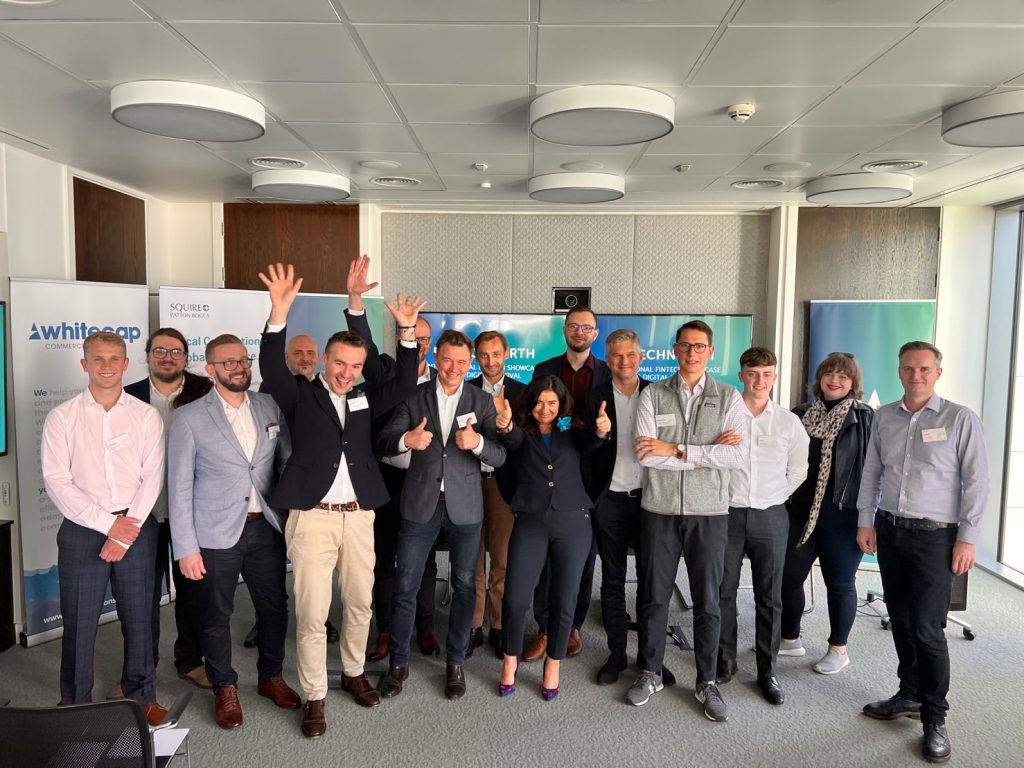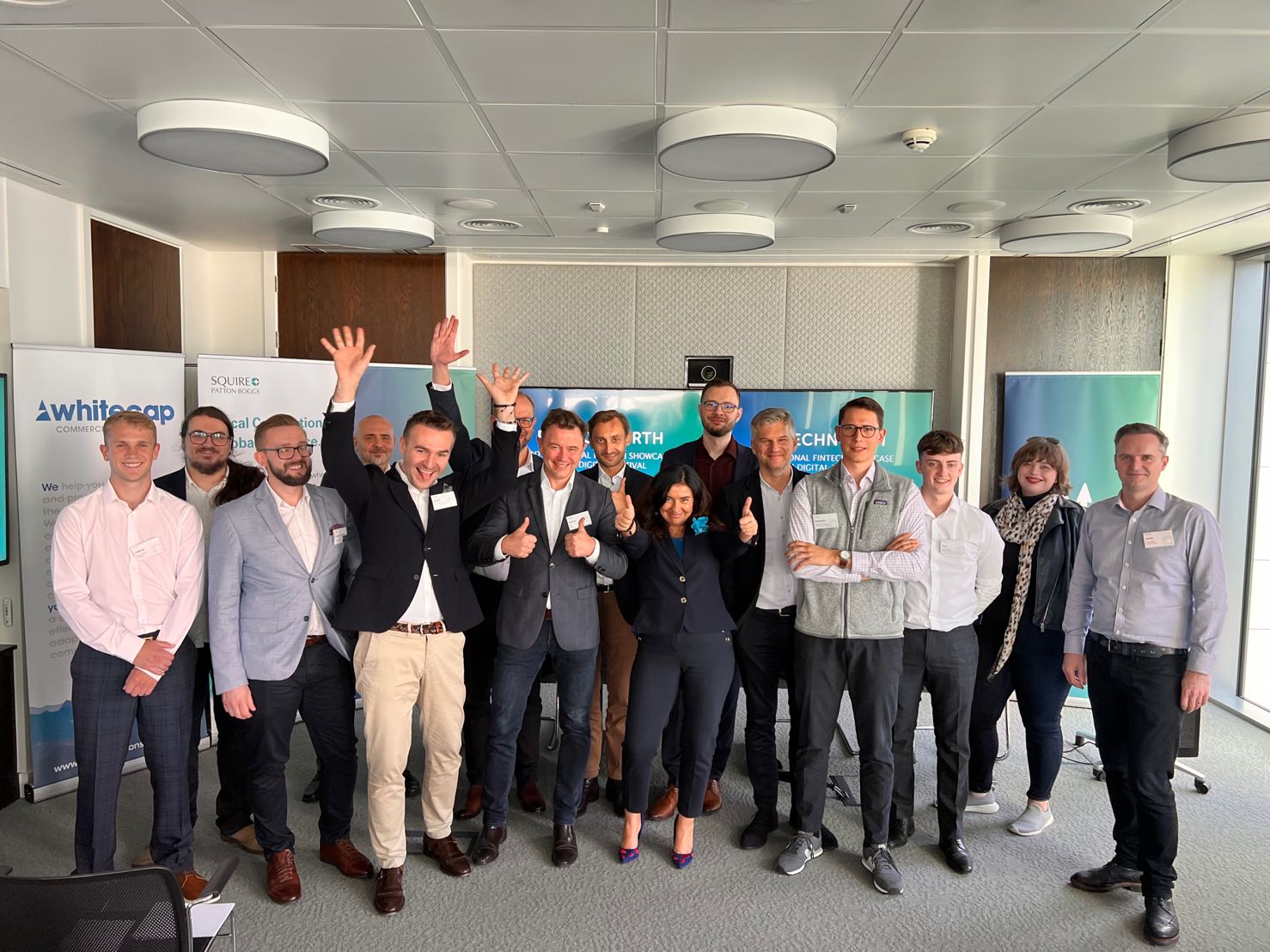 To our visiting Polish friends – mamy nadzieję zobaczyć Cię ponownie wkrótce! (we hope to see you again soon!)
The International FinTech Showcase was hosted in partnership with Squire Patton Boggs.
---
Share this article...