Leeds Open Mic FinTech Showcase: Write-up
Ryan Walsh / 2nd October 2023
---
On the 28th of September, FinTech North hosted the Leeds Open Mic FinTech Showcase, in partnership with law firm Addleshaw Goddard, as part of Leeds Digital Festival. Over 50 delegates joined us to hear from some of the region's boldest FinTech innovators, including some FTN debutants. We also heard from various other organisations that operate in the FinTech space and how they support the ecosystem.
For those of you who were unable to join us on the day in Leeds, we've produced a write-up of the full event, which can be viewed below. We'd greatly encourage you to check out all of the organisations that participated.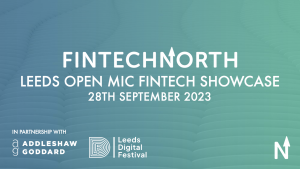 Joe Roche, Engagement Manager of FinTech North opened proceedings and introduced the work we do in the sector, before reflecting on our inception as part of the first ever Leeds Digital Festival. It's been quite the journey ever since!
Joe then passed over to Megan Noble, Senior Deal Origination Manager of Addleshaw Goddard, who discussed the latest trends and challenges they're seeing in the work associated with FinTech, before sharing how they support high growth tech and aspiring unicorns with their AG Elevate Fast Track Mentoring Programme. For more information and to register your interest in the 24/25 cohort, click here.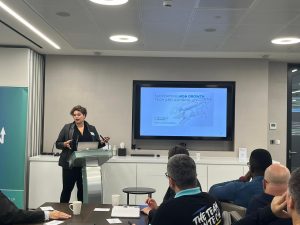 We then welcomed Oliver Chesher, Managing Director of our esteemed PR partners, Galibier PR, to host the Open Mic segment.
Our first showcase speaker was Alex Beardsley, CEO and Founder of Leeds-based FinTech Debeo, who was making her debut as a FinTech North Speaker. Debeo aim to bring clarity to the chaos of commercial finance, addressing the huge issue of access to finance for SME's. Debeo is the first ever platform designed for SME's to manage understand and apply for commercial debt.
"Debeo isn't passive, it's active, it puts the customer in the driving seat"
Debeo are looking for partners and have recently joined the female founders incubator at Bruntwood Scitech. Check out their website here.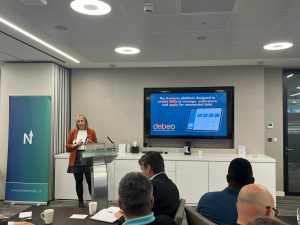 Our next speaker was Lucy Mounter, Senior Business Development Executive at Intercash. Intercash are an integrated payments solutions provider, with a focus on card programmes. Launched in Canada, Intercash have grown globally, basing their UK operations in Newcastle upon Tyne.
Lucy explained how Intercash's proposition can be white-labelled or integrated into other businesses brand platforms. Detailing their experience of over 20 years and versatility in providing innovative payments solutions.
Check out Intercash's website here.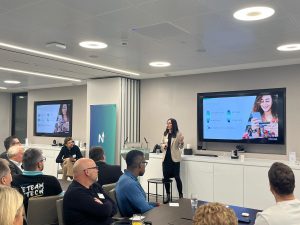 Charlie Clark, Business Development Executive at Panintelligence was next up to the stage. Charlie introduced Leeds-based Panintelligence, talking about the importance of embedded analytics for FinTech firms.
"One way to differentiate yourself is to have data analytics embedded within your proposition" – Charlie
Charlie discussed some of the roadblocks to implementation:
Shortage of technical talent
Development projects are slower and more expensive
Internal teams focus on core IP
Concerns over data security
Panintelligence eliminates the need to develop a tool in house. Charlie explained that FinTechs should be considering the following to stay ahead of the game:
Flexibility
Speed to market
Security
Try before you buy – does it fit with current architecture
The importance of understanding customer needs, implementing user friendly experience, understanding market trends and analysing historical data.
Check out the Panintelligence website here.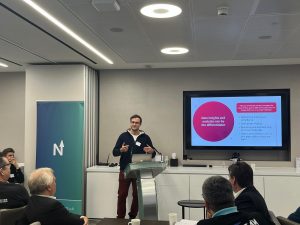 Our next speaker was Crispin Read, CEO and Founder of The Coders Guild. The Coders Guild is an industry lead initiative to deliver apprenticeships and skills bootcamps within technology. They also provide b2b training.
The Coders Guild are running a skills bootcamp in Leadership and Management in the Digital Sector. Understanding well being, team needs, communication, time management, EDI.
"We can also use apprenticeships to train people who are already in your team." – Crispin
Crispin mentioned the importance of engaging learners as early as possible. The Coders Guild team go into primary and secondary schools.
Check out The Coders Guild website here.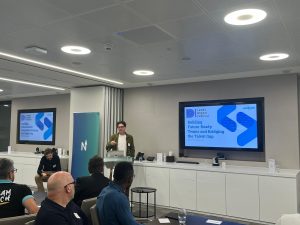 SDK Finance and their CTO Pavlo Sidelov were our next speakers. SDK Finance's tagline is "TechFin for FinTech."
"90% of FinTechs have 90% of the same functions… developers love to build from scratch" – Pavlo
SDK stands for software development kit for Finance. SDK make FinTech innovation easier by providing cutting-edge platforms for transaction-based businesses. The SDK platform provides
Multi currency accounts for clients
Fees and limits for all types of operations
Payment gateway functionality for dozens and vendors starting from Visa or Mastercard
Check out SDK Finance's website here.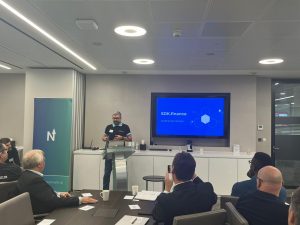 Nick Hawkins, Corporate Barrister at Gunnercooke, was our next speaker. Nick instead of presenting to slides, decided to bring props to illustrate his talk.
Nick started talking about his career in FinTech starting in 1987. As a barrister, Nick began working as a credit card lawyer. Nick's first FinTech involvement was at Access. Gunnercooke is a full-service firm and one of Nick's specialism is fundraising for university spin-outs.
Check out Gunnercooke's website here.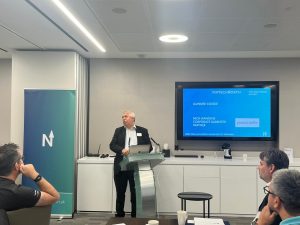 Sofie Churchill, Senior Customer Success Manager, at global card issuing experts Marqeta was our next speaker. Marqeta's global perspective has been condensed into an internationalisation white-paper.
Marqeta is the world's first modern card issuing platform. Their open API platform allows businesses to instantly issue cards and process payments. Sofie referred to them as the action behind the transaction.
Internationalisation considerations:
Market research
Determining operating models
Implementing expansions
Key themes
 "What's successful in one market might not work everywhere" – Sofie
Sofie shared insights into how Marqeta has supported many UK and European based companies launch with them in other regions.
Check out Marqeta's website here.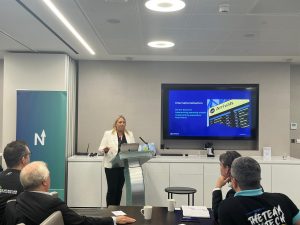 Alex Richardson, Enterprise Architect at FinTech North partners, GFT was our next speaker.
GFT are a German-based technology transfer experts. Born out of Deutsche Bank, GFT now have around 30 people based in the North, mostly in Manchester. Alex talked through some of GFT's insights and thought-leadership. Alex provided a summary of the Banking Disruption Index, the latest iteration of which covering customer research into attitudes on Banking and AI.
"AI is now becoming a focus for many of us" – Alex
"It's important that we stay connected to our consumers, whilst we're developing products and services" – Alex
Highlights from the AI and Banking, Banking Disruption Index:
Improved customer sentiment
Differing attitudes across different demographics
Education and awareness is key
Clear opportunities to benefit consumers
Ethical AI usage practices will evolve to meet consumer and regulatory demand
61% of respondents stated they were happy with their banks using AI for at least one of the following:

Fraud prevention
Helping customers avoid financial difficulty
Improving customer services
Personalised advice
Investment opportunities
Lending credit decisioning
Selling of banking products
Check out GFT's website here. Check out their latest Banking Disruption Index here.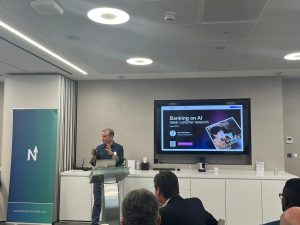 Our next speaker was Dan Graf from Leeds-based Climate FinTech Earthchain.
Earthchain is an innovative API platform for climate impact that works with FinTechs and banks to estimate CO2 emissions from their customers payment transactions.
"People trust brands to support them to become more sustainable" – Dan
Earthchain are a digital tool to help brands provide:
CO2 / Carbon insights from payment data
Impact climate action in every payment – Merchants can enable climate projects
Intergration – API's make impact programmable
Robust blockchain powered transparency
"The EU has impending climate mandates for companies to report their emissions… this effects 50,000 companies." – Dan
Earthchain are the only company in the world to tokenise Gold Standard's carbon credits.
Dan also provided a sneak peak into a new application that builds carbon accounting functionality for SME's and banks to their proposition.
Check out Earthchain's website here.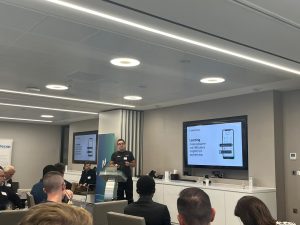 Mykhaylo Hnatyev, Co-founder of Computools, was our next speaker. Computools are a full service software development company with over 200 engineers in Ukraine and Poland and a UK office established in May 2023.
Computools specislise in market testing and have 4 areas of strength in FinTech:
Insurance
Banking
Investment platforms
Trading platforms
The Computools team can integrate with your teams in an augmented way. Mykhaylo talked through a case study with a Carribbean bank, enabling the bank to expand into a younger demographic and expand market share. Mykaylo also mentioned a project working with a Gift card provider for responsible brands.
Check out Computools' website here.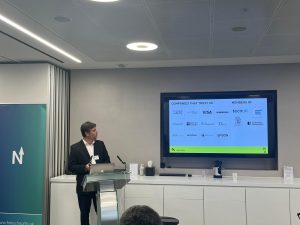 Our final speaker was Andrew Rabbitt, Co-founder and CEO of incuto. incuto is a socially profitable tech partner for credit unions and community banks. They provide critical infrastructure to such organisations to help connect affordable finance providers to more people.
"We'll deliver over £2bn social impact* by 2028." – Andrew Rabitt
The problem incuto impact is getting bigger:
1m financially overlooked/underserved people
60% can be served by ethical, not for profit lenders
The incuto flywheel:
Offer better services > get more loans > help more people > improve efficiency >
"We believe everyone should have access to fair affordable financial services" – Andrew
Check out incuto's website here.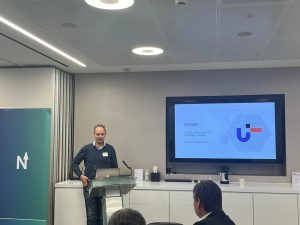 Oliver Chesher and Joe Roche then brought the Leeds Open Mic FinTech Showcase event to a close.
We'd like to say a huge thank-you to everyone who attended the event and to our brilliant speakers for getting up on stage to share their work and business propositions. Thank-you to Megan and the team at Addleshaw Goddard for providing the venue and for their amazing hospitality – not to mention the FTN cake!
Our next events are the FinTech Upon Tyne: Newcastle Social (26th October) and our flagship Manchester Conference (14th November). We hope to see you all there!
---
Share this article...