FinTech North Manchester Forum 19/10 – Event review
Jake Fox / 19th October 2018
---
There was a fantastic turnout from the Manchester tech and financial services community on the 19th October for the FinTech North Forum, hosted at Network Marketing's offices at Neo. Attendees came together to network and discuss the region's developments and opportunities for FinTech and innovation, and hear from a number of industry experts discussing the major trends across tech and financial services.
Luke Freeman, Director of Whitecap Consulting, was chair for the event and began by thanking the attendees for a great turn out for FinTech North's debut forum in Manchester. He then provided a brief introduction to FinTech North and Whitecap Consulting, the co-founders of FinTech North, and a regional strategy and commercial consultancy with specialisms including tech and financial services.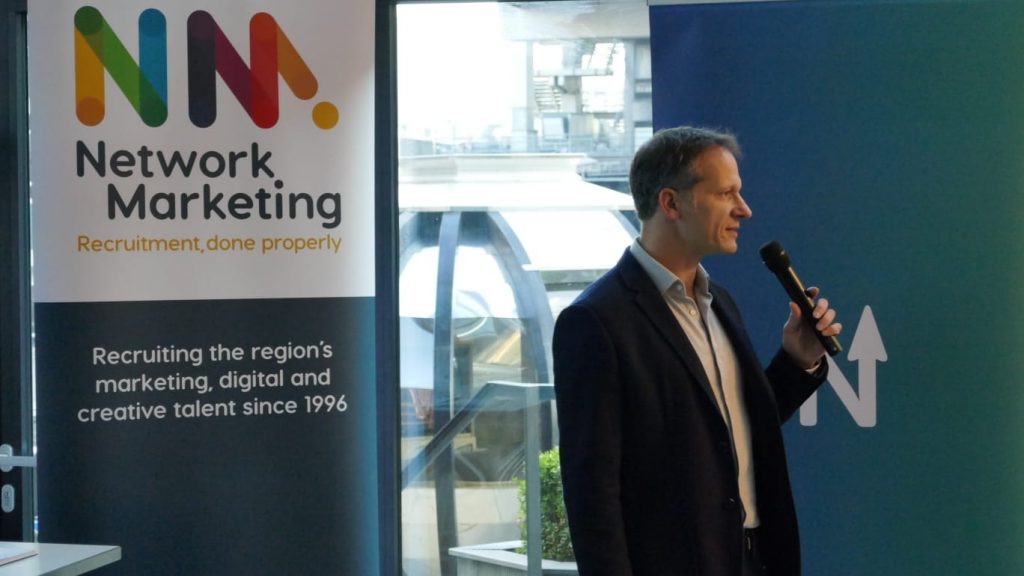 Rob Thickett, Policy Advisor, Building Societies Association
Rob Thickett was the first speaker for the event, with a presentation titled: Building societies and the FinTech opportunity.
He began by explaining the long history of building societies and the ethos behind them. He stated how in recent years these values have put building societies on the front foot in mortgage lending as they have delivered mortgages that would not be available through mainstream lenders.
Moving onto FinTech as a trend, Rob stated:
The Nationwide, Yorkshire and Coventry building societies have now developed portals for APIs. This shows that there's a growing attitude of collaboration and innovation from within the sector.
Rob provided examples of home devices such as Alexa that now recommend personalised products, and discussed how we will now begin to see a move to towards these devices moving into financial services products. Another area of disruption Rob highlighted was the automation and  streamlining of financial services processes such as underwriting, customer services, and roboadvice.
On the customer services side, Rob stated that many customers still really like the contact they have with actual people. And unlike banks, which have closed branches due to costs, building societies have the value of being more involved with communities and could provide a range of services that are complimented  by tech, rather than binning the human element all together.
Luke Stubbs, Legal Director, DLA Piper
Our second speaker, Luke Stubbs presented some of the findings from DLA Piper's report on digital transformation in financial services. DLA Piper is a global law firm with offices in Manchester and Liverpool.
The research interviewed a range of stakeholders across the FinTech sector including large FS institutions, industry experts and FinTechs. It aimed to measure the attitudes and perceptions around FinTech and disruption in financial services.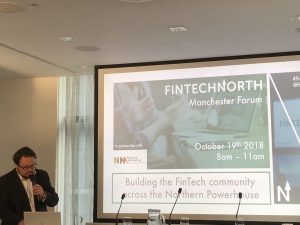 Luke presented a host of insightful stats from the research, with one theme being that established players are starting to feel the pressure to innovate. The DLA Piper view is that the banks are going to start to speed up.
The findings covered various areas:
72% of organisations said they had revised their customer experience in the last two years.
30% are planning to launch a product through a regulatory sandbox.
41% say that payments is their top priority. With InsurTech being second highest on the list.
13% of large FS firms are looking to buy a FinTech company.
Findings on Blockchain:
Moving onto blockchain, most FS players were looking to implement the technology in back end processes rather than front end customer service delivery. The bigger institutions are viewing blockchain as a back end tool, rather than a consumer facing asset/currency. – Luke Stubbs
The most common barrier cited for adoption of cryptocurrencies was trust in the technology.
However, 31% of respondents expected central banks to some form of cryptocurrency to its balance sheet in the next 5 years.
Challenges for Retail Banks,
Retail banks stated that data and GDPR as a large concern, as well as regulatory challenges and their own internal procurement processes.
82% of respondents are worried about a cyber security. So we can see that this area is not a question of if, it's a question of when. – Luke Stubbs
Challenges for FinTechs,
One of the biggest hurdles for the FinTechs is the bank's procurement processes.
Luke stated that some FinTechs have found it a challenge to meet the information requirements.
Oliver Chesher, Managing Director, Galibier PR
Oliver began his presentation by asking, Why is PR relevant to all of us? Especially in a time where innovation drives change much faster than ever before. He outlined his presentation around three core themes: Reputation, Risk, and Ownership.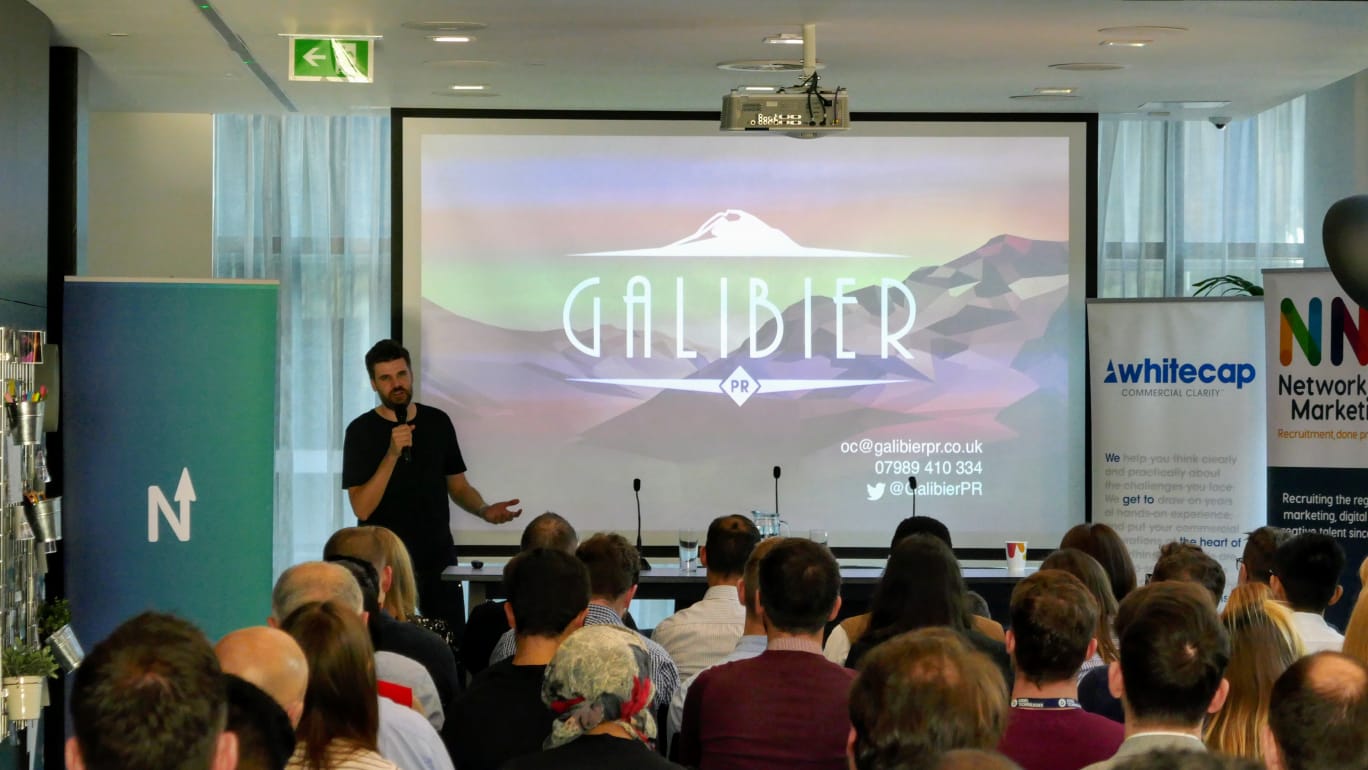 Reputation
A lot of the innovators that are now growing rapidly have to ask themselves: how am I perceived? By consumers, large institutions, regulators and more. There is a need to prove that they are the real deal, especially when they are promising to deliver something significant, and to do that they need the right communication strategy.
Oliver stated the importance of shouting about activity and value creation,
When you go quiet, the market assume you've shut up shop. – Oliver Chesher
Risk
Oliver then stated that taking and managing risk is key to protecting reputation. He emphasised that all innovators and disruptors need to develop this skill. 
When you're doing something new and novel, and you are really going to effect change, you're going to piss people off. And organisations that disrupt need to be ready to defend themselves. – Oliver Chesher
He emphasised how the best brands in innovation have had a pro-active PR strategy that has told the right story at the right time .
Ownership
The best innovators, Oliver stated, are bold and confident in owning their territory.
It's not necessarily the firms with the best products and services that come on top. It's the ones who can talk about it the best, and really own that story.
In times of change, the firms that come out as leaders are the ones that effectively communicate why they own and lead the solution for  specific consumer problem. 
Steve McCarron, Managing Director (Manchester), gyro
Steve's presentation focused on SMEs and how their relationship with financial services is changing.
He began by stating that SMEs are a really important group:
5.7million SMEs in the UK, with £1.9 trillion on combined annual turnover and making up 31% of private sector turnover.
Steve emphasised that 60% of SMEs are sole traders, and 60% of SMEs don't have fully developed financial functions and resources. So, SMEs need support from their banks in managing their business finances. – Steve McCarron.
Steve then moved onto 4 main trends that are changing SMEs banking and business FS.
 1. SME owners want to be nudged into making better financial decisions
Only 26% have dedicated financial staff. Of those, only a third have the relevant skills for finance.
Steve then provided an example FinTech operating in this area:
Anna is a digital assistant that helps businesses manage their finances, providing automation in chasing invoices and other everyday financial activities.
  2. SME owners want to outsource managing their money
–  60% of SME owners are personally responsible for their finances
–  SMEs spend 120 days per year on admin time. 20% of this admin time is spent on managing finances.
–  55% would happily pay to outsource financial hassles.
Soldo is a fintech that automates expenses management. It can set budget limits and approval processes, and also integrates into accounting software providing real time updates.
  3. Automation will make service more personal
–  40% of SMEs say the only difference between business and consumer accounts is the higher costs.
–  61% say they had been with the same bank for 10 years or more
There's a huge inertia problem in business banking around the expectations of what banks can and should be doing for small business financial matters. – Steve McCarron.
Counting Up and Tide are both FinTechs looking to redesign the current account to be more convenient and helpful to the end customer and their business. Tide tracks financial activity and automatically updates accounting software, streamlining the financial management process.
  4.  Technology will bring SME owners and banks closer together
–  66% of SMEs are happy to use a digital-only bank for their business current account
Steve highlighted that FinTech start-ups can relate to the SME owners because they are themselves a relatively small business, looking to grow, and solving similar problems.
Steve concluded on the point that new entrants, FinTechs, and innovators bring new value to consumers by ultimately, emphasising with them. And building a solution around the problems and experiences of managing a businesses' finances.
Panel Discussion
The event then moved to a panel discussion with the speakers, plus Rachel Eyre, Business Development Manager, Midas. There was plenty of discussion covering: attitudes to collaboration, regulatory challenges, open banking, the use of cash, as well as future trends driven by FinTech and innovation.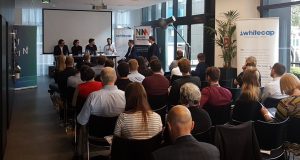 On the recent news of Amazon establishing a new data centre in Manchester:
This creates a great opportunity for FinTechs and other tech start-ups wanting  to collaborate and serve that base. And it looks like Amazon is looking for those connections and collaborative opportunities with local innovators. So its hugely exciting.  
On learning from the innovation in FinTech and applying it to other sectors:
What we're seeing in FinTech is going to create a knock on effect, across lots of sectors. Supermarkets are becoming lenders, lenders are becoming platformers. It's about seeing the change and turning into an opportunity for your own sector. – Oliver Chesher
Manchester has a great opportunity in this space. Because of its wide ecosystem across digital, RegTech, retail, manufacturing and FinTech, we have a great opportunity for cross over, all within the city. – Rachel Eyre.
The same algorithms and data process that FinTech is pioneering is now being applied in other sectors such as health. – Rob Thickett.
On the future role of the traditional accountancy firm,
What we'll see is that the low level, traditional side of accountancy ill start to get pushed out by automation. Looking forward we can expect accountancy to become a lot less people involved and really about helping clients get set up with the right processes and then advising on a higher level, rather than delivering manual accounting activities. – Steve McCarron.
On the role of cash in SMEs banking,
The old model was that every store has to have their own brick and mortar face (for example bank branches). But the new model will likely be more focused around collaborative spaces where numerous businesses access the same physical space to interact with cash. – Steve McCarron.
On open banking and experimentation,
t's  better from a reputational stand point to be seen trying to innovate, rather than failing to innovate. Absolutely banks should be seen being experimental. – Oliver Chesher
On the shortage of developers,
It about starting the opportunities and journeys early. There some great projects around the greater Manchester region that are looking to develop the practical skills we need for the future, as early as 14 year olds. The difficulty is trying to judge the skills we need for jobs that don't exist yet.  – Rachel Eyre.
Skills is a common issue that always comes up at FinTech North. Fortunately, the universities across the northern powerhouse are taking a proactive stance in this area, partnering with industry to make sure they are delivering in that skills gap. –  Luke Freeman.
On open banking impacting brand loyalty:
Not everything we buy is based on price, there a lots of other factors to drive consumers. It's the role of marketers, brand agencies, PR firms and others to figure out the key drivers for customer loyalty, and create the right communications that display them. – Oliver Chesher
Building leadership into a brand is really important in markets where there is a lot of comparable choice. Taking a territory and showing yourself as the leader of that segment really simplifies decision making for consumers when they are looking for a suitable provider. – Steve McCarron.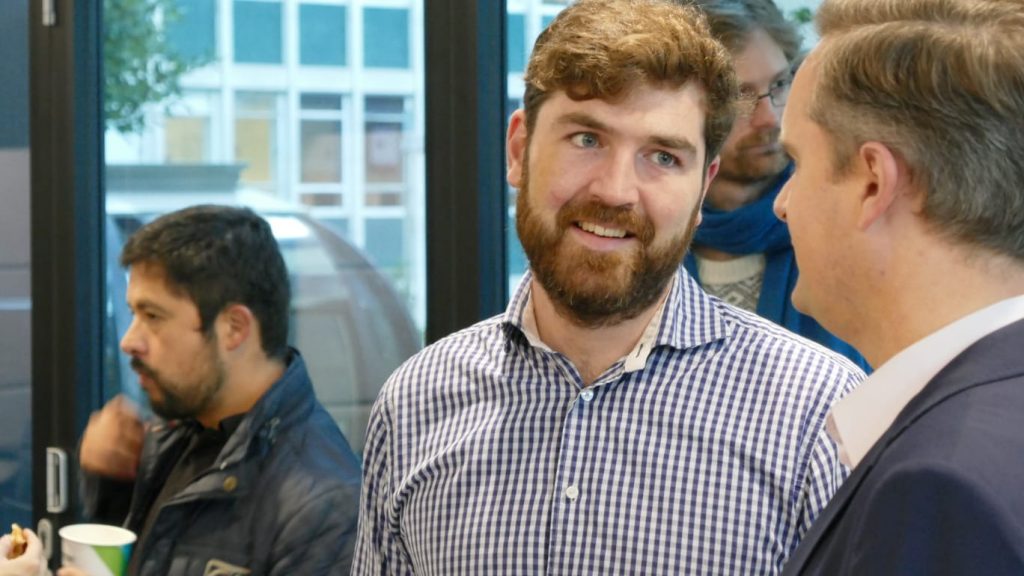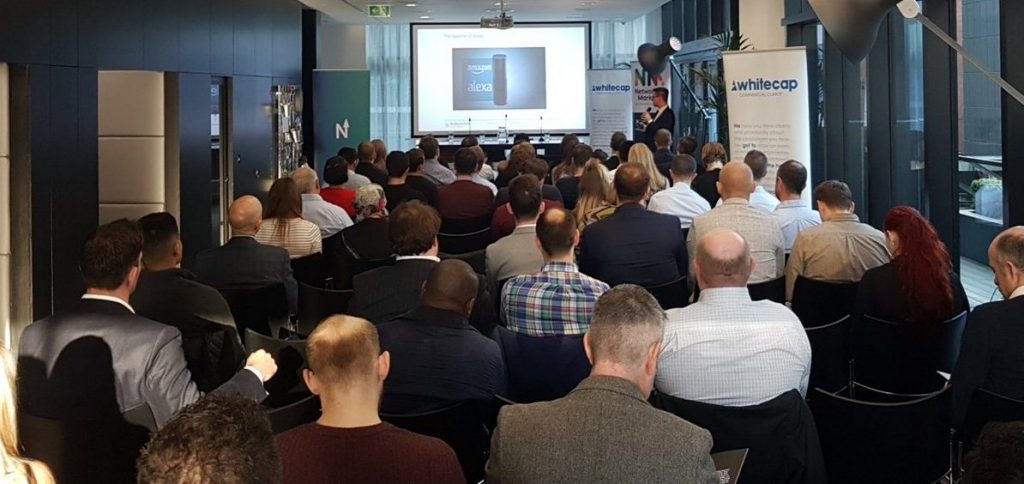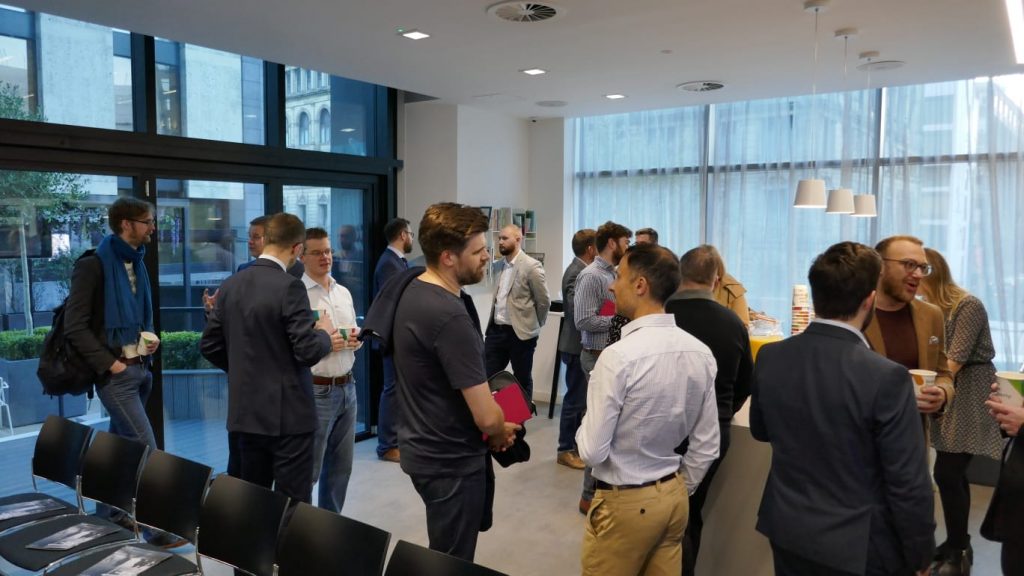 The next FinTech North event in Manchester will be on the 6th November and will involve a pitching showcase of international FinTechs. Click here to view the agenda and sign up.
---
Share this article...