Newcastle Conference 2023: Write-up
Ryan Walsh / 25th July 2023
---
On Thursday 20th of July, the FinTech North community converged on The Common Room for our 3rd annual Newcastle Conference, supported by our fantastic headline sponsors Atom bank and brand sponsors, Kani, Mastercard and Invest Newcastle. The event certainly lived up to the hype and once again celebrated the North East's ever-growing FinTech sector.
Over 160 delegates gathered to hear from a stellar line-up of FinTech experts, entrepreneurs and thought leaders in financial services. This equated to a near 90% attendance rate – a record percentage for a FinTech North event! Thank-you to everyone who turned out.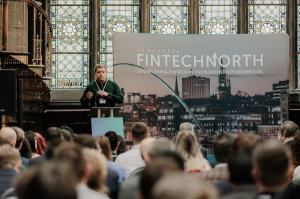 We would also like to thank all our speakers and our brilliant sponsor group for their support. We were, once again, blown away by the sheer quality of content and feel grateful for the support of national FinTech giants and some of the North East's biggest names.
For those of you who were unable to join us on the day in Leeds, we've produced a write-up of the full event, which can be viewed below. We also captured the day via Louis Wilcock's excellent photography and Bradley JP Productions' video recording of the content. Check out our photo gallery here and check out the full recording of the Leeds Conference here.
For ease, we have added in the timestamp for each speaking segment, which correlates to the video embedded below.
Developments and insights were also picked up by the press, such as The FinTech Times.
[14:50] Joe Roche, Engagement Manager, FinTech North kicked off proceedings, introducing FinTech North and the work that we do in facilitating the Northern FinTech community.
[15:07] Dawn Dunn, Senior Inward Investment Manager of event sponsors, Invest Newcastle, took to the stage to welcome attendees to the Common Room; a truly beautiful setting. Joe Roche then introduced [27:40] Christopher Sier, Chairman of FinTech North, who joined us virtually to share his thoughts on the North East's FinTech ecosystem, before wishing attendees well for the rest of the day.
[39:25] Our first keynote of the day was delivered by Rebekah O'Connor, Head of FinTech, Department for Business and Trade, who joined us to share the work the Department for Business and Trade is doing to help UK FinTechs export and grow overseas. She highlighted the FinTech Census, which asks FinTechs across the UK to provide information on three key points:
What international markets do our UK FinTechs want to break into?
What are the main challenges that UK FinTechs face?
What further support and services would UK FinTechs like to see?
If you're a FinTech interested in expanding internationally, you can fill out the FinTech census here.
Ezechi Britton MBE, CEO of CFIT then took to the virtual stage to discuss CFIT's coalition led approach to developing regional ecosystems. He discussed the importance of regionalised growth for FinTech, specifically relating to how this will apply to the North East.
"CFIT isn't just another think tank, it's about boosting innovation through collaboration. Ultimately, FinTech moves fast, but we need to move faster."
"FinTech is about more than just London. It's a UK wide opportunity and we have all the component parts to make a cohesive and collaborative improvement to financial innovation."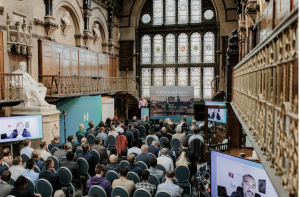 [1:28:25] Matt Lowe, Manager of the Innovation Lab, FCA, was up next. His keynote marked the official launch of the FCA's permanent digital sandbox – a testing environment that enables the FCA to support firms at the early stage of product development by enabling experimentation through proof of concepts. For more information on this, click here.
[1:53:40] Grant Johnstone, Global Head – Government Engagement and Sales Enablement, Mastercard, rounded off the morning session with his keynote on 'Learnings for FinTech and the public sector.'. He discussed the huge surge in digitalisation since the COVID-19 lockdowns, and how the public sector has a great opportunity to support small businesses and drive financial inclusion by leveraging the benefits of digitalisation.
Mastercard partners with global governments to drive innovation in SMEs. With connections across more than 210 countries, they harness their tools, partnerships and infrastructure across a range of sectors to support the rapidly growing global FinTech sector.
[2:42:00] After a networking break, we welcomed Andy Sturrock, Chief Technologist, Atom bank and Stefan Haase, Director, Whitecap Consulting to the stage for a fireside chat, discussing the current challenger bank landscape, the change we've seen in the last decade, how Atom bank had to adapt and what's next for their future.
Andy Sturrock, Chief Technologist, Atom bank: "Covid was the world's most effective Chief Digital Officer. We saw more changes in those few years than decade before…"
"Everyone now has a digital app. But that doesn't make all banks the same. It's not just 'have you got an app' – the big differentiator is overall experience. Trustpilot scores are a key indicator here"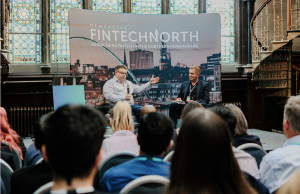 Andy and Stefan also shared their advice for regulators when it comes to retail banking.
Andy Sturrock, Chief Technologist, Atom bank: "A regulatory kitemark that says a service provider (Andy gave example of workforce management software) is certified as suitable for use in financial services would be very valuable, so companies aren't all replicating the same due diligence process."
[3:08:42] Attention then turned to the Smart Data and the Future of Payments panel discussion, sponsored by Kani; featuring Marc McCarthy, Chief Commercial Officer, Kani, Sophie Harbisher pHD, Data Science Lead, Kani, Noel Smith, Business Development Director, Transact Payments and Liam Spence, VP Franchise Innovation, Mastercard.
Sophie Harbisher pHD, Data Science Lead, Kani: "A key challenge for payments providers is about making sense of the data that comes from different sources and in different formats. Once it's standardised, you can do powerful ad hoc analytics in a matter of minutes."
Liam Spence, VP Franchise Innovation, Mastercard spoke of the FinTech ecosystem and what companies like Kani can do for the industry: "Being able to provide those data-driven insights is incredibly valuable and presents a huge opportunity for the sector." 
Liam also talked of the importance of tempering consumer expectations against the critical need for safety and security. Data always has to be secure and well looked after in the first instance.
Noel Smith, Business Development Manager, Transact Payments: "The potential of data-driven insights is still under-utilised. From a sales point of view, data that draws out trends and consumer behaviour would be really useful to help clients tailor their product to the market they're targeting."
[4:50:37] The afternoon session began with Stephen Kevan, NED delivering the launch of FinPact – an industry led, community interest organisation mandated to deliver the FinTech strategy for the North East of England. The overarching purpose of which is to create the ideal environment for innovation to thrive by focusing on digital data and tech skills where finance has a part to play across multiple sectors of our lives, benefitting the North East, its people and businesses. You can check out more information about FinPact here.
Stephen Kevan, NED: "There's great work going on out there, but it could be coordinated much better. How do we do this? That's the gap we're bridging."
Stephen Kevan, NED: "FinTech is redefining banking but weaving finance into every fabric of our lives is only 1% done."
[5:07:33] This led into our second panel discussion of the day, 'Supporting North East FinTech', sponsored by Invest North East England, featuring; Dawn Dunn, Senior Inward Investment Manager, Invest Newcastle; Caroline Churchill, Partner, Womble Bond Dickinson; James Thwaites, Associate Director, Whitecap Consulting; Manila McLean, Chief Information Officer, Newcastle Building Society; Stephen Kevan, NED and Usman Shahid, Associate Director, TrueNorth.
Usman Shahid, Associate Director, TrueNorth: "There's always been a tech skills gap in the 12 yrs he's been in recruitment. At a basic level, we need to make people more employable. Less talk, and more 'do' is the approach we're hoping to take with FinPact."
Caroline Churchill, Partner, Womble Bond Dickinson: "People need to know who they need to talk to. FinPact gives us the tools, and we'll have insights and advice so people know where to look for this type of investment info."
Stephen Kevan, NED: "We must ask 'what skills exist in the northeast that can be scaled globally?' It's critical to harness FinTech's global reach to firmly put the northeast on the map."
Manila McLean, Chief Information Officer, Newcastle Building Society: "Seeking diversity is a job with no finishing line. It's a constant and thorough process."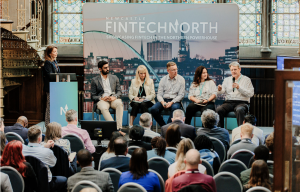 [5:57:18] Our final keynote came from the energetic Anne-Marie Lister, Chief People Officer of Atom bank, who joined us to discuss Atom's culture, it's newly-introduced 4 day work week and advice for building culture in scaling organisations.
"People are your process, they're how you build and scale your business."
[6:53:40] We closed proceedings with our North East FinTech showcase, which featured a series of innovate FinTechs sharing their propositions in a lightning-style pitch format. Our thanks to:
Intercash – Lucy Mounter, Director, Senior Business Development
POLYBOX Solutions – Rojin Yarahmadi, Co-Founder and CEO
Sportfin – Siddesh Iyer, Founder and CEO
SPARK EPOS – Eric Guo, Founder
Dialect Communications – Laura Scott, COO
NEROCU – Paddy O'Keefe, Detective Sergeant
Live More Offline – Alessandra La Via, Founder
Stag Strat – Martin Sabucha, Founder
rebuildingsociety.com – Daniel Rajkumar, CEO
UKFIN+ – Karen Elliott, Chair/Professor in Finance & FinTech, University of Birmingham
We'd like to say a huge thank-you to our sponsors, speakers and the team at the Common Room for making the event a special one. Thanks also to Intercash for their incredibly support of our pre-conference get together.
Our next conference is in Manchester, set to take place on the 14th of November. Early bird tickets are available now! Check it out here.
See you there!
---
Share this article...