Newcastle Conference – Event Roundup
Joe Roche / 26th September 2019
---
Our first ever FinTech North conference in the North East brought together the region's financial services and technology community. A sell-out crowd gathered at Sage HQ to hear from some of the region's most established tech companies, trade bodies and academics, along with the North East's most exciting FinTech startups.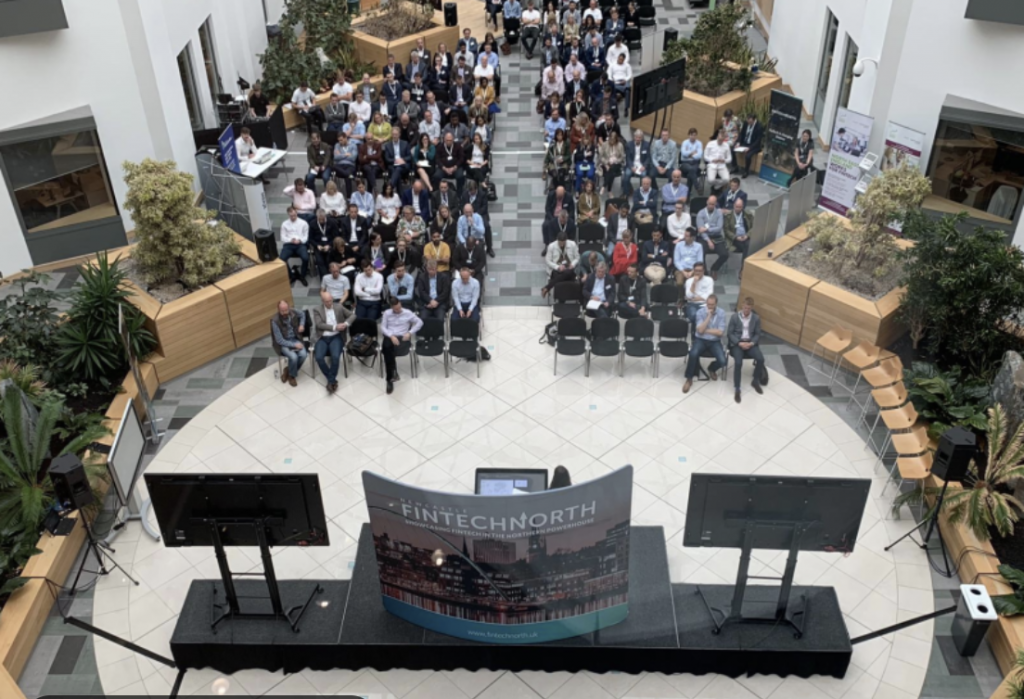 CEO of Atom Bank, Mark Mullen, was one of the day's keynote speakers. Headquartered in Durham, Atom is one of the country's most high-profile challenger banks and is also the highest rated bank in the UK according to Trustpilot. To date, it has raised £450 million in investment – the largest amount of money raised by any of the UK's startup banks.
The central theme that has emerged from the day is that the North East possesses a talent pool strong enough to attract more investment into FinTech. Addressing this issue in his speech, Mark Mullen said:
"When Atom started out, our seed capital came from a small group of North East-based investors. Our institutional investors, all based in London, had only one question about us choosing Durham as our home: can you access the talent? The answer is yes.
"Admittedly, there is still some work to do, and so we're investing a hell of a lot into the North East. For example, we have a close relationship with the Institute of Coding at Newcastle University, we're The Prince's Trust STEM partner for the North East, we run an incubator service from our HQ in Durham, and we have two Knowledge Transfer Partnerships with Newcastle University and Durham University.
"We'll be raising more capital in 2020, and we'll be spending it here in the North East. It has always been our intention to embed ourselves in our community, so whatever happens to the future of Atom, we create value each day we exist. There is no better kick you can get from business than creating employment in your community. There are fantastic universities in the North East, and there aren't enough jobs around for the talent that flows out of them. So yes, this region has the talent – now what we need is more entrances into the FinTech ecosystem here, and more investors to make decisions in favour of the region."
Delegates at FinTech North also have the opportunity to hear from some of the North East's most innovate startups; including reporting and reconciliation platform Kani Payments, SME invoice payment platform Paid, and reverse auction insurance marketplace Honcho, who were all awarded places on the prestigious Tech Nation FinTech accelerator programme this year.
They are joined by more established FinTech players, including Sage, the event's main sponsor, and one of the North East's biggest employers. The business management software company operates in 26 countries, has 13,000 employees across the world and serves over three million customers of varying size, including BMW, Chanel and the Philadelphia Eagles.
Speaking about the company's impact on small businesses in particular, Mark Norris, Director of Product Engineering at Sage, said:
"We deliver innovative solutions to help businesses realise invisible accounting, and enable small businesses to benefit from the application of artificial intelligence and data analysis for more effective financial management. In particular, we've helped to democratise collective intelligence technology, so that small businesses can draw actionable insights from data sets and enjoy the same level of analysis that larger organisations do. For example, they can compare their profitability to regional and national competitors. 
"We're really proud that what started as a business idea in a Newcastle pub over three decades ago is now enabling people around the world to pursue their entrepreneurial dreams. It's great to see so many innovation leaders from the North East in the room today, and that's why we're excited to be hosting the first ever FinTech North Newcastle." 
Speaking about what the North East contributes to the wider UK FinTech ecosystem, Chairman of FinTech North and FinTech Envoy, HM Treasury, said:
"Not only does the North East have Sage and Atom, it's got Virgin Money, Worldpay, Tesco Bank, TSB, and the Department for Work and Pensions, which you might not think of as an innovator, but it was actually the first government organisation in the UK to launch a blockchain digital identity payment solution. The universities in the region are also an incredible asset and a driver for innovation.
"We're thrilled at the turn out for our first FinTech North conference in the North East, and it certainly shows that there's an appetite in the region for greater collaboration and development of the FinTech sector here. We look forward to returning to the region soon".
---
Share this article...