Re-cap: Ethical FinTech Forum
FinTech North / 2nd December 2022
---
On the 1st of December, FinTech North welcomed delegates from across the Northern FinTech community to RSM's office in Manchester for our first ever Ethical FinTech Forum. Hosted in partnership with RSM UK and Squire Patton Boggs, the event oversaw incredibly interactive, engaging, and thought-provoking content – to which, we could have been discussing for hours!
We'd like to say a huge thank-you to our brilliant speakers for their contribution, and to the delegates who made the journey despite some difficult travel issues at the moment.
For those who were unable to make the morning of the event, FinTech North have produced a write-up for you to catch up on.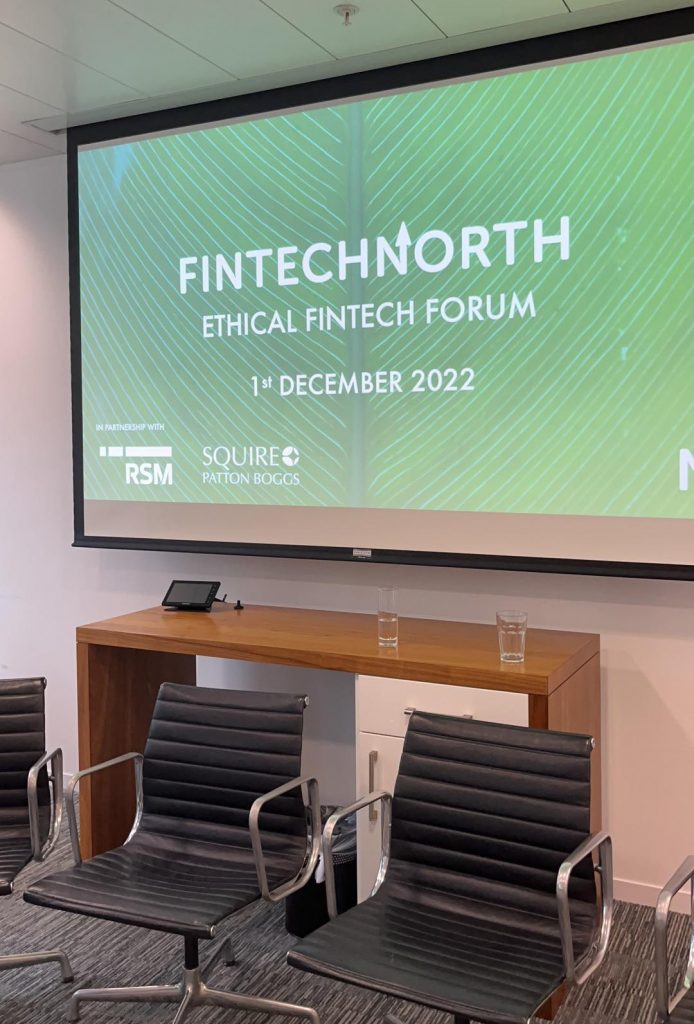 Joe Roche, Engagement Manager of FinTech North opened the event by welcoming delegates to RSM's Manchester office, before briefly introducing FinTech North; providing an overview of our objectives, impact in the sector and our recent events, before highlighting our new marketplace, in partnership with NayaOne, designed for Northern FinTechs to showcase their capabilities, access datasets and test ideas.
Joe Roche then introduced Neil Pickles, Partner in Financial Services Risk Assurance at RSM UK, who welcomed delegates to their state-of-the-art office in Manchester, and briefly shared RSM UK's experience with ESG, before passing to Kathy Hobbs, Associate Director of RSM UK who discussed in more detail.
Kathy sharply flowed to discuss RSM UK's insight to ESG at a business level in more detail, highlighting the 'complex agenda of often interlinking risks and opportunities', often 'a mixture of push and pull factors', which presents key challenges in a balance of risk, reward, and reputation.
Kathy accentuated that there will be "winners and losers both at industrial and organisation level", but highlights that "materiality is a key concept – and whatever is most relevant to you and your organisation is most important."
Kathy continued, and highlighted some ESG trends that RSM UK have experienced at a business level:
Product responsibility, brand and business purpose
Growth in ESG Investing
Supply chain pressure
Stakeholder interest
Transparency
Green taxes and Regulation
She continued, and highlighted important issues that often, their clients don't realise is important, or simply don't know where to begin implementing ESG strategy:
ESG reporting
TCFD Advisory and Assurance
ESG Due Diligence
Third-party assurance reporting
Governance reviews
RACE equality code
Modern Slavery advisory and compliance
Anti-sexual harassment framework.
Kathy provided great insight for businesses/clients in the room on how to start implementing environmental, social and governance standards, before passing over to Giles Harridge, Co-Founder, Auden for his keynote, all about Financial Inclusion.
Giles Harridge joined us to discuss the 'S' (social) in 'ESG' and to give a bit of insight to Auden's journey. Auden are a lender, with permissions in high costs spaces, all the way down to interest free unsecured lending, and are fully regulated by the FCA. He continued, and shared perspective from a commercial directive to consumer level.
He began with a modern rendition of an age-old quote – "Beauty is in the eye of the beholder in financial inclusion – we all think we're included, until we're not."
Continuing in that same train of thought, Giles shared that from a commercial point of view, "Even right answers can give an outcome of exclusion.", and brilliantly segued into focusing on identifying boundaries that exist between inclusion and exclusion:
Digital Paradox / Exclusion:
According to the FCA, 1.3m people don't have a bank account, they're using cash
Infrastructure for handling cash has gotten worse – 5,000 bank branch closures since 2015
In August – Post offices processed more cash than ever before, even though it is typically a quiet month!
Data poverty:
Subset of population don't have access to the latest technology, or simply don't understand it
Lower income groups:
True inflation rate for these groups is 14%, not 10% or 11% as often quoted in the media.
BNPL – regulation only now coming into play, impacts still unclear
There are 4.2m prepaid utility meters in the UK (via Chris Pond, Chair of the Financial Inclusion Commission)'
Financially excluded – small point, but tend to drive older cars – subsequently contributing to the environment – not very ESG!
Gen Z:
Typically have thin credit files
Less likely to be on electoral register, effecting credit score;
'Tougher bunch' to reach responsibility.
Open banking
Gaining traction, but certainly not universal!
Are all these bank accounts working together in unison?
Positive – but not polished!
Giles continued, accentuating the blurred lines between what is financially inclusive, and what isn't. To further back his stance, he explained that 'lives are complicated' and there is "lots to navigate out of exclusion"
"There's a fine line between doing the right thing and being judgmental about peoples personal behaviours. There's a danger of seeing too much. Gambling, for example. What is considered fun, and what is considered an addiction?".
Giles went full circle and brought the topic back to the importance of FinTech responsibility, and flowed from the 'S' in 'ESG to the 'G'.
"The FinTech space is exciting, but we most remember where we come from and where we're going. Signally financial inclusion in words is easy, but going through with it is another story."
After a short coffee break, we welcomed Will Smith, Co-Founder of Tred to the stage. Will introduced Tred, the UK's first carbon neutral banking provider, which offers a game changing debit card that allows you to track your impact the planet, and provides advice on how to reduce and offset your emissions. They are also the only FinTech in the UK to be both B Corp accredited and 1% for the planet.
The 'E' of ESG – Will highlighted how managing your money has a huge impact on the planet, and shared some simply hard to believe statistics with the room:
"24 big banks have provided £27.1bn for new oil and gas projects – despite wanting to be net zero by 2050."
"Having £5,500 in a high street bank could be the same as 7 round trips from London to Rome."
Lauren Langton, Business Development Director of incuto was up next, and joined us to discuss community finance and financial inclusion. Lauren introduced incuto, their reason for existence, how they deliver services and their impact on society.
"We believe that everyone should have the access to fair, affordable financial services."
Lauren shared that incuto CEO, Andrew Rabbit (who was also present in the room) founded incuto to help address the existence of the  poverty premium, where those who have the least often pay more than other people, and from an intense aversion to high cost lenders including legal and illegal money lenders (loan sharks).
Lauren passionately shared that historically many community-based lenders have been 'ill-equipped' to deal with the huge demand for their services and to offer a fit for purpose alternative to high cost lenders and fill the gaps left by the mainstream finance  providers.
Lauren then highlighted – that's where incuto come in!  incuto help affordable lenders to transform and grow, by improving their efficiency, where they can then offer better services, provide more loans and ultimately help more people – all underpinned by a huge focus on resilience and sustainability.
Next up, we welcomed Siddesh Iyer, Co-Founder, Sportfin who dialled in via Zoom. Siddesh joined us to discuss the 'S' in 'ESG', showcasing SportFin – an organisation founded to help community sport clubs harness sport data, and to automate community impact reporting towards raising funds more efficiently.
Our penultimate segment was filled by Safdar Alam, Chief Executive Officer of WahedX – an Islamic VC with Shariah business practice built in down to its core. WahedX is a part of a larger group – Wahed Invest, an international retail investing platform. With regulated licenses for 9 countries, the company has over $400 million in global assets.
WahedX was developed as a VC arm to try and provide solutions to the challenges Muslim communities are facing, born out of a "consequence of responsibility" – as told by Safdar. This now extends into FinTech.
Safdar shared that it is difficult for Muslim founders to gain investment. He informed us that "investors go for something they understand more easily, and startup propositions aligned with Islamic principles are more difficult for regular VCs to invest in." Continuing in the same vein, Safdar shared the rules around Shariah and finance, which govern the technicalities of finance – based on principles that have been in place for 1400 years.
At WahedX, Islamic principles impact how they treat their capital, for example; "industries that damage our communities are prohibited – which subsequently impacts investment." WahedX would not invest in a lending business, as lending with interest is impermissible.
"Our investors trust in WahedX to ensure that, not only is it acceptable from a commercial perspective, but also to make sure it aligns with Shariah rules and principles."
To seal off the event was a panel discussion, which featured Marten Moller, ESG Lead, Algbra; Andrew Rabbitt, CEO, incuto; Will Smith, Co-Founder of Tred; Giles Harridge, Co-Founder, Auden and Kathy Hobbs, Associate Director, RSM UK.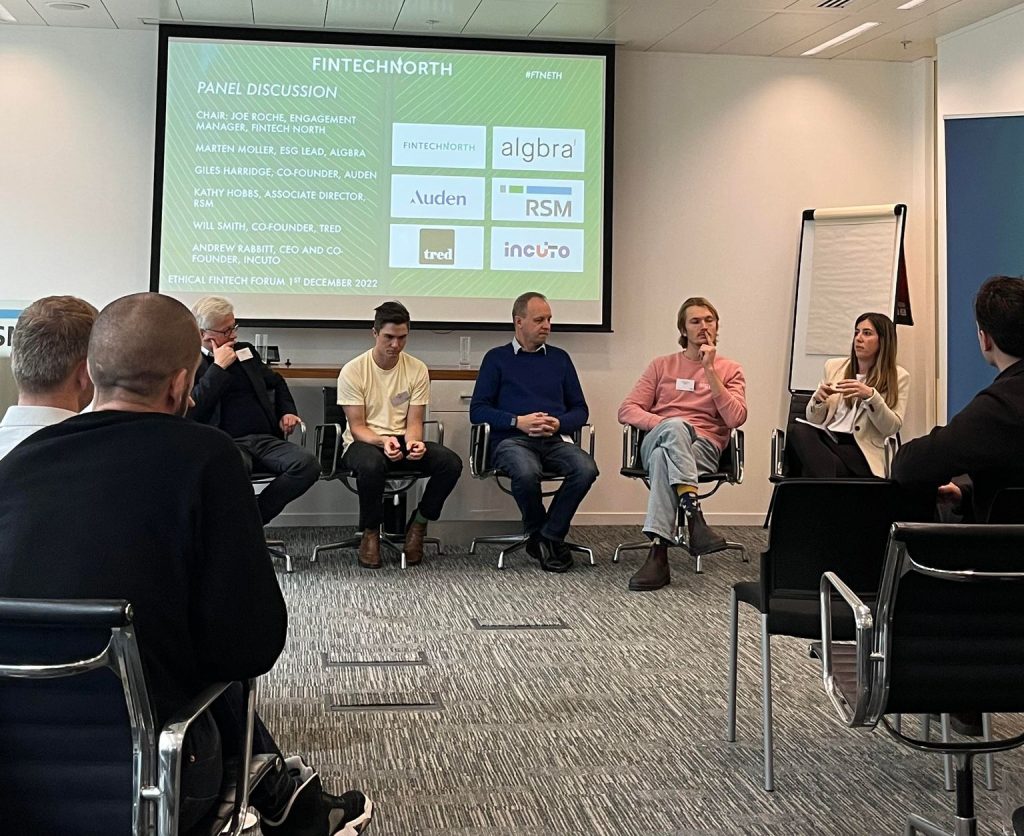 The panel itself was incredibly interactive with the audience, and there was a real chemistry between the panelists. Some of the topics that were discussed included regulation, funding, governance, issues with BNPL, loans, lending, sustainability, business culture, financial access and exclusion.
Marten Moller, ESG Lead, Algbra:
"It shouldn't be a balance between profit and doing good – they should be synonymous."
Andrew Rabbitt, CEO and Co-Founder, incuto:
Discussing Financial inclusion:
"You might not know you're financially excluded – until you try and get a product" (mortgage)
"Financially excluded know exactly how much they have, and how much they can spend." 
"There is a huge opportunity to work with the financially excluded."
Joe Roche then brought the event to a close, and quickly passed to Ryan Walsh, Marketing and Events Executive at FinTech North who highlighted our upcoming events calendar.
It was so great to bring together the Northern FinTech community in Manchester to discuss all things ESG. It felt like we could have been there all afternoon to discuss each corner of ESG. We can't wait to bring another Ethical FinTech Forum to you – so keep those eyes peeled!
The Ethical FinTech Forum was hosted in partnership with RSM UK and Squire Patton Boggs.
---
Share this article...