Re-watch and re-cap: FinTech North Manchester Conference
Joe Roche / 2nd December 2021
---
On the 30th of November, we finally brought the Northern FinTech community together in physical form! With over 300 registrations for our hybrid FinTech North event, we were delighted to see some old faces and welcome some new ones. We thank our sponsors; LSEG (London Stock Exchange Group), OpenMoney and Infinity Works, Part of Accenture.
We would also like to say a huge thank you to our speakers and all our attendees for making the event a success. Thanks also to the University of Manchester (in particular their fantastic AV and events teams!), pro-manchester, MIDAS, Shoosmiths and Fund Her North for their support.
For those unable to attend, we have a recording of the event to share with you. This is accessible here or by clicking on the image below. Additionally, a write-up has been produced for the benefit of our community.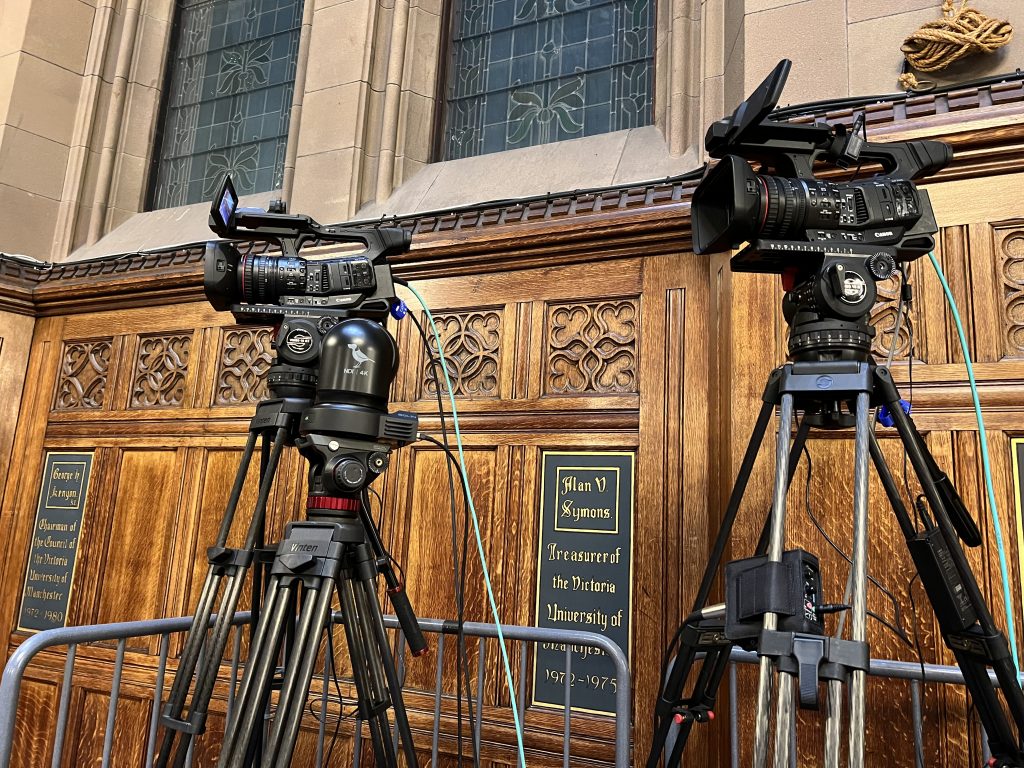 Joe Roche, FinTech North Engagement Manager, opened proceedings. Joe welcomed the attendees before handing over to Professor Dame Nancy Rothwell, President & Vice Chancellor at the University of Manchester, who gave us a brief background of the university's direction of travel regarding FinTech – prompting those with a desire to collaborate with the university to engage with the Business Engagement and Knowledge Exchange team.
Julian Wells, Director at Whitecap Consulting and FinTech North, followed up introductions with an overview of FinTech North before passing on to HM Treasury FinTech Envoy and Chair at FinTech North – Christopher Sier.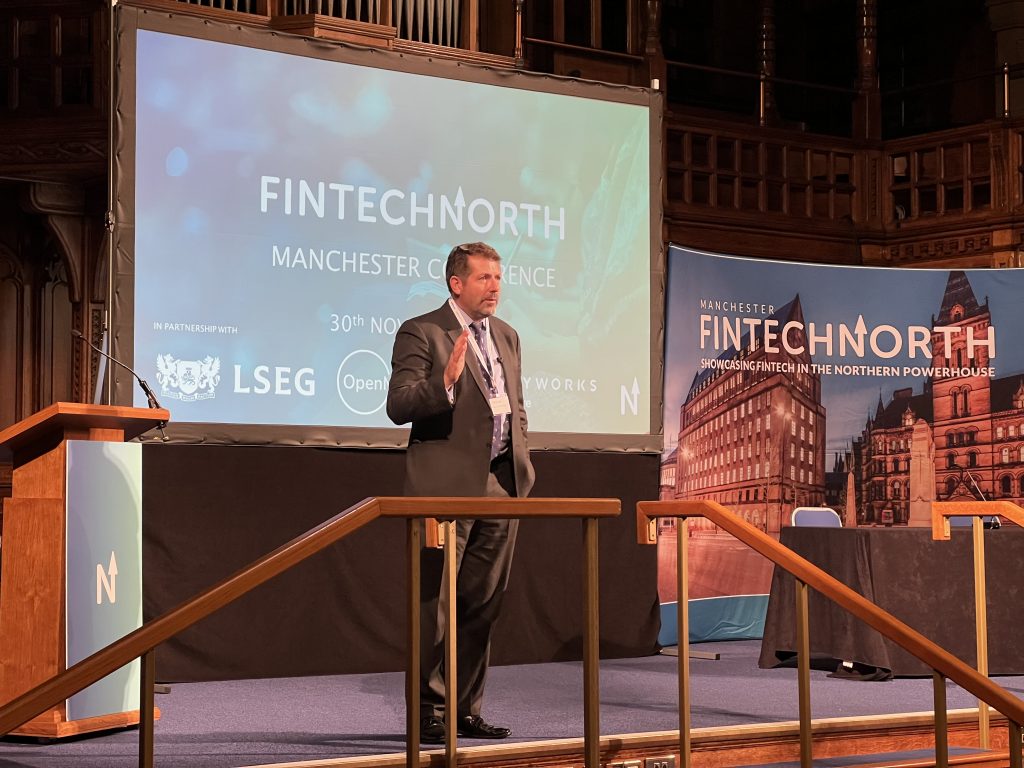 Chris delivered a speech detailing the current state of affairs in Northern FinTech, recent evolution of UK FinTech and how the sector developed during the Covid-19 Pandemic. He shared that FinTech has grown from strength to strength despite the pandemic and it remains the biggest growth sector in the UK, declaring that 'the government is finally taking FinTech seriously!'. He asseverated that there is huge value in everything that goes on outside of London and enthused over the aggregate capability in the North.
Chris went on to detail that there is now a strategic government and national academic perspectives regarding FinTech – with most large universities having dedicated internal teams researching FinTech.
Peter Cunnane, Director of International and National Initiatives, at Innovate Finance was our next speaker – he provided a sector update from the Innovate Finance perspective as the National Body for FinTech. He discussed the role of Innovate Finance and how they connect and facilitate the growth of the FinTech sector in the UK and connect with like-minded FinTech hubs around the UK and the world. Additionally, Peter provided an update on the Kalifa Review, the UK Government's 2021 Review into UK FinTech.
Despite Covid, Peter declared that there was 5.7 billion pounds invested into UK FinTech, a huge growth from 2020's 4.3 billion – reinforcing that UK FinTech is 'knocking it out the park'.
Markos Zachariadis, Professor in Financial Technology at the University of Manchester, was next up in our keynote speaker line-up.
Markos provided holistic summary of the ongoing FinTech research activity at the University. Markos and his teams are pursuing a multidisciplinary research strategy, which incorporates research into:
Payment infrastructure & systems
The effect of regulation on digital banking strategy
Business model variations
Dimensions of API openness in open banking frameworks
Governance and control in Distributed Ledger Technology (who is in control of the Blockchain?)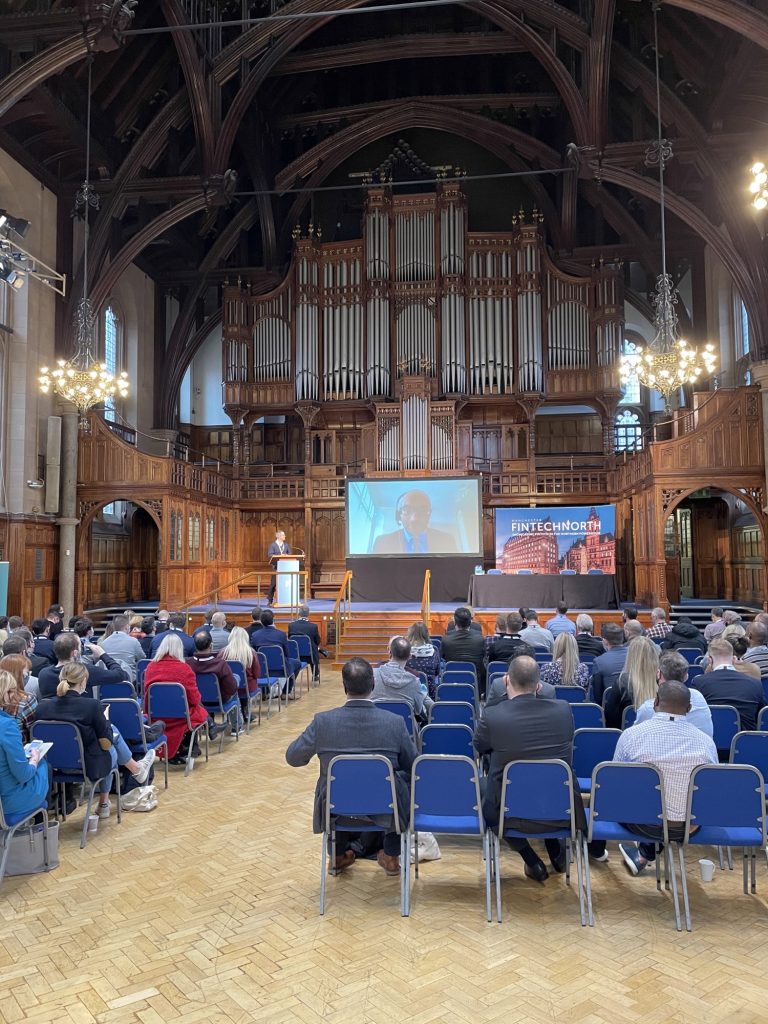 Ravi Bhalla, Head of Technology and innovations at the FCA, then gave us an insight into the regulatory landscape surrounding FinTech. He detailed the FCA's role and how they wish to act as the' driving force for positive innovation!'. He explained how they can offer bespoke regulatory guidance to previously unregulated firms, how to meet eligibility requirements for FCA partnership and offering feedback to unsuccessful companies.
Additionally, Ravi detailed key emerging trends in the FinTech landscape:
Cyber Security will become more significant
Open Banking – shift as merchants seek cost effective ways to manage payments.
Crypto Assets – Big Techs are making in roads and Crypto assets are gaining public attention
Customer facing tech that connects consumers with businesses that align with their social and environmental values.
Increased effort on value of data
Our first panel of the Conference focussed on FinTech in Manchester, chaired by Kimberley Waldron (Founder of SkyParlour) and featuring Rachel Kenyon (Business Engagement Manager at the University of Manchester), David Smith (Chief Revenue Officer at Nivo), Vanessa Harding (Managing Director and North West Co-Lead from Accenture UKI) and Richard Hayes (Co Founder and CEO, Mojo Mortgages).
"We could be witnessing the end of London brain drain – Let's be known as the hub for FinTech!" Exclaimed David Smith, Chief Revenue Officer at Nivo.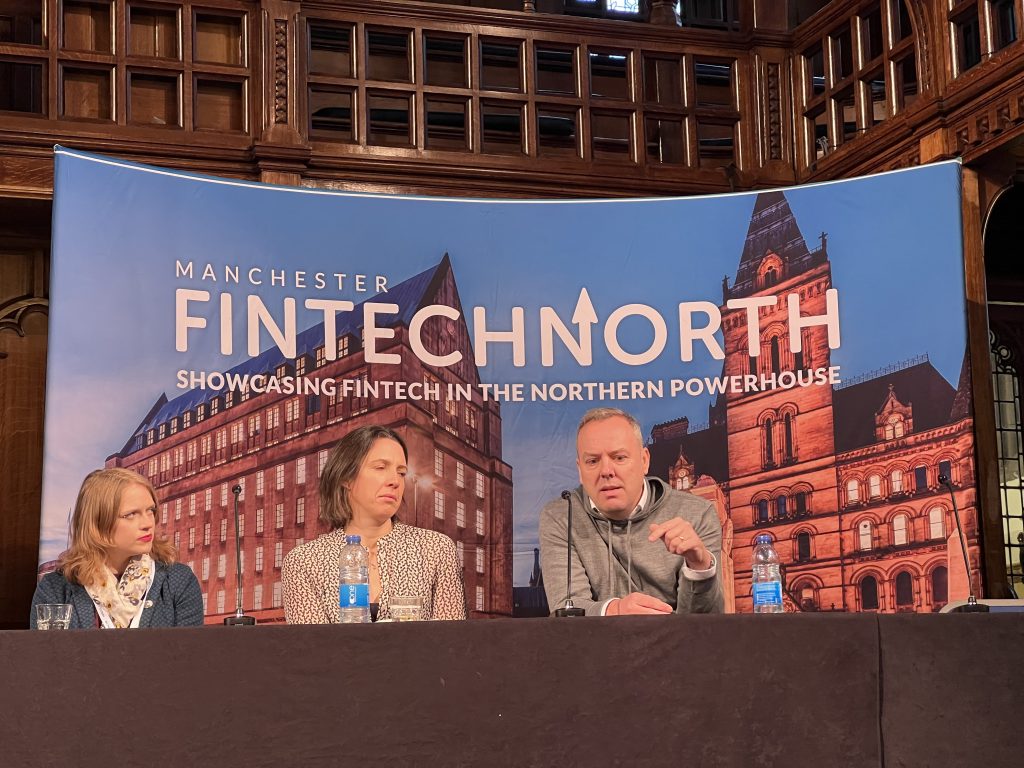 After a lunch and coffee break, we welcomed the second panel of the proceedings, which was hosted in partnership with OpenMoney and asked the question "Is FinTech helping Financial Inclusion?" – featuring Ashley Eyre, Head of Compliance at Manchester based OpenMoney, Vicky Gosling OBE, Chief Strategy Officer at Manchester based lender Auden, Jemma Jackson, Head of PR at investment app ii (interactive investor), and Laura Pomfret, Co-founder at Financial Wellbeing start-up Financielle.
General themes suggested issues surrounding a lack of financial literacy and gaps in school curricula.
"I would say that lending is unregulated and we're in an unregulated position. It comes back to education. We weren't given the education, it's not in the curriculum." – Ashley Eyre, Head of Compliance at OpenMoney.
"There should be warnings for these types of services. There is no holistic way to tell an individual what will happen if you're in debt and don't pay it back – or what the implications of that may be. The regulator should stipulate the risks." – Vicky Gosling OBE
We then heard from Piers Dryden, Partner at UK Law firm Brabners, and Eleanor Simmons, Consultant at Whitecap Consulting, on their in-depth report into the North West Funding Landscape.
We then gathered everyone together for a virtual panel, curated by Fund Her North and chaired by Jordan Dargue, Founder of Fund Her North, Board Director of North Invest. The panel focussed on changing the face of investment and improving the gender balance in the early stage tech ecosystem in the North.
This panel sought to break down the barriers to angel investing, discussing the need for more women angel investors and improving the gender balance in the early stage ecosystem in the UK.
Anecdotes from the panel included struggles with imposter syndrome, confidence and lack of access to investment.
"The challenges of imposter syndrome – if you have people around you that champion the work you do – it makes it a whole lot easier."
"This is an environment where you're willing them on. It's thinking Yes from the start and getting behind them from the beginning. I get a real buzz out of hearing other peoples stories. And if it's a women, it's even better." – Sally Cowling, Angel Investor
We heard from Amy Whitell, co-founder and CEO of Manchester based group payments start-up Collctiv, Angel Investor Sally Cowling and Heather Waters, Regional Manager at Natwest.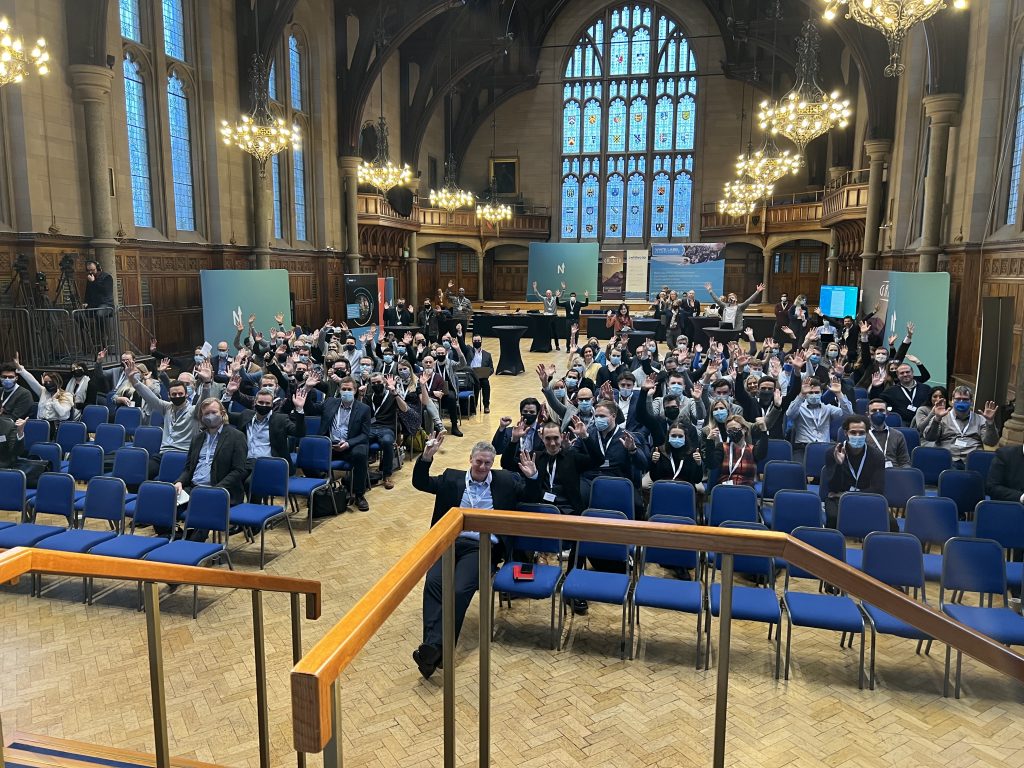 We closed with our FinTech showcase, which featured 20 speakers from a wealth of innovative FinTech companies, hailing from as nearby as Stockport and as far away as Rio de Janeiro! For more information on each company/speaker, we have provided a link for you to view. We would massively encourage you to check them out!
See below for company details speaker timings:
Accenture UK– Graham Cressey – FinTech Lab Sponsor – 4:17:53
Co-founded by Accenture, the FinTech Innovation Lab is a premier global accelerator programme that helps cutting-edge fintech startups scale their businesses in the world's most competitive markets. Learn more fintechinnovationlab.com.
LSEG– Maz Saleem, Sales Director​ – 4:24:25
Hydr – Nicola Weedall, Co-Founder​ – 4:31:20
SimpleInsight– Michael Stewart, Founder​ – 4:37:40
Financielle – Holly Holland and Laura Pomfret, Co-founders ​- 4:43:01
Financielle is a female focussed financial wellbeing platform helping women to ditch debt, increase savings and invest in their future. The Financielle app is now live and you can download here www.financielle.com
RDvault – Shoayb Patel, CEO​ – 4:47:30
The RDvault platform has demystified the process of claiming R&D Tax Credits and already helped businesses claim over £40m. We're empowering users to easily prepare simple, swift and low-cost HMRC compliant R&D tax claims using our powerful cloud-based platform.
Digital Oracles– Sara Simeone, CEO ​- 4:53:18
xDesign– Matt Ward, Client Services Director – Northern England – 5:01:20
We are xDesign. We are a digital development partner providing software engineering and Agile product teams that develop, discover, design and deliver the best web and mobile projects, processes and people. For over a decade we have helped clients create bespoke, award-winning, innovative digital products- supporting them from idea to implementation and ongoing delivery.
Leonard Cheshire– Jen Sweeney, Northern Corp Fundraising ​- 5:09:56
Leonard Cheshire are a major health and welfare charity. Jen Sweeney and Emma Pearce informed us about the work of Leonard Cheshire and the forthcoming legislation changes around D&I in the finance sector.  They also presented their award winning graduate internship programme, for more details about partnering with Leonard Cheshire please contact Jen Sweeney.
Tech Passport– Layla White, Founder​ – 5:17:45
Ving.AI – Benjamin Ndubuisi, Founder – 5:21:20
VING.ai is an AI-enabled peer to peer currency exchange platform with a specialised focus on Africans living abroad.
Data on Demand– Simon Gregory, Sales Director​ – 5:26:43
Data On Demand provide data and insights to companies that service people, helping them better understand and improve engagement with customers.
Tasika/Comply Radar – Lee Melia, Programme Director​ – 5:32:08
Rupee (Brazil)– Guilherme Baumworcel, CEO ​- 5:37:53
Goldman Sachs– Winston Pearson, Open Banking Product Manager​ – 5:49:29
GC Angels– Sarah Ayton, Strategic Relationships Manager​ – 5:53:20
PollenPay– Leon Wilson, CEO​ – 5:57:53
Spondula– Paul Haberlin, Operations​ – 6:03:00
SportFin– Siddesh Iyer, CEO and Founder​ – 6:08:35
TISAtech– Jonathan Plowman, Business Development Manager – 6:15:15
We then thanked our speakers and attendees with a drinks reception sponsored by LSEG (London Stock Exchange Group), which brought the conference to a close.
The FinTech North Manchester Conference was hosted in partnership with LSEG (London Stock Exchange Group), Open Money and Infinity Works, Part of Accenture.
For any speaker, sponsor or general enquiries, please contact FinTech North Engagement Manager Joe Roche.
---
Share this article...