Re-watch: Leeds Open Mic FinTech Showcase
Joe Roche / 30th September 2020
---
On the 29th September the FinTech North Community came together for FinTech North's first ever Open Mic FinTech Showcase. This event was hosted in partnership with Netpremacy, as part of Leeds Digital Festival.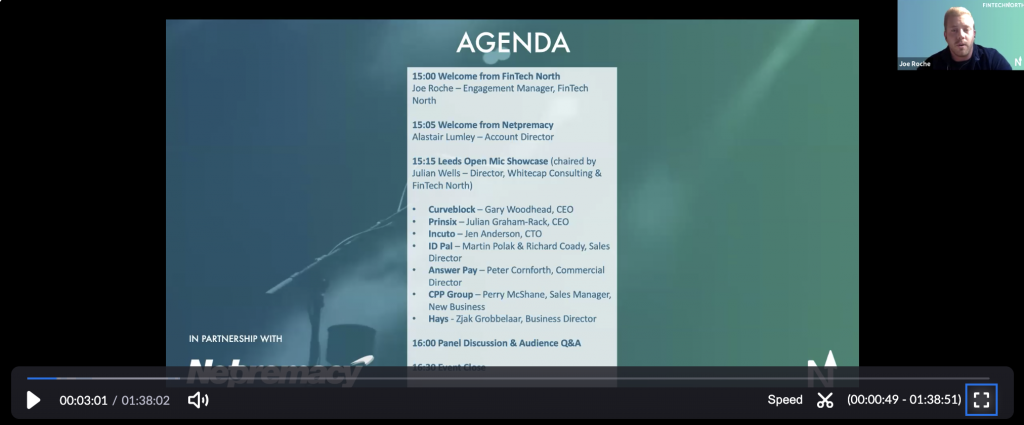 Our objective with this event was to host an informal, pitch-style event during the festival which was open to the Northern FinTech community to share their FinTech business, idea or solution.
Our community response was great and we were delighted that 2 new Leeds-based FinTechs made their FinTech North debut at this event: PrinSIX and answer pay. We were thrilled to feature businesses of different shapes and sizes, at different stages of evolution, as a real showcase of the vibrant Northern FinTech ecosystem.
We have produced a recording of the session, so that anyone in our community who could not make the event can catch up.
Click the screenshot above or click here to view the recording. Please see below for the Showcase Timings.
Open Mic Showcase Timings:
Netpremacy: 03:45
Panel Discussion: 1:26:33
Thanks again to Netpremacy for helping us to bring this event together. Thanks also to all of our speakers for sharing their expertise and insight.
---
Share this article...