Re-watch: The Future of Savings 18/11
Joe Roche / 18th November 2020
---
On the 18th November the FinTech North Community came together to discuss the Future of Savings. The Future of Savings was hosted in partnership with Raisin, Mutual Vision and Newcastle Strategic Solutions.
For those who couldn't join the session live, we have produced a recording and a write-up of the event. Click the image below to watch the recording, and please see below for the write-up.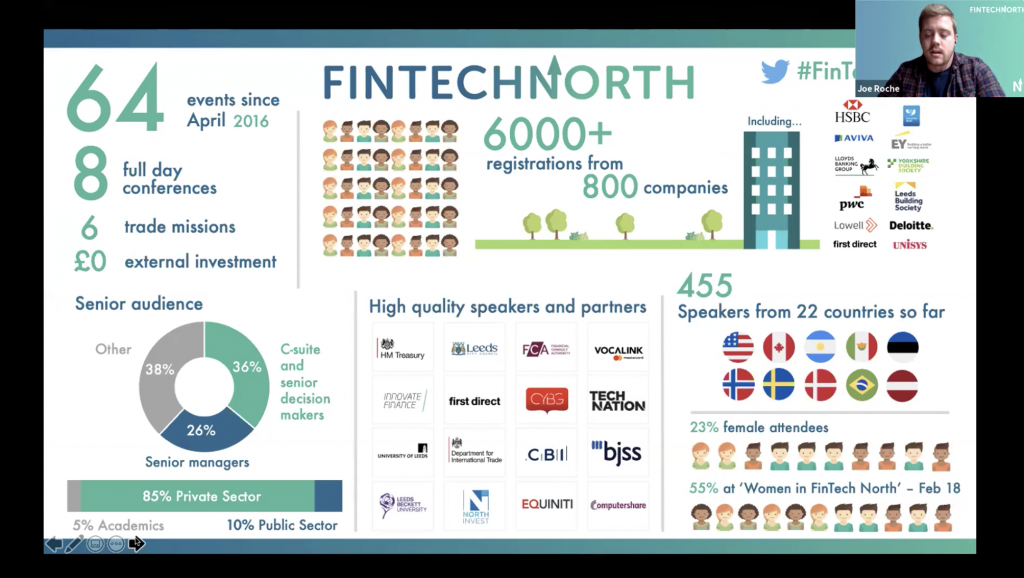 Joe Roche, Engagement Manager at FinTech North, opened the event and welcomed attendees; explaining the work FinTech North does to bring the Northern FinTech Community together.
Julian Wells, Director at Whitecap Consulting and FinTech North, set the scene for attendees with a short introduction to the topic. Julian highlighted that the savings market has seen a lot of FinTech-related activity, with the creation of new propositions increasing the choice in the market. Julian flagged a recent stat which claimed 1 in 5 people are considering switching savings account within the next year, which highlights the opportunity in the market. The speakers at the event represented around 60 different savings providers across their respective client bases, ensuring a wide range of perspectives would be reflected in the discussion.
Kevin Mountford, CEO & Co-founder at Raisin UK, was our next speaker. Kevin outlined a sector close to his heart and provided an overview of the trends Raisin are seeing. Raisin are seeing an increase in collaboration in the ecosystem and the rise of 'savings as a service'.
8 times more savers than borrowers
44% of furloughed workers report increased savings
77% of people have changed their approach to savings
Our next speaker was Rich Wainwright, CEO of Mutual Vision. Rich explained how MV work predominantly in the building society sector, building banking platforms and digital ecosystems that building societies and banks to manage loans and savings.
Rich spoke about industry trends from Mutual Vision's perspective:
o   Personalised user experience through digital; a priority for building societies
o   The need to transform KYC into understand and empathise with your customer; picking up what customers value
o   Ethical focus & trust; people trust building societies which is essential when going digital
"Going forward, the user experience still needs to be personalised despite increased digitisation" – Rich Wainwright, CEO, Mutual Vision
Next we heard from Steven Marks, Business Development Director at Newcastle Strategic Solutions. Steven provided an overview of NSS, which is a subsidiary of Newcastle Building Society that provides and manages retail savings operations on behalf of banks.
"Big tech and the new digital banks have all raised expectations for simple, easy to use experiences" – Steven Marks, Business Development Director, Newcastle Strategic Solutions
NSS's clients have a strong focus on customer experience and journeys. On Open Banking and Open Finance, Steven said these present future opportunities for providers and savers.
Then we heard from Matt Latham, Co-founder of tickr. tickr are an impact investment platform, founded in Liverpool. Matt started by inverting our event title, to the Future of Investing. Matt began by highlighting that there is a whole generation in the UK who won't necessarily own their own home, therefore people are thinking differently about how they save for the future. tickr allows users to impact in environmental and social impact funds, with an easy to use and eye-catching interface as part of their app-only approach.
Interestingly, 25% of tickr users join the platform primarily to have a positive impact, with financial considerations coming secondary. Initially launched as an investing platform, tickr has since started to help customers learn about their spending.
"We are helping our customers think about their money and their spending" – Matt Latham, Co founder, tickr
We then asked all of our speakers to join an interactive panel discussion and audience Q&A. Our speakers were joined by Georgina Mitchell and Rob Thickett. Georgina is an independent board advisor who has worked in p2p lending and wealth-tech. Rob is Digital Policy Manager at the Building Society Association.
Our panel discussion covered lots of ground, including topics such as digital inclusion, the potential impact of Open Banking, the importance of enhancing financial education, and the increasing importance of Environmental Social Governance (ESG) as ethical investing and saving continues to gain prominence.
To re-watch the event, including our panel discussion, please click here.  
This event is an on-demand session which is part of Open Banking Expo Digifest, running from 24-26th November. Build your own schedule and dip in and out across the three days; with live access to chat, question or video call fellow delegates, speakers and partners. Find out more and book your place now: https://www.openbankingexpo.com/digifest/digifest-booking-form/
---
Share this article...