Re-watch & write-up: FinTech North Financial Inclusion Forum
Joe Roche / 10th December 2020
---
On Thursday 10th December, in the run-up to a festive period where the majority of transactions will take place away from shop-fronts and city centres, the northern FinTech community came together virtually to explore Financial Inclusion.
We were joined by a panel of good friends and sector experts, to share their views insights and experiences of Financial Inclusion and what FinTech can do as a sector to find a solution to a complex and nuanced societal issue.
For those who were unable to join the event live, we have produced a write-up and recording. Click the image below to view the recording.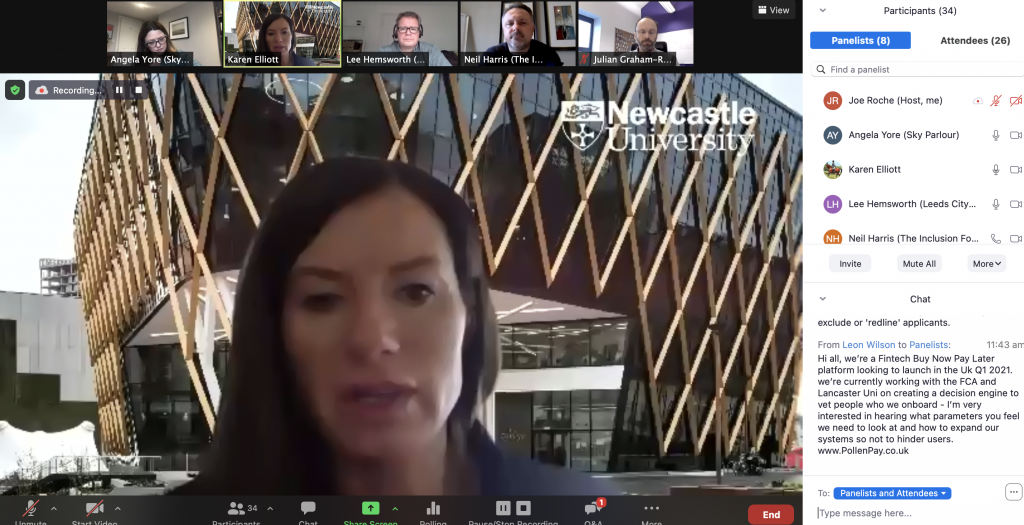 Joe Roche, Engagement Manager at FinTech North, opened the event and welcomed the community to FinTech North's first ever dedicated Financial Inclusion Forum. Joe highlighted FinTech North's recent announcement and thanked our speakers for sharing their experiences and insight.
Felix Litzkow, Venture Studio Manager at Crisis, was our first speaker. Felix introduced the Venture Studio from Crisis, which invests in, supports and creates ventures to end homelessness. Financial inclusion and FinTech more broadly plays an enormous role in ending homelessness and Felix is looking forward to connecting with startups and experts in the field. The investment for equity from Crisis comes with funding, regular access to users for testing and co-creation, 51 years' worth of data and market insights, connections to partners who can distribute your products in market and investors who can scale your business for the long term. The deadline to apply is 10th January.
Our next speaker was Neil Harris, Founder of the Inclusion Foundation and Group CCO of Global Processing Solutions. Neil presented the Inclusion Foundation, a not for profit social enterprise organisation aiming to improve the lives of millions by providing better access to information on financial services.
£500 – the cost per year of being financially excluded
1.23 million – the number of people in the UK who are cash dependant
138 million – the number of people in Europe who are cash dependant (18% of population)
The Inclusion Foundation also offer accreditation to suitable products and services, and provide a comparison.
"We are sleepwalking into being a cashless society" – Neil Harris, Founder of the Inclusion Foundation
We then gathered our speakers for an extended panel discussion, welcoming them to the event and inviting them to share their experiences and insights:
"We are waiting for the impact of the end of the furlough scheme" – Karen Elliott, Senior Lecturer (FinTech), Newcastle University
"Lenders will find it difficult to make decisions over the next few months… lending will be harder to get until covid impacts are understood" – Julian Graham-Rack, CEO, PrinSIX Technologies
"The issue is as much about trust, people can trust cash…. Technology is dependant on access, trust and ability to use" – Lee Hemsworth, Chief Officer Customer Access & Welfare, Leeds City Council
"More collaboration will be key; connecting real people and real case studies to address the issue" – Karen Elliott, Senior Lecturer (FinTech), Newcastle University
Q: What role can organisations play in providing access to affordable credit?
"What is affordable credit? I would split that; there is cheap credit at a low cost, and there is credit that can be repaid without causing financial difficulty. Credit needs to be fairly priced." – Julian Graham-Rack, CEO, PrinSIX Technologies
We closed the event with our chair inviting each of our panellists to make a Christmas wish:
Lee: "Ensure you co-produce and work with those with lived experience of financial exclusion."
Angela: "Financial inclusion for every person every day."
Karen: "Collaboration to break down barriers between lived experience, academia and industry."
Julian: "There is an awful risk of looking at credit in a binary way. We need to start thinking about 'appropriate credit'."
Click here to re-watch the recording and keep an eye on our events page; we will return to this topic in 2021.
Have you read our recent announcement regarding the future of FinTech North? Click here to read 2020 reflections, 2021 and beyond!
---
Share this article...