Roundtable – Manchester: The UK city to scale for FinTechs
Joe Roche / 20th August 2021
---
Join FinTech North Partners MIDAS (Manchester's Inward Investment Agency) and RSM UK for a roundtable event which will take a deep dive into one of the UK's multibillion-pound digital ecosystems – Manchester.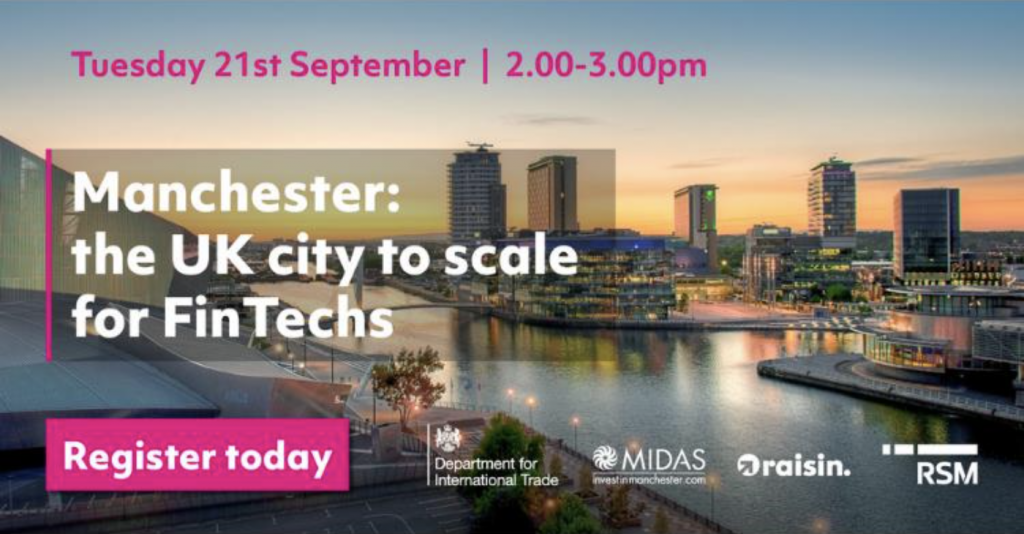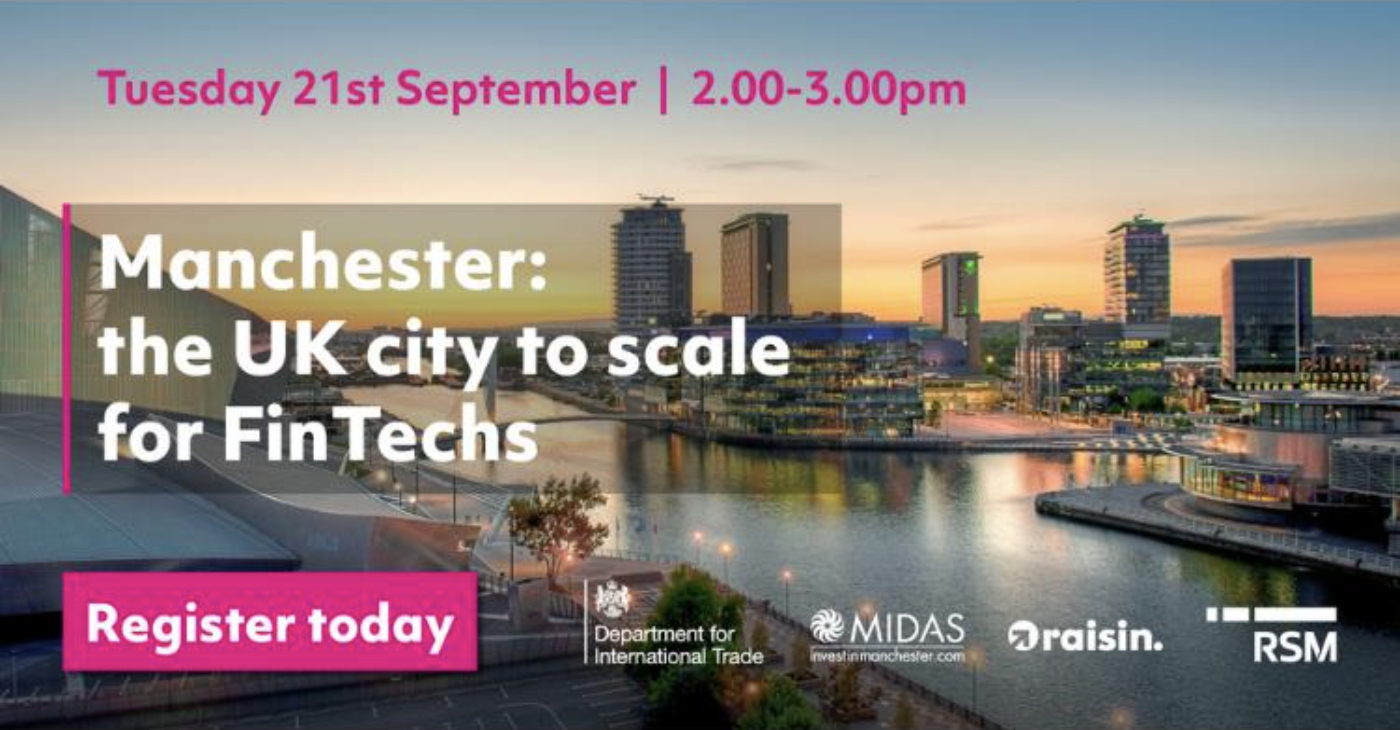 About
Boasting 10% of global market share and generating £11bn in revenue annually, the UK is a dominant force in FinTech and in June 2021, Manchester secured its place as the UKs number one regional FinTech location rising 19 places to 34th position in the The Global Fintech Index.
MIDAS, Manchester's inward investment agency, have helped hundreds of FinTech and financial services firms successfully establish operations in the city including Klarna, Adyen, OakNorth and Berkshire Hathaway.
Join MIDAS, along with RSM, Raisin UK, and The Department for International Trade on September 21 at 2pm (BST) / 9am (CEST) for Manchester; the UK city to scale for FinTechs.
Hear from a panel of FinTech & International Trade experts:
– RSM's overview to UK foreign investment opportunities
– Expansion opportunities in the North West of England
– Key considerations, advice and common mistakes to avoid for UK bound FDI
– Raisin UK's experience as a FinTech expanding into the UK
Meet the speakers:
Neil Pickles, Partner in Financial Services Risk Assurance at RSM
Kevin Mountford, Co-Founder at Raisin UK
Nigel Jones, Tech and Creative Sector Specialist at The Department for International Trade
Deborah Walker, Head of Inward Investment- Financial, Professional and Business Services at MIDAS
Agenda:
13.45-14.00: Pre-event networking
14.00: Welcome from Nigel Jones, DIT
14.05-14.20: Introductions from MIDAS, RSM & Raisin UK
14.20-14.50: Panel discussion on international expansion, scaling a FinTech in the UK and opportunities in Manchester
14.50-15.00: Audience Q&A
15.00: Event close
15.00-15.30: Post-event networking
Click here to register and find out more. 
---
Share this article...