The FCA and the City of London Corporation launch new synthetic data set, designed to combat Automated Push Payment (APP) fraud
Ryan Walsh / 17th November 2023
---
The Financial Conduct Authority (FCA) and the City of London Corporation have collaborated to launch a new synthetic data-set, designed to support the development of products to combat Automated Push Payment (APP) fraud. The dataset mimics real transactional behaviours, whilst ensuring privacy, and is hosted within the FCA's Permanent Digital Sandbox. The application window has opened from 1st August for companies to access the data.
APP fraud losses grew to £485 million in 2022 and solutions to this problems are urgently needed. By making the synthetic data-set available on the FCA's Permanent Digital Sandbox, successful applicants, ranging from established corporations to start-ups, can access varied support alongside the dataset, from expert mentorship, showcase opportunities and networking within the ecosystem.

We're delighted to share this with the FinTech North community – whether you're a financial services institution, tech or fintech company, potential mentor or collaborator, anyone can get apply.
What are the benefits of accessing the Permanent Digital Sandbox?
Upon success of application, the full offering of the Digital Sandbox can be accessed including: invitations to project demonstration days, mentorship opportunities, access to datasets and the development environment.
Participants are expected to:
Provide periodic progress updates (i.e attend 1-1 catch-ups with FCA teams).
Maintain a project area on the platform.
Receive support from mentors and network with other participants.
Provide a video demonstration and showcase the developed product at the demonstration day.
Provide feedback of data and the Digital Sandbox service.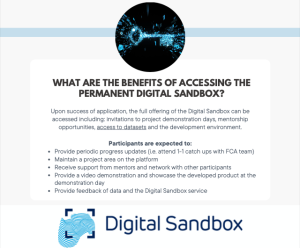 To access the Permanent Digital Sandbox:
Visit the FCA website to view the full details of the Permanent Digital Sandbox
Sign up to the Digital Sandbox and create a user profile. You will be able to view the list of datasets available on the platform, the previous events/participants and apply to the Permanent Digital Sandbox.
Apply to the Digital Sandbox – to access the datasets via our integrated development environment (sandpits), Digital Sandbox users can apply to the Permanent Digital Sandbox (PDS) event, with their innovation project.
Await application review – the FCA Innovation Lab assesses and responds to each applicant on the outcome of their application within 4-weeks. The eligibility criteria assesses whether your project is within scope, has genuine innovation, provides a consumer benefit, and assesses your project's readiness and need for support.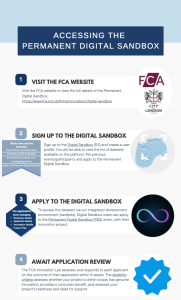 Please note that the deadline for the first set of applications is 4pm on Friday 29th December 2023.
---
Share this article...