The Payments Association to host networking event for payments community, PA@TheCity, in Manchester, June 13th!
Ryan Walsh / 18th May 1999
---
Our Community Survey 2023 revealed an urge for FinTech North to host more networking drinks or social events. Following this finding, we debuted our 'FinTech Socials' series in Manchester, last month. This went down really well; laying claim to over 50 delegates, who mingled and networked over pizza and drinks!
With that being said – we're always delighted to share other events that benefit our community and align with values that are being hosted in the North.
If you're a payments professional, or indeed involved in the payments sector to any extent, and are looking to grow your network with like-minded individuals – this could be the event for you!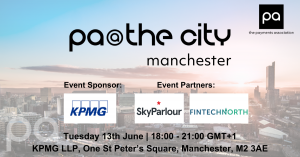 We're delighted to support national payments community, The Payments Association, as they head to Manchester for June's edition of their popular networking series, PA@TheCity. The in person networking drinks reception is sponsored by KPMG and will take place on the 13th of June from 18:00-21:00 at their offices in Central Manchester.
This event is free of charge and traditionally exclusive to members of The Payments Association, however on this occasion, there are a limited number of places allocated for members of the FinTech North community.
If you are already a member of the Payments Association community, simply log in to your account and register by clicking here. If you are a non-member and would like to attend, please register your interest via email at isabelle.smith@thepaymentsassociation.org.
---
Share this article...