Webinar review: The Role of FinTech in Business Debt
admin / 15th June 2020
---
On Friday 12th June FinTech North hosted a webinar in partnership with Leeds City Council which focused on the topic of business debt / lending, and the role that FinTech can play in this critical area as the UK faces up to the challenges and opportunities of economic recovery.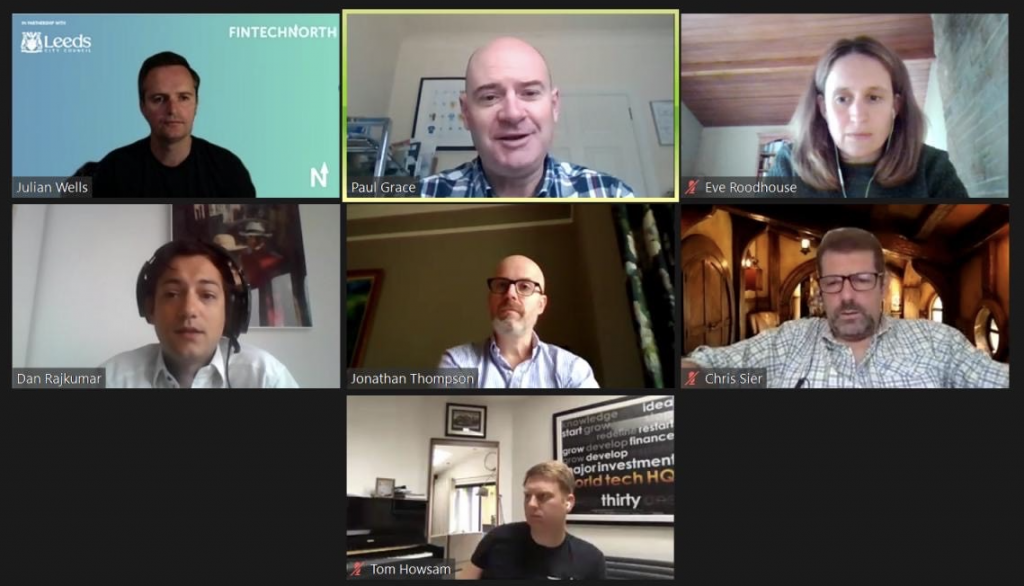 The speaker panel for this event was drawn from the FinTech scene across the north, and further afield:
The session was chaired by Julian Wells, Director of Whitecap Consulting & FinTech North, who welcomed the speakers and delegates and thanked Leeds City Council for their support through Covid-19, highlighting that the topic for this event had been suggested by the Council. Eve Roodhouse later explained that the Council sees a strong future for the digital sector and has been keen to support digital networks such as FinTech North, which it sees as critical in helping build collaborative and inclusive business community.
Perspectives of a FinTech Envoy
Chris Sier was the opening speaker and shared this thoughts on how the FinTech sector has fared over recent months, a period he has experienced from multiple perspectives, including being a founder of an early stage FinTech himself. Chris highlighting that the initial support available from the government was not well suited to support the FinTech sector but that things had evolved since then with the creation of CIBLS, Bounce Back Loans, Future Fund, and the option of flexible furlough. There are still areas where FinTechs simply can't benefit though, for example, for various reasons many FinTechs have raised less than £250k in funding so are ineligible for Future Fund, and furlough is not a viable option for firms who are in a 'build' phase and need all of their resources available to them, with the possible exception of marketing in the short term.
Chris has been encouraged by the way the FinTech sector has come together nationally via groups such as the FinTech National Network, and feels organisations such as Innovate Finance have shown strong leadership through the crisis.
How a Local Authority has navigated Covid-19
Eve Roodhouse explained how Leeds City Council has been implementing emergency measures to support the regional business community, including the FinTech sector, through the Covid-19 crisis. Eve highlighted that in the short term businesses have taken on more debt, have deferred debt such as tax bills, and have been able to get support with property and employee costs via grants and the furlough scheme. Longer term there will be different challenges and a difficult period lies ahead. Leeds City Council sees a critical role for digital and innovation, and is seeking to ensure it provides strong support to entrepreneurs. Over the last two years Leeds has been going through the MIT Regional Entrepreneurship Acceleration Program (MIT REAP), a global initiative designed to help regions around the world accelerate their economic growth and job creation through innovation-driven entrepreneurship.
"As a council we have processed 11,537 grants worth over £142m to date. Of this, 9,818 were £10k grants to small businesses and worth more than £98m. Additionally, 1,802 grants of £25k have been issued to Retail Hospitality and Leisure businesses, totalling £45m. Our Discretionary Grant Scheme opened on 1 June and we have had over 600 applications to date."
Reflecting on recent weeks, Eve identified data as an area where the Council could benefit from the expertise of the digital and FinTech sectors. The organisation has a lot of data and wishes to make better use of it. It already has a number of existing relationships with expert partners and has various initiatives underway. Additionally, the requirement to process and advance funds against significant numbers of applications from businesses had highlighted this as an area when FinTech may be able to help.
After the event we spoke with Eve Roodhouse to reflect and recap on the discussion, you can watch a Zoom recording of this discussion here.
Panelist views:
Paul Grace – Director of RedSky Corporate Services
RedSky is an independent commercial finance broker based in North Yorkshire which works with businesses to advise them on the debt funding options available. After a long career in business banking, Paul recently joined RedSky and through Covid-19 has been helping businesses access the funding and support that is available to them. It has been a challenging period with a continually changing landscape for firms to get to grips with, but one which has highlighted the value of professional financial advice.
When asked about the experience of dealing with different lenders to submit and process applications, Paul reflected that it had been a mixed bag, with turnaround times from application to completion ranging from a few days to nearly two months. He was keen to point out that working with the FinTech-based lenders provided a much slicker and quicker application process which enabled fast decision making thereby eliminating concerns SMEs owners had over their future cash flow. Paul also felt that some of the support initiatives should be more tailored to specific regions, to cater for the variances across different locations and sectors.
Dan Rajkumar, Founder, rebuildingsociety.com
Rebuildingsociety.com is a Leeds-based FinTech firm which lends to SMEs through its peer-to-peer lending platform, whereby the loans are made by individuals who lend via the platform. During Covid-19 the firm has not furloughed any of its team but has experienced difficult trading conditions due to a combination of factors. These have included finding it hard to compete with the interest rates on offer via the government-backed support available to businesses, and a nervousness amongst its lenders amidst falling values of their other investments. At the same time, they have seen increased demand for their Directors Loan Account product, which enables company directors to use an IFISA to access tax free interest.
Dan expressed a concern that at the moment the price of lending is being distorted by the government backed support, which means that a lot of lending is not being priced for risk. This makes it hard for firms rebuildingsociety.com to compete with others who are approved as part of the government schemes.
Jonathan Thompson – Founder & CEO, B-North
Based in Manchester, B-North is a new challenger in the banking / FinTech sector, and is in the process of obtaining permission from the PRA & FCA to become a bank, at which point it will become known as Bank North. The business will be focusing on lending to SMEs, so Jonathan and the team have watched with interest as the Covid-19 crisis has evolved and the UK's 5.8m SMEs have attempted to access funding. The B-North model recognises the importance of relationships in SME banking, and will use a hybrid model which combines relationships with the benefits of FinTech and technology in general. B-North will grant loans of between £500k and £5million and is architected to deliver secured loans to SMEs in as little as 10 days, delivering capital to businesses up to 10x faster than incumbent banks and lenders.
B-North has recently announced a partnership with TruNarrative, a Leeds-based FinTech / RegTech firm, to provide a full suite of customer onboarding and compliance capabilities. It has also formed various other FinTech partnerships with organisations including Mambu and Ncino.
Tom Howsam – Founder, Paid
Paid is a FinTech firm based in the North East. Tom said he had observed that lending to businesses has become stricter through Covid-19, but this has also been a time when suppliers have needed to be paid faster and the firms paying them have needed to be able to process invoices and payments as efficiently as possible, especially with the requirement for remote working. Paid helps both groups, and is a FinTech which helps large organisations with process efficiency with suppliers, whilst also providing an invoice finance proposition to suppliers.
Paid has been going through a funding round during Covid-19 (which is in progress), and has previously been through the Barclays Tech Stars and Tech Nation FinTech programmes. Tom strongly advocated that FinTechs should consider applying to the new Tech Nation programme, which was recently announced – a point which received strong support via the webinar chat from a fellow North East FinTech founder, Gavin Sewell of Honcho, who has also been through the programme.
The role of FinTech in Business Debt
Through the course of the conversation, a number of points were made which highlighted areas where FinTech has the potential to play a role in tackling the challenges of business debt / lending over the coming weeks and months. These include:
The use of data to enhance process efficiency
Developing a hybrid approach to banking
Increased regional focus of support initiatives
Different approaches to underwriting for business lending
Potential to provide support to Local Authorities to enable them to process funding applications more efficiently
The next FinTech North seminar takes place on Friday 26th June at 2pm, and will focus on the role FinTech can play in Personal Debt. Sign up here.
---
Share this article...