Write-up: Central European Virtual FinTech Trade Mission to the Northern Powerhouse 30/03
Joe Roche / 30th March 2021
---
On Tuesday the 30th March FinTech North, in partnership with the Department for International Trade, hosted a Central European Virtual FinTech Trade Mission to the Northern Powerhouse. We were joined by Chris Sier, FinTech North Chair and FinTech Envoy at HM Treasury, and Julian Wells, Director at Whitecap Consulting and FinTech North, who both chaired the event.
The event was a closed-session, but we have produced a write-up and recording so our community can catch up. Click the image below to view the recording.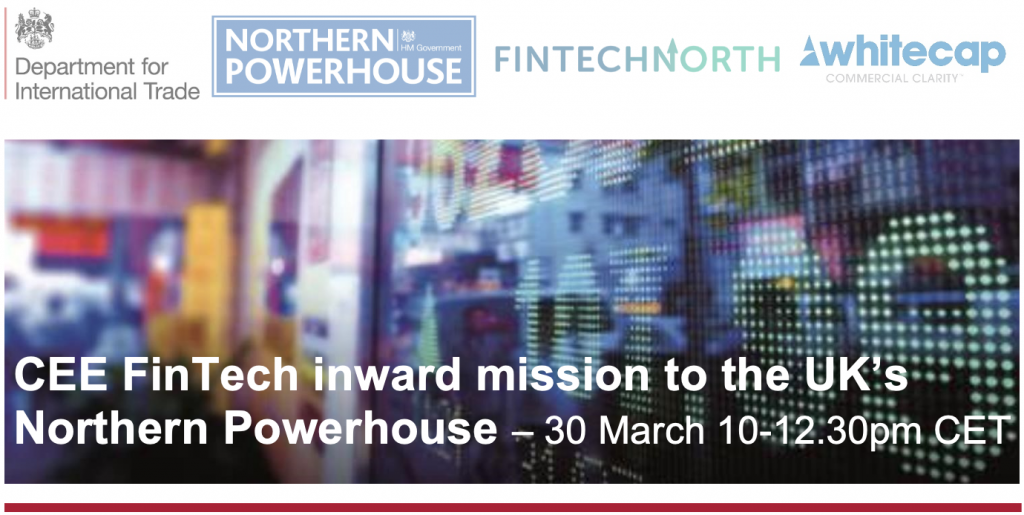 We were delighted to be supported by several Northern Powerhouse organisations in the FinTech and Financial Services sectors, as well as our colleagues from inward investment agencies representing Liverpool, Manchester, Leeds and Newcastle. We were joined virtually by representatives of FinTechs, banks, building societies and technology consultancies. We were also joined by 15 visiting FinTechs from Central European nations, mainly from Poland, Hungary, Romania, Czech Republic, with one visiting FinTech from Israel.
Joe Roche, Engagement Manager at FinTech North, opened the session; welcoming delegates from across Europe on behalf of FinTech North and explaining the work FinTech North does to bring together the Northern FinTech ecosystems.
We then heard from Maciej Baranski, Head of CEE FDI, who explained about the work DIT do in Central Europe. Europe Central FDI team supports CEE companies to set up and invest in the UK. We offer expertise and contacts through various parts of the UK FDI ecosystem including Department for International Trade (DIT) colleagues, extensive network of specialists in the UK, various investment agencies, local authorities and staff in Posts around Central Europe. DIT support helps companies expedite their set up and accelerate the growth of their UK operations.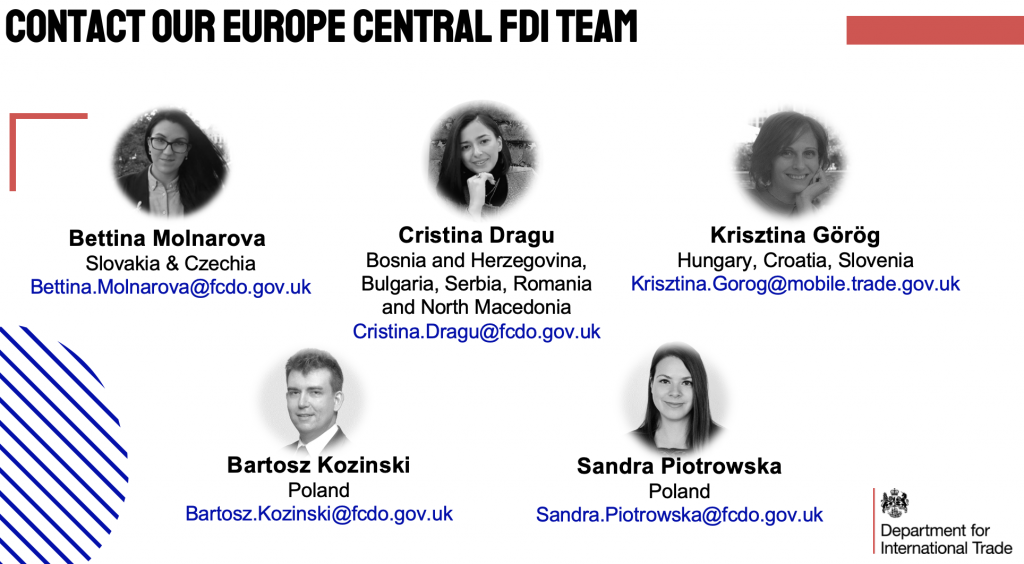 Chris Sier then provided an outline of FinTech in the North. Chris also spoke about the Kalifa Review and its recommendations; regional FinTech in the UK was a big focus of the review, with an entire chapter dedicated to national connectivity.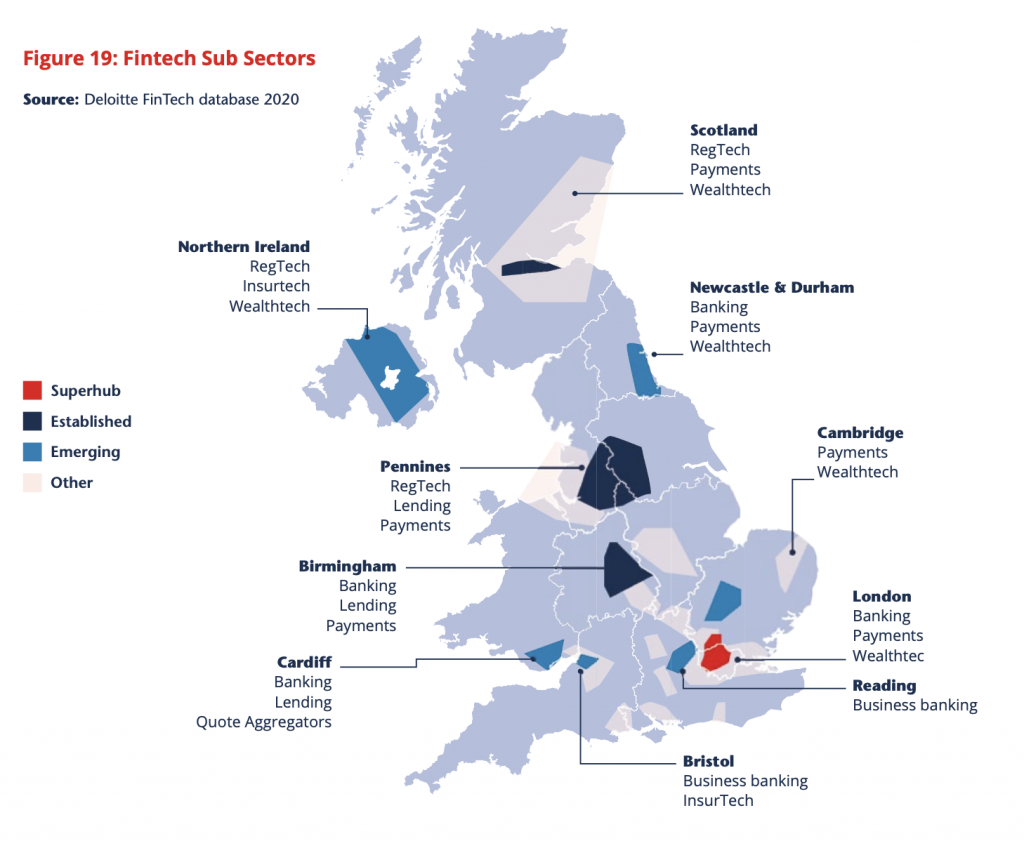 Julian Wells then spoke about UK market entry. Julian highlighted the North as the 9th largest Financial Services economy in Europe (by GVA), or similar in size to Poland. The North is a big market; larger than 30 European countries. There are 2500 FinTech firms in the UK, which means it is a competitive market for FinTech. Talent is a high-priority for the sector, with shortages and high demand for data, technology and business skills. Julian stressed the importance of a clear business case as imperative for any prospective market entrants.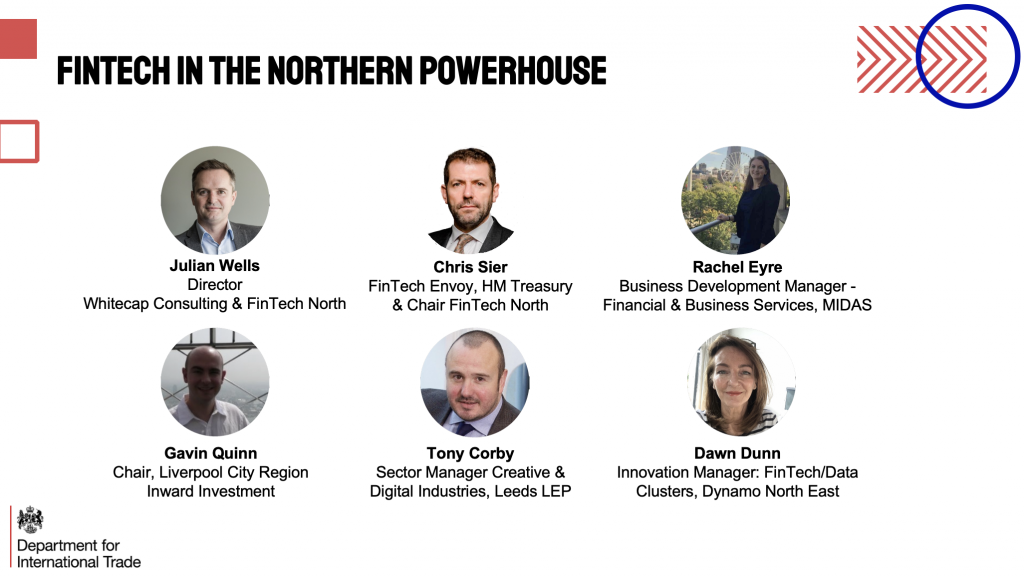 Dawn Dunn, Innovation Manager for FinTech and Data Clusters at Dynamo North East, was our next speaker. Dawn spoke about the North East's FinTech offering, spotlighting some of the major FinTech players in the region including Sage, Atom Bank and Stellium Data Centres. Dawn mentioned the ecosystem research conducted by Whitecap, which highlighted a relatively young (average age of founder is 41) FinTech ecosystem with a specialism in Payments.
Tony Corby, Sector Manager at Leeds Local Enterprise Partnership (LEP), spoke about the Leeds City Region FinTech ecosystem. Leeds has 9 universities in the region, with 3 million people, situated in the heart of the Northern Powerhouse. Tony highlighted Leeds collaborative Tech and FinTech sector, along with several great tech hubs and accelerators located in the city. Tony also spotlighted the range of financial support available for FinTechs wanting to set up in the region.
Rachel Eyre, Business Development Manager for FinTech and FS at MIDAS was our next speaker. MIDAS are Manchester's inward investment agency. Rachel spoke about Manchester's offering as a FinTech hub. Manchester is the UK's largest regional FinTech cluster, and is also has many world-class universities, including the UK's first FinTech Masters Course. Rachel also highlighted Manchester's funding ecosystem as another strength for the region.
Gavin Quinn, Chair of Liverpool City Region Inward Investment Board, was our next speaker. Gavin highlighted the 4 universities and 2 million students in the Liverpool City Region, with the University of Liverpool recently bringing in a new FinTech professor. FinTech in Liverpool is relatively fledgling compared to other cities in the North, but it is still bubbling away. Scaling is easy in Liverpool; the city has a number of great tech hubs and work-places, and has a great heritage in both Wealth Management and Creative/Digital businesses. Gavin mentioned a recent £30m investment into connectivity with Sci-Tech Daresbury.
We then broke out into our second session, welcoming to the stage speakers from Northern Powerhouse to explain about their organisations and how they work with FinTechs.
Richard Carter, Managing Director at Equiniti, was our first speaker. Richard explained his background in FinTech and lending; and spoke to what it's like to run and grow a Northern FinTech.
Richard Stokoe, Head of Architecture, Newcastle Strategic Solutions (Newcastle Building Society) was our next speaker. Richard explained about Newcastle Strategic Solutions and it's relation to the building society. NSS provide technology and savings platforms.
Andrew Elphick, Director of Innovation at Barclays shared information about Barclays, highlighting their tech centres in Prague and Manchester. Andy also talked about the FinTech pledge; partnering with FinTechs to drive greater transparency in banking.
John James,  Head of Digital Product First Direct, was next up. John spoke about first direct, who were pioneers of telephone and digital banking. John highlighted an active Open Banking partnership as one way in which they are engaging FinTechs. Saira Khan also explained about her role as innovations and partnerships lead.
Simon Hull, Head of Financial Services at BJSS, was our next speaker. BJSS are a UK based tech consultancy. BJSS help their customers with customer centric service design, cloud transformation, AI, digital transformation. Simon explained how BJSS work with FinTechs and in FS.
Ben Mitchell, Senior Product Manager at Leeds Building Society introduced LBS who have been helping customers save and buy homes since 1875.  Ben highlighted that all of LBS's peers are based in the North. LBS have £20bn of assets and 750,000 members.
For the final part of the event, we gathered together the visiting FinTechs for a series of showcase-style pitches. See below for the order, timings and a brief description:

Netguru 1.32.40 – Netguru is a consultancy, product design, and software development company founded in Poland in 2008. Netguru builds digital products that let people do things differently – offering consulting, tools and resources to companies of all shapes and sizes – to make beautifully designed digital products in a way that's fast and fits their needs. Netguru has become one of the fastest growing companies in EU, recognized by the Financial Times, Deloitte, and Forbes. The company has completed more than 700 projects, and has 700+ people on board working from all over the world. Netguru cooperates primarily with companies from the UK, Germany, Switzerland, the United States as well as the United Arab Emirates. The company works with both the largest brands in the world, such as Volkswagen, IKEA and Keller Williams, as well as fast-growing startups in the financial (Solarisbank), education (Babbel) or even robotics (Temi) industries. Netguru are looking for b2b meetings and opportunities with UK Banks and FinTechs.

Asseco 1.36.48 – Asseco is a Poland-based technology company that specialises in providing software solutions to the financial services sector. Asseco offers software solutions for retail and commercial banking – core systems, online banking, reporting systems and other functions. Available both on premise and in cloud. Asseco are looking for b2b meetings and opportunities with UK FinTechs and Banks.
Future Processing 1.40.25 – Future Processing is a bespoke, end to end IT service provider. We encapsulate over 20 years of know-how & positive energy that allow us to create technology solutions that empower people and organisations to realise their full potential and make a positive contribution to human life. Future Processing are looking for b2b meetings and opportunities with UK Banks and FinTechs.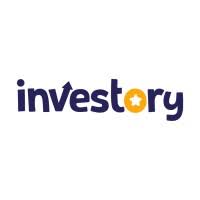 Investory – Based in Romania, Investory is a learning game for children and parents to easily understand finances. With an engaging game, poised with riddles and challenges, the children are able to discover financial concepts and dynamics.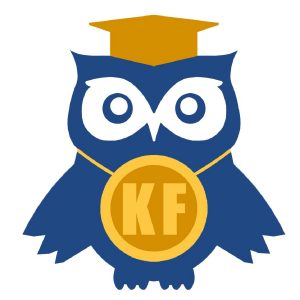 Kids Finance 1.44.44 – Founded in Romania, Kids Finance offers a Duolingo for financial education associated with a prepaid card for children. The product offers a prepaid card for children associated with financial education lessons. Parents may see children's history of transactions, set up activities that can be remunerated, and control children's learning activity. Kids, in turn, solve problems given in order to obtain gamified and financial rewards.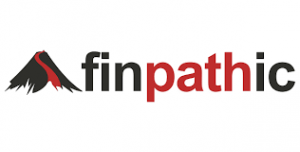 Finpathic 1.50.03 – Hailing from Romania, Finpathic is a financial roboadvisor.

Zoom Report 1.54.14 – Zoom Report is a Romanian location intelligence web platform with integrated data from public sources that helps users with little knowledge in data processing to gain insights about local socio-demographics and economic environments.
7 Security 1.58.47 – 7Security is a QSA (Qualified Security Assessor) company authorized to provide PCI DSS certification to merchants and payment services providers in Europe and CEMEA. PCI DSS is a security standard developed by Mastercard, Visa, Amex, Discover, and JCB, and is applicable to all companies that process, transmit or store payment card data. 7Security offers disruptive innovation in the PCI DSS certification services that make them the preferred choice of Fintech startups all over Europe.

Devision 2.11.25 – Devision is a Bulgarian software development company which provides custom software and product development services for the Web, Mobile and the Cloud. We would like to connect to UK banks, startups and corporates in the FinTech industry to create meaningful partnerships.

Omniamobilia 2.05.29- Polish fintech company introducing Fmarket.io – a marketplace for FinTech solutions. Omniamobilia are looking for b2b meetings and opportunities with UK FinTechs and Banks.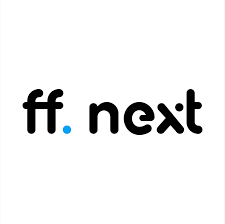 FF.next 2.05.29 – Hailing from Hungary, ff.next offers design-driven mobile banking solutions for financial innovators with a special focus on younger customers, including off-the-shelf solutions that are all easy to integrate and white-label & an E2E service from UX research, through UX/UI design to implementation. FF.next are looking for b2b meetings and opportunities with UK Banks.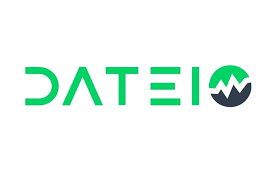 Dateio 2.17.57 – Pioneer of card-linked marketing based in the Czech Republic, they enable retailers to address client of their partner banks with card-linked offers, targeted based on clients' previous shopping behaviour. Dateio are looking for b2b meetings and opportunities with UK Banks

PrimeDash 2.24.01 – PrimeDash is a Romanian financial software company which has created an intelligent environment to connect banks/ financial institutions with their clients/SMEs. Prime Dash provides simple and innovative financial solutions using advanced analytics, machine learning, AI and cognitive RPA tool.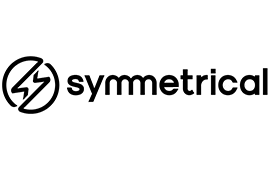 Symmetrical.ai – Symmetrical.ai is a Polish FinTech which gives employees flexible access to their salaries.

Transmit Security 2.29.42 – Transmit Security are an Israeli-based FinTech who provide an innovative authentication solution – BindID, the industry's first app-less, strong portable authenticator that uses device-based biometrics for secure, convenient and consistent customer authentication. With one-click to create new or sign into existing accounts, BindID eliminates passwords and the inconveniences of traditional credential-based logins – No App – No Password – No UserID
Click here to view the recording.

---
Share this article...