FinTech Investment outside London increases by 237% amid record year in UK annual FinTech investment in 2021
Ryan Walsh / 7th January 2022
---
New data released by Innovate Finance, the industry body representing the UK FinTech industry, has revealed the 2021 UK and global FinTech investment trends.
The data presents another milestone year for FinTech in the UK off the back of the Kalifa Review at the start of 2021.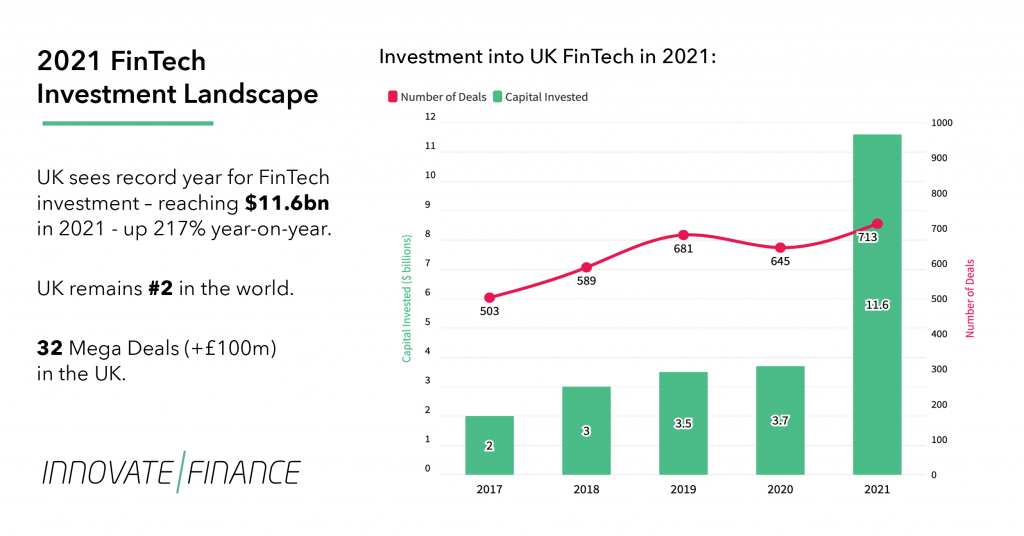 The UK FinTech scene continues its impressive year-on-year growth, exceeding $11.6 billion. This represents a massive 217% increase from 2020.
Regional FinTech outside of London saw huge growth, with a 237% increase from 2020. The increasing levels of regional investment indicate promising signs that UK FinTech is growing beyond London, and areas throughout the UK are establishing themselves as strong regional hubs.
There is a direct correlation with the substantial global increase in investment levels, where total capital invested around the world in 2021 stands at $102 billion – a 183% year on year increase. Most of this investment was invested in later stage growth funding.
The UK's $11.6bn represents 11% of global capital, spread across 713 deals amongst a total of 6,495. This data places UK as the second largest global sector in FinTech capital. The US leads the way with $46bn.
Innovate Finance identified key global and UK data insights:
UK dominates the European Scene – Overall, $24.3bn was invested across the continent with UK representing 45% of total investment.
UK regions seeing rapid growth – Investment outside of London was $696m compared to $206m – a 237% increase.
UK's top deals – Revolut, Monzo, Copper, Checkout.com and Starling
Female Funding gap persists – UK female FinTech founders received 9% of all capital invested. This is a 3.4% increase from 2020, but a 13% drop from 2019.
The UK FinTech scene continues to grow! We are delighted to see the figures surrounding regional FinTech in particular. It's great to see regional FinTech ecosystems go from strength to strength. We look forward to continuing work with regional FinTech hubs as part of the FinTech National Network.
For more information on the growth of the UK FinTech landscape and  the full Innovate Finance report, click here.
---
Share this article...