Event Round-up: FinTech National Network Symposium – Glasgow
Joe Roche / 10th October 2019
---
The first ever FinTech National Network Symposium took place on Thursday 10th October at the University of Strathclyde's impressive Technology & Innovation Centre. Guests from up and down the country, representing a snapshot of the National Fintech landscape, joined us in Glasgow. The event was kindly supported by Glasgow City Innovation District and BJSS.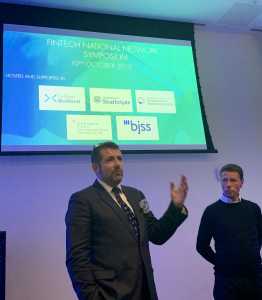 Chris Sier, HM Treasury FinTech Envoy and Chair of FinTech North, and Stephen Ingledew, Chief Executive of FinTech Scotland, welcomed a sold-out auditorium. Stephen outlined the purpose of the event; to shine a spotlight on the FinTech activity happening across the UK in the various regional ecosystems. Chris shared his perspective on the importance of the different regions in the UK working together for the greater good, saying "we need to ensure the UK plays nicely together, collaboration is key".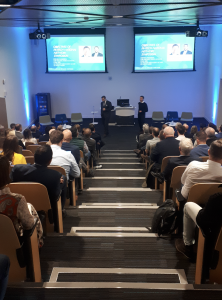 David Hillier, Executive Dean at the University of Strathclyde, then welcomed guests on behalf of the University and the Glasgow City Innovation District, explaining how the Technology Centre brings together government, academia and private enterprise to benefit the ecosystem and the economy as a whole.
Eleanor Shaw, Senior Vice-Dean at the University, spoke on developing the FinTech Cluster. Eleanor framed the talk with the history of Financial Services since its beginnings in 2000bc Babylonian Assyria. Eleanor highlighted the 112 FinTechs now in Scotland, highlighting the importance of collaboration when making an entire industry more competitive, and also the ethical role FinTech can and should play in bringing affordable/accessible services to vulnerable members of society.
We then had a showcase from 4 Scottish-based FinTechs; The ID Co (James Varga) Encompass (Alex Ford) Amiqus (Laura Bosworth) and Soar (Andrew Duncan).
"Open banking is the biggest change in banking we will see in our lifetimes" – James Varga, The ID Co
The ID Co uses bank data to help business on-board customers, producing faster, easier credit scoring, reducing fraud and improving access to finance.
"Open Banking is just data, it's what you do with it that counts" – James Varga
Alex Ford was up next with Encompass, a "SaaS" (Software as a Service) technology enabled KYC platform, who stressed the tech talent, other incumbent businesses and access to universities as reasons for basing in Glasgow.
We then heard from Laura Bosworth of Amiqus, who as well as enabling regulated businesses to carry out fast anti-money laundering and compliance checks, are "trying to make regulation sexy".
"Tech shouldn't replace human interaction, it should enhance it" – Laura Bosworth, Amiqus
Andrew Duncan of Soar spoke next. Described as "FinTech with a social conscious" Soar operates in the ethical and community banking space, allowing its consumers to interact with a credit union or CDFI. The youngest FinTech on display, they aim to "Monzo-ify the ethical banking market".
Steven McWhirter and Laura Navaratnam of the FCA provided an overview of the FCA's 100-person strong Innovation Division, which now also provides an international sandbox for FS innovators and regulators.
We then moved onto an overview of each of the FinTech hubs around the UK, followed by a panel discussion:
"Collaboration brings resilience and growth" – Gavin Powell, FinTech Wales
Question to the panel: "If there's one thing we could do to pull together the regions, what would it be?"
"Nothing works as well as getting people together in a room to form ideas and make change. What we're doing today is a great start." – Julian Wells, FinTech North & FinTech West
"Knowing your individual areas of strength and sharing the knowledge." – Nicola Anderson, FinTech Scotland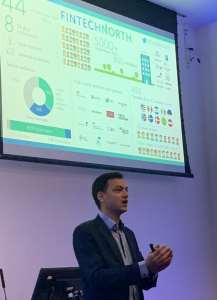 "Knowing and articulating what each of the regions is up to and doing well." – Andrew Jenkins, FinTech Envoy, Northern Ireland
"Stimulate demand, awareness and consumption, change consumer habits. Customer adoption still quite slow." – Dan Rajkumar, FinTech North
Charlotte Crosswell, CEO of Innovate Finance, gave us an overview of Innovate Finance, whose focus is currently on the talent gap; a global issue. inspiring and educating the next generation of entrepreneurs is the solution towards which Innovate Finance are working.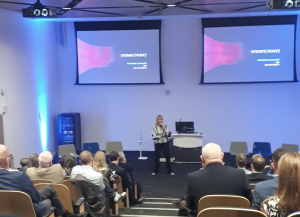 Graham Hatton of Scottish Development International then outlined the work SDI are doing bringing investment into Scotland. Graham highlighted increased interest from large financial institutions in Scotland, with a nod to DIT and FinTech Alliance who are bringing together the ecosystems in one digital marketplace.
Kevin Telford, Advisor to ThoughtWorks and board advisor to Global Open Finance Centre of Excellence was our final speaker of the day.
"Data is not the new oil, it's the new soil and we can use it to build." – Kevin Telford on Data
Kevin used a journey through his childhood to illustrate the pace of change and the opportunity it brings. The concept of connected lives opens up innovation, and data has become a currency. The Global Open Finance Centre of Excellence enables customers to unlock the potential of their economic data.
We then moved onto our panel discussion; encouraging diversity in FinTech:
Q: What is the step change we need to make in FinTech?
"We are tackling some of the biggest issues currently, if you don't have diverse thinking around the room, you will experience problems and create issues. We have talked about it too much, now is the time to tackle those big issues." – Louise Smith, HM Treasury FinTech Envoy, Scotland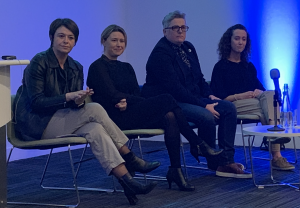 Q: If you could give one action to everyone in this room to take away, what would it be?
"If your thinking isn't being challenged regularly, ask yourself why not?" – Nicola Anderson
"When recruiting diverse teams, don't make them all the same." – Louise Smith
"With my Women in Banking & Finance hat on, it's important to build networks, so get involved in networks" – Laura Bosworth
"Think about diversity and inclusion as early as possible, even university isn't early enough" – Elisabetta Trasatti, President – University of Glasgow FinTech Society
With a final question, Chris Sier closed out the event; "Are we going to compete or are we going to collaborate?"
A huge thank you to BJSS, Glasgow City Innovation District, University of Strathclyde for their support and thanks as well to the teams at FinTech North and FinTech Scotland for helping to pull the event together.
See the full agenda for the day here.
Read about the launch of the FinTech National Network here.
---
Share this article...