FinTech North
FinTech North Manchester Conference
30/11/2021 9:00
---
We are delighted to return to face-to-face events with our first physical Manchester conference since 2019! The FinTech North Manchester conference is hosted in partnership with LSEG (London Stock Exchange Group), a leading global financial markets infrastructure and data provider.
We are delighted to confirm that the Ravi Bhalla, Head of Department for Data, Technology and Innovation, FCA (Financial Conduct Authority) will deliver a keynote speech at the event. We will also feature keynotes from our Chair Dr. Chris Sier and our sponsors Refinitiv.
Please see below for our agenda complete with timings. The event itself will take place at the University of Manchester's Whitworth Hall. 
FinTech has long had the unique potential to impact societal and financial change. Over the past 18 months, FinTech innovation has helped us all survive and in some cases even thrive. In light of the Kalifa Review's recommendation that increased National Connectivity is key to the UK's FinTech strategy, we believe it's an exciting time to be part of Northern FinTech. What better place to start than one of the North's most exciting ecosystems – Manchester!
At the conference we will engage with the international and national FinTech landscape, explore UK and regional FinTech, take a deep dive into the Greater Manchester FinTech ecosystem and showcase some of the region's innovative start-ups and scale-ups.
Throughout the pandemic, FinTech North has reached our entire Northern community with our virtual conferences and events, irrespective of geography. This year we are planning to live-stream and record the conference to maintain accessibility for those who are unable to join us on the day in Manchester.
Delegates can expect:
Networking opportunities with the Northern FinTech Community
To enhance their knowledge of UK FinTech
To find out what FinTech innovation is taking place in Greater Manchester and beyond
Breakfast, lunch and refreshments across the day
General admission tickets are priced at £75. Virtual tickets are free. We have also included the option for Virtual attendees to donate / pay as they feel to support FinTech North.
The FinTech North Manchester conference is hosted in partnership with LSEG (London Stock Exchange Group), Infinity Works, part of Accenture,  OpenMoney, Shoosmiths, Fund Her North, MIDAS (Manchester's Inward Investment Agency), pro-manchester and The University of Manchester.
Agenda:
9.00-10.00am – Breakfast and Networking
10.00-10.10 Welcome from FinTech North & University of Manchester
Joe Roche, Engagement Manager, FinTech North
Professor Dame Nancy Rothwell, President & Vice Chancellor, University of Manchester
Julian Wells, Director, Whitecap Consulting & FinTech North
Morning Session: National FinTech and Global Trends
10.10-10.30 The Evolution of UK FinTech
Chris Sier, Chairman, FinTech North
10.30-10.50 UK FinTech Sector Update
Innovate Finance
10.50-11.10 Ongoing FinTech Research
Professor Markos Zachariadis
11.10-11.30 UK FinTech Innovation & Regulation
Ravi Bhalla, Head of Technology, Innovation & Data, FCA
11.30-12.10 Panel Discussion: FinTech in Manchester, sponsored by Infinity Works, part of Accenture
Kimberley Waldron (Chair), Founder, SkyParlour
Rachel Kenyon, Business Engagement Manager, University of Manchester
Matt Elliott, Co Founder & CEO, Nivo
Vanessa Harding, Managing Director and North West Co-lead, Accenture
Richard Hayes, CEO & Founder, Mojo Mortgages
Rachel Eyre, Business Development Manager, MIDAS
12.10-1pm – Lunch & refreshments
– How is the university working with partners on FinTech R&D? Throughout the conference the University's Business Engagement & Knowledge Exchange team will be available for participants to drop-in to find out about how businesses can access academic expertise through collaborations. The team will be in Committee Room B, beneath Whitworth Hall, and also available on Zoom via the link https://zoom.us/j/94841475547  
1-1.45pm – Panel Discussion in partnership with OpenMoney: "Is FinTech helping Financial Inclusion?" 
Anthony Morrow, CEO, OpenMoney
Vicky Gosling OBE, Chief Strategy Officer, Auden
Laura Pomfret, Co Founder, Financielle
Jemma Jackson, Head of PR, interactive investor
1.45 – 2.05 North West Funding Report Launch
Piers Dryden, Partner, Brabners
2.05-2.50pm – Panel Discussion in partnership with Fund Her North: Female Entrepreneurship and Funding
Jordan Dargue, Investment Director at North Invest and Founder, Fund Her North (chair)
Heather Waters, Regional Ecosystem Manager, Natwest Business
Amy Whitell, CEO & Co-founder, Collctiv
Sally Cowling – Angel Investor
Eleanor Simmons, Consultant, Whitecap Consulting
2.50-4.30pm – Manchester FinTech Showcase:
Accenture – Graham Cressey, Senior Manager
Hydr – Nicola Weedall, Founder
SimpleInsight – Michael Stewart, Founder – SimpleInsight
HouseFlow – Joe Shalom, Founder – HouseFlow
Financielle – Holly Holland and Laura Pomfret, Co-Founders – Financielle
RD Vault – Shoayb Patel, CEO – RD Vault
Digital Oracles – Sara Simeone, CEO
xDesign – Matt Ward, Client Services Director
Leonard Cheshire – Jen Sweeney, Regional Fundraising Development Manager
Tech Passport – Layla White, Founder
Ving.AI – Benjamin Ndubuisi, Founder
Data on Demand – Simon Gregory, Sales Director
Tasika/Comply Radar – Lee Melia, Co-Founder
Rupee (Brazil) – Guilherme Baumworcel, CEO
Goldman Sachs – Winston Pearson, OpenBanking Product Manager
Verlingue – Mark Robinson, Sales Director
PollenPay – Leon Wilson, CEO
Spondula – Paul Haberlin, Operations
SportFin – Siddesh Iyer, CEO and Founder
4.30pm – Closing Remarks & Drinks Reception, sponsored by LSEG (London Stock Exchange Group)
For any speaking, partnership or sponsorship enquiries – please contact FinTech North Engagement Manager Joe Roche (joe@fintechnorth.uk).
Covid Precautions at the University in advance of our Manchester Conference: 
All attendees & speakers are asked to take a Lateral Flow Test 24hrs+before the event 
We ask anyone experiencing symptoms, or who has a positive test result, to not attend on the day and instead join virtually via our live-stream

Attendees are asked to wear face masks when moving around the building, but are not expected to wear them whilst sat down or enjoying food and refreshments
FinTech North Manchester Conference
Getting to this Event.
---
Whitworth Hall, University of Manchester
Whitworth Building, Oxford Rd, Manchester M13 9PL
E: info@fintechnorth.uk
T: +44 (0)113 834 3133
Our Events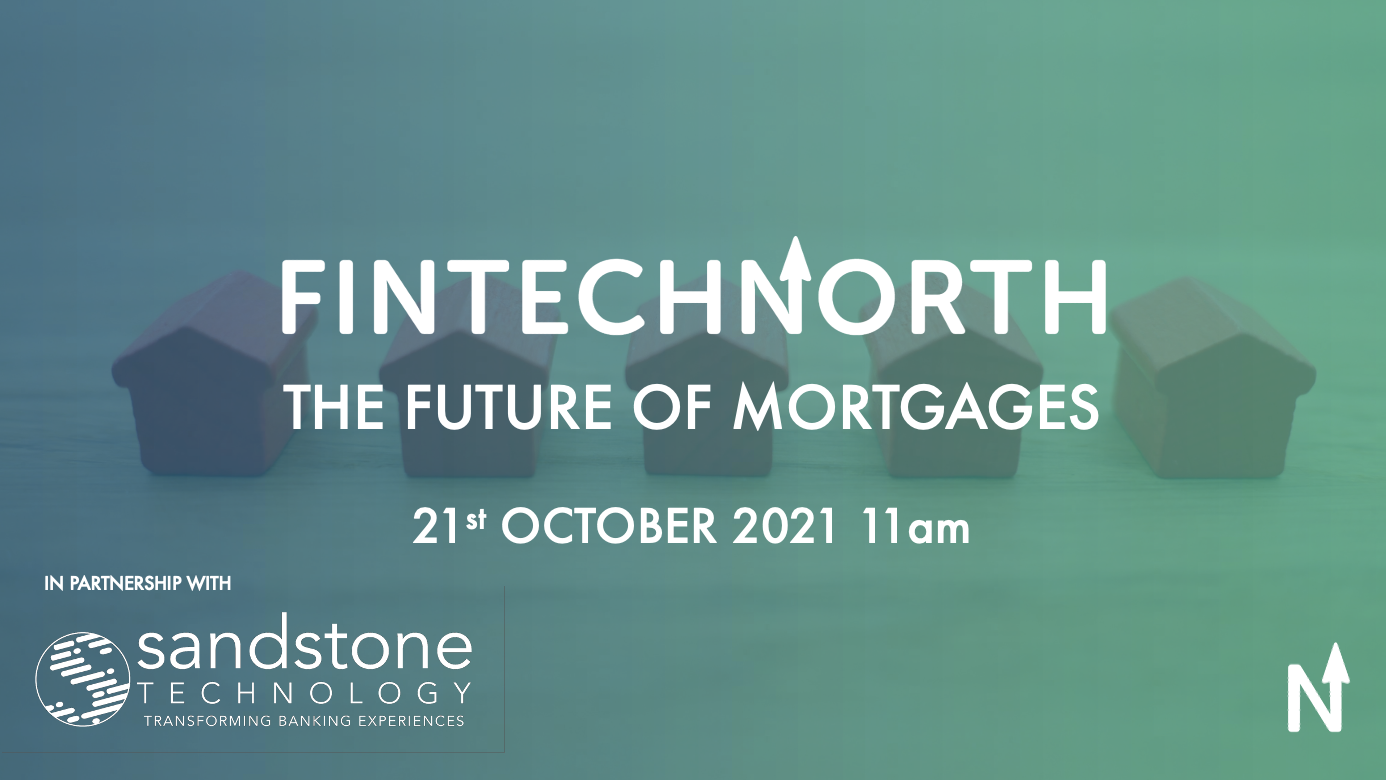 21/10/2021 11:00
The Future of Mortgages
Join Sandstone Technology and FinTech North for our latest exploration of the Mortgage market and the impact of emerging technologies.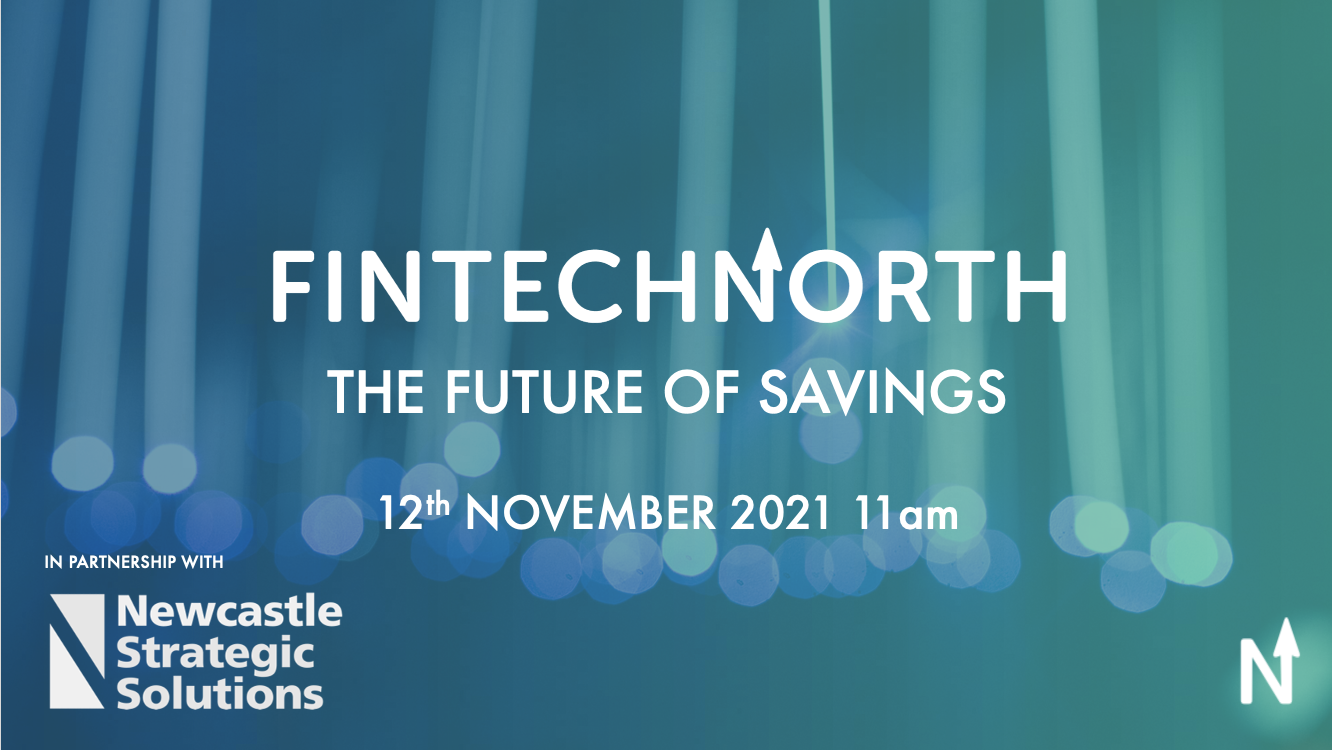 12/11/2021 11:00
The Future of Savings
Sign-up now to join the northern FinTech community on the 12th November as we explore developments within the Savings & Investment market.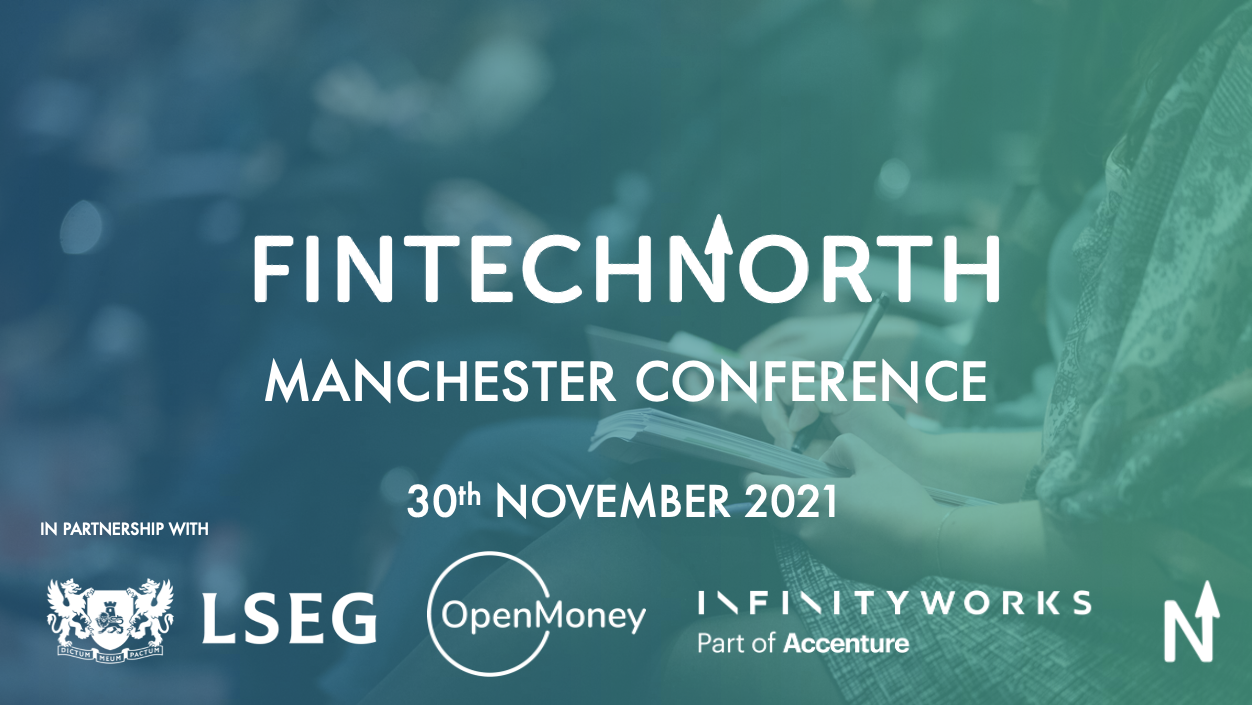 30/11/2021 9:00
FinTech North Manchester Conference
FinTech North returns to face-to-face events! Register now for our upcoming Manchester Conference!