FinTech North Newcastle Forum 15th May 2019 – Event Round Up
FinTech North / 15th May 2019
---
The North East FinTech community gathered on 15th May for the FinTech North Newcastle Forum, a fringe event as part of Newcastle Startup Week. The event was hosted by UNW and supported by Dynamo, Digital Union, Newcastle Startup Week and British Business Bank.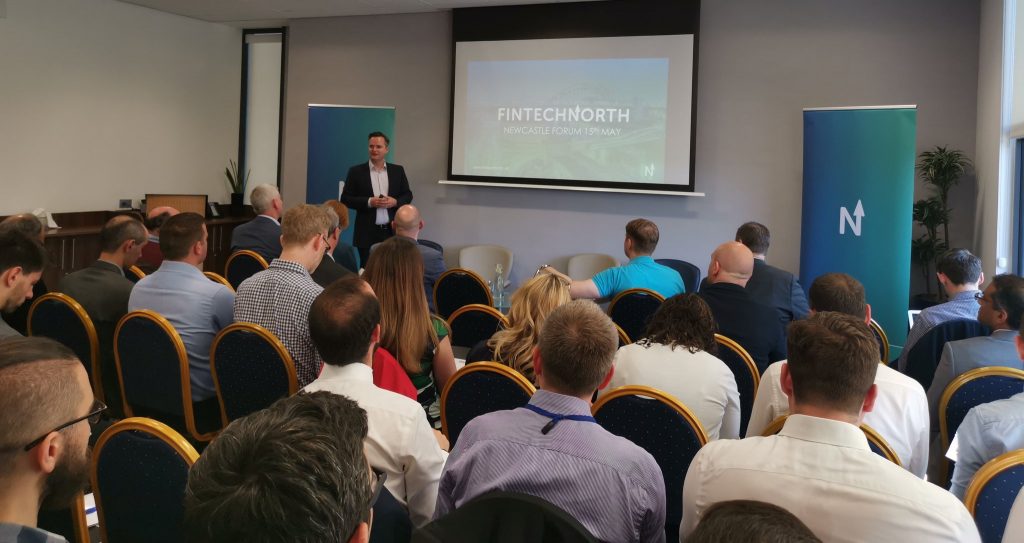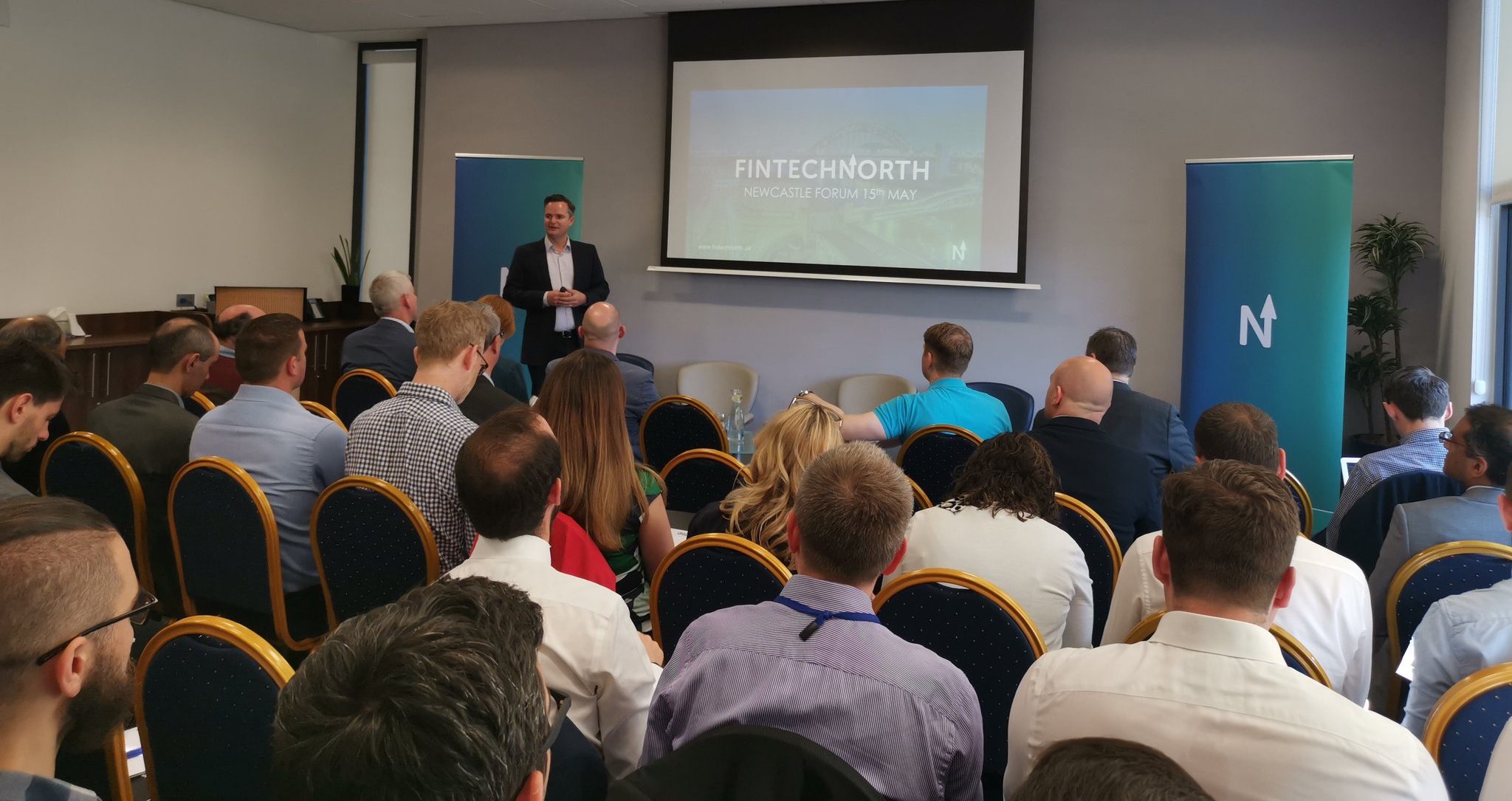 Julian Wells, Director FinTech North & Whitecap Consulting kicked off the event with a presentation titled FinTech in the North.
FinTech North has now run its 37th event, covering 6 full day conferences, 3 trade missions and gathering over 4000 registrations giving a platform to over 400 speakers.
Julian told us of the recently released UK FinTech State of the Nation report, which was produced by Department for International Trade, working with Innovate Finance and HM Treasury. FinTech North contributed by writing the Northern Powerhouse section. This report unveiled some impressive stats about the UK FinTech sector.
UK FinTech sector generates £6.6bn per year.
Over 1600 FinTechs firms in the UK
76,000 people work in FinTech UK wide
Julian then highlighted the imbalance in the FinTech sector between London and the rest of the UK. For example, 94% of FinTech funding is in London as well as 85% of FinTech accelerators. However, the narrative is beginning to change as organisations look to have a national outlook.
Organisations such as Innovate Finance which is based in London, are starting to talk more about the national FinTech scene and look at what is happening in the regions.
Julian also told us about the full day Newcastle conference which will be on the 25th September 2019, and invited anyone interested in getting involved in this event to get in touch via info@fintechnorth.uk.
To finish, Julian told us of the Fintech National Network – a collaboration between Innovate Finance, FinTech Scotland and FinTech North. This partnership will look to connect the national FinTech hubs and centres of excellence to generate collaboration in the FinTech sector UK wide.
Shaun Fooy, British Business Bank
Our first presenter was Shaun Fooy from British Business Bank – the UK economic development bank for smaller businesses. Shaun told us how the British Business Bank looks to support SMEs by providing avenues to a variety of finance options.
Ultimately, we want to encourage SMEs and help them find funding.
70% of VC deals happen in London and there is a much larger community of angels there. Companies shouldn't have to relocate to find that funding, so the British Business Bank is looking to help solve that.  
British Business Bank objectives include:
Increasing the supply of finance
Helping create a more diverse finance market
Promoting better information in the market
Achieving the above whilst managing taxpayers money efficiently
Shaun also pointed out that the supply of finance isn't the only issue:
The awareness of finance is also lower in the regions, so there's also a need to help SMEs understand the finance options available to them.
Shaun finished his presentation by highlighting the eagerness of the British Business Bank to engage with the FinTech sector to help them push their mission to help SMEs across the nation. The British Business Bank has directly committed £435m in the form of debt and equity finance to SMEs so far and has now partnered with FinTechs including: Funding Circle, Market Invoice, Shawbrook Bank, Revolut, Azimo, Atom Bank and Purple Bricks.
Tom Howsam, Founder, Paid
Tom from Paid was our next speaker. Paid are one of only 10 companies to have competed in the Barclays TechStars Accelerator program, and the first northern firm to get a place.
Tom started Paid from a personal pain point of realising how hard it can be for freelancers and the self-employed to get paid for their work. In his previous business, a software development agency, he found personal struggles of getting paid and even had a client take over a year to pay them, which had a significantly damaging effect on Tom's business.
To solve this pain point Tom founded Paid which works as the cash enabler between client and supplier. The platform allows the two parties to put a contract in place for the services that will be delivered (including electronic signature), and then takes on the invoice (and risk) for the project. Once the services have been delivered, the freelancer is then paid within 20 minutes. Paid takes a small fee based on the risk of the project.
£950bn of the UK economy is delivered by the self-employed and freelancers.
Most people that become self-employed don't expect to be spending their time being debt collectors, chasing money for their projects, but that becomes the reality. So we are here to alleviate that.
Paid is now moving into enterprise services for corporates, delivering a vendor management platform. This will allow large corporates to onboard suppliers quicker and easier.
Tom finished his presentation by identifying that the north shouldn't look to compete with or isolate itself from London, but instead look to collaborate with the city and its strengths.
Clare Talbot-Jones, Track My Risks
Clare was next up to introduce Track My Risks.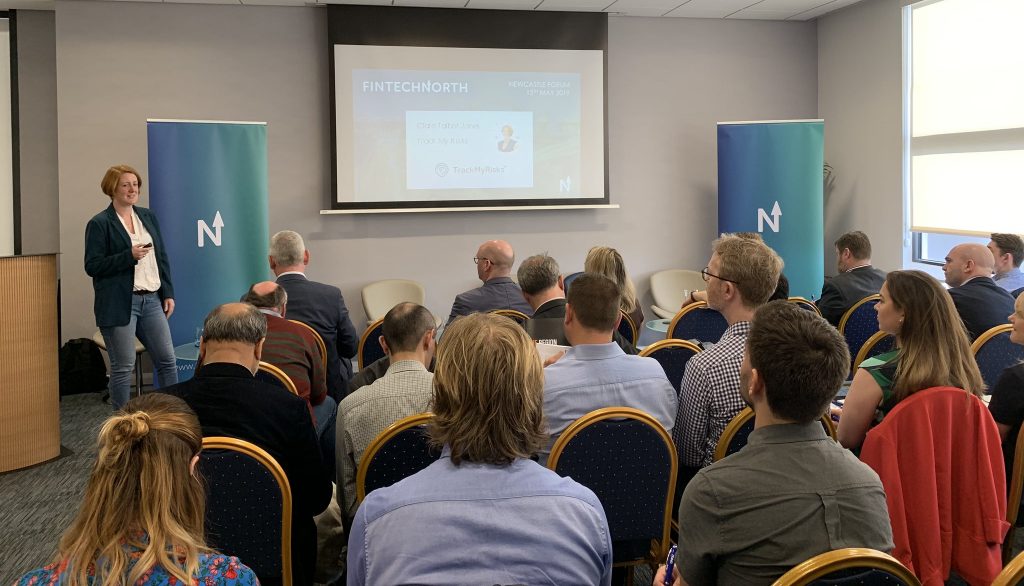 Working in professional services, Clare realised that passionate entrepreneurs and business leaders often have problems in managing governance, compliance contracts correctly. This leads to paperwork not being updated and important documents not being shared/handled sufficiently.
Track My Risks is a governance, risk and compliance system of record. The platform suggests the documentation that businesses should have in place covering planning, shareholder agreements, terms of business, and risk policies.
Track My Risks can allow custom access to other parties for different sets of documents, whether this be for a businesses' lawyer, accountant or investors. The platform keeps the documents updated so there is only one version that the parties need to view.
Aidan Dunphy, Chief Product Officer, hedgehog lab
Our next presenter was from a more established Newcastle tech firm, Hedgehog lab. Hedgehog lab is an app development & tech consultancy business with over 120 employees split between Newcastle and Hyderabad, India, as well as a small team in the USA.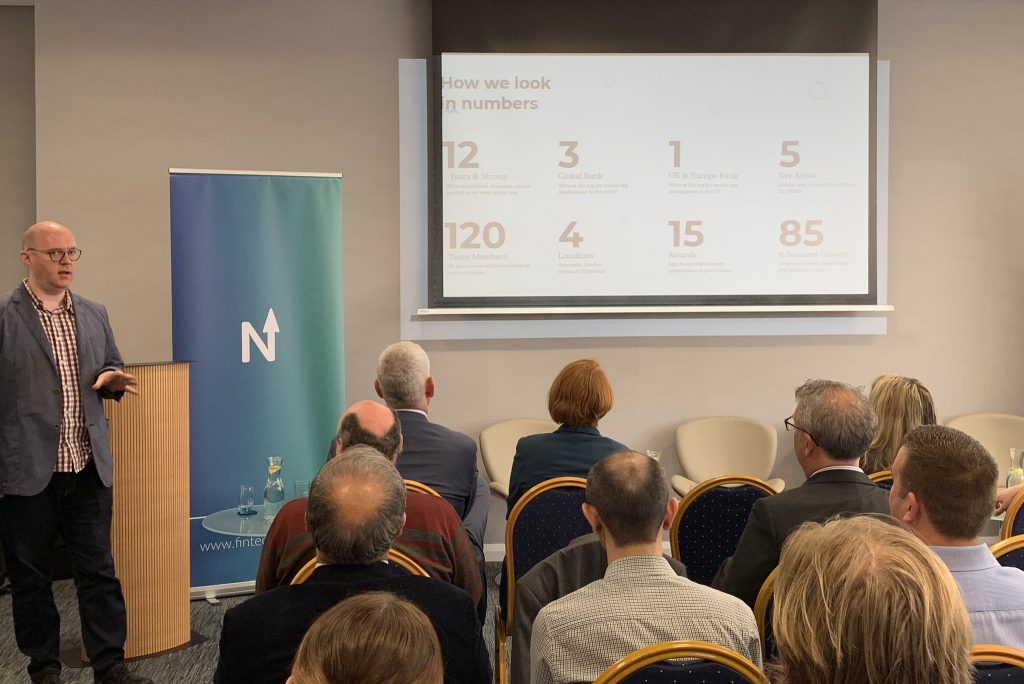 The title of Aidan's talk was "FinTech User Experience". He stated how when building products, innovators need to focus on the needs of the customers and not the product itself. When it comes to bringing out new products, companies shouldn't look to simply iterate around what they've already got, but instead, constantly investigate the values and problems of the customers and look to build around that focus.
Over time, the things that really excite people become the things that are standard and non-descript. And that cycle is speeding up.
Yesterday's hero moment for impressing your customer is tomorrow's "yeah whatever".
Just iterating what you think people need isn't always enough. It's about changing the mindset more significantly than that and understanding the values, and what people need.
Aidan then provided some case studies of the work hedgehog has done. This included:
Honcho – a fintech firm which acts as a reverse auction for financial services. A customer puts their need on the app (e.g. motor insurance) and vendors then bid to serve that customer.
Aidx – a financial pooling platform for communities to support refugees in developing economies.
Panel Discussion
The event then moved into a panel discussion which consisted of the speakers, joined by:
Kathrin Cullen, Senior manager – Digital Risk Management, TSB. TSB is currently looking into the use of AI and Data Analytics to better understand their customer and their digital banking needs.
Richard Morgan, Principal Architect, Sage. 1 in 3 people in the UK are paid through Sage. Sage is now looking into new and advanced offerings in the payment space that can connect with the Sage APIs.
Topics during the panel included: innovation, copycat offerings, partnerships between FinTechs and Corporates, access to funding, diversity in the sector, regional strengths and economic collaboration.
The idea is not the important thing, it's about the execution. Getting to market quickly and doing it well. – Aidan Dunphy.
Large corporates want to work with smaller businesses because they know that's where the innovation comes from. Getting larger businesses to work with micro-businesses, is good for everyone. – Aidan Dunphy.
The North East region has a great attitude towards collaboration. It's an incredible place to start a business because people come together to help fill skills gaps, introduce you to their network and help grow your business. – Clare Talbot-Jones
The problem with the digital industry is that it's is dominated by young, white men. Business teams need to be representative of the community around them. – Aidan Dunphy
FinTech is an exciting sector that attracts young, bright talent.  I think FinTech is a great opportunity to attract talent to the North East as we continue to showcase innovation in this space. – Shaun Fooy
There shouldn't be a North East vs London culture, because no one wins in that relationship. Developing a FinTech business in the North East has been great for us, but it's important that we access the strengths in different places too. – Tom Howsam
FinTech Leeds Conference -23rd May
FinTech North Newcastle Conference – 25th September
---
Share this article...