International Opportunity: FinTech Trade Mission to Australia's Intersekt Festival 5-9th September
FinTech North / 29th June 2022
---
We are really excited to highlight an upcoming international business development opportunity with the Department for International Trade (DIT).
DIT, in collaboration with FinTech North, are organising an in-person UK FinTech Trade Mission to Australia, to take place 5-9th September in Sydney and Melbourne.
Participating companies will get the chance to:
Showcase your capabilities with the support of UK Government at Intersekt Festval 2022
Connect with the key stakeholders and decision makers in Australia's FinTech ecosystem
Gain access to Northern Powerhouse exclusive events
Meet and network with like-minded businesses in the region
The mission will include a trip to Australia's Intersekt Festival in Melbourne, which brings together decision makers, FinTechs and thought leaders over two days in Melbourne.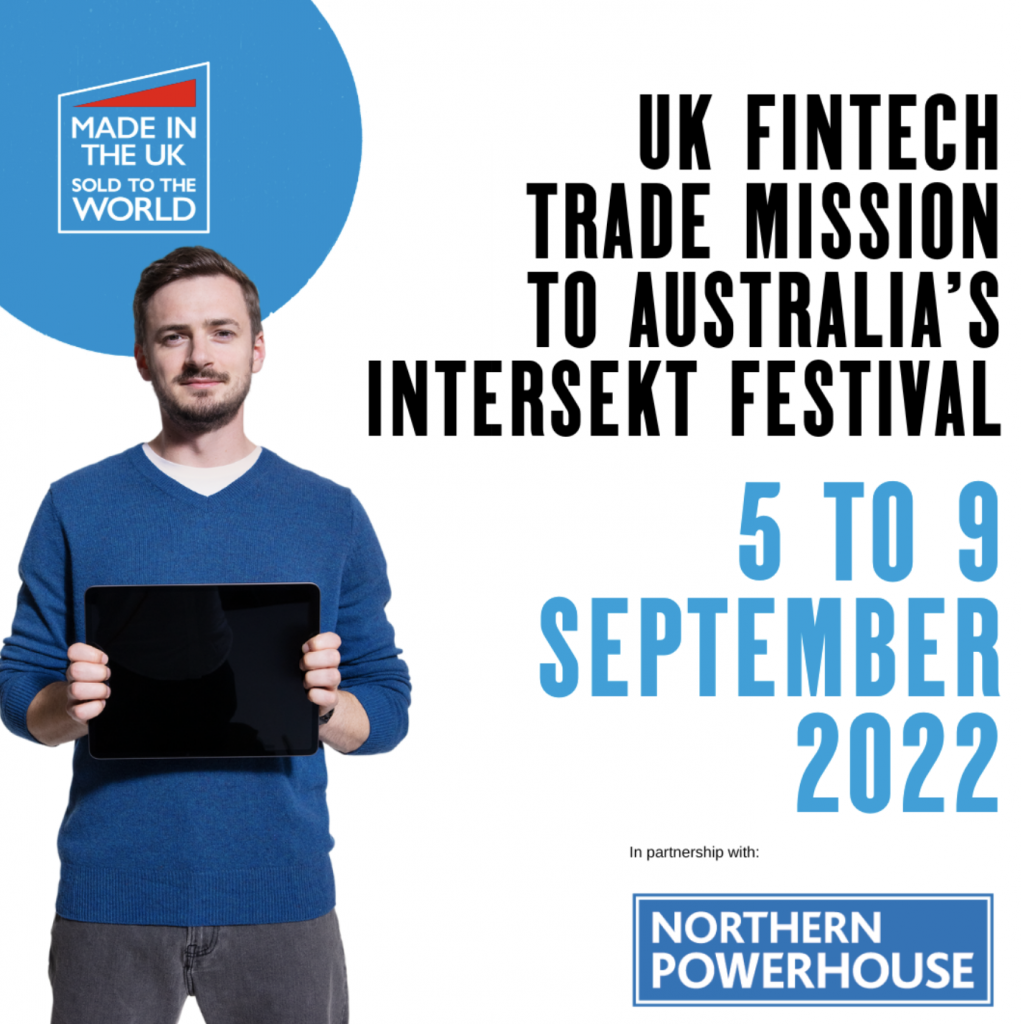 This programme is offering companies further activities surrounding the Intersekt festival, including a visit to Sydney, with pitching opportunities, market briefings and networking events.
Applications are open to Northern Powerhouse FinTech, Wealthtech, Insurtech, Regtech and Legaltech companies with technology solutions for the financial services sector and who have identified a go-to-market strategy for Australia.
More information & how to register:
Mission Leader: Colin.Russell@trade.gov.uk
Cost to participate: £99 + VAT
Registration is an expression of interest only. Registrations close 8 July when all applications will then be reviewed. If selected to join the mission, registrants will be invited to pay the mission fee to confirm their place.
You can find out more information on the registration page here, including what is included within the fee.
Synergies and interest in the Australian market is strong amongst the FinTechs in our community, so we're delighted to be working again with DIT on the back of successful virtual mission activity in 2021.
If you have any questions regarding the mission, please reach out to FinTech North or our colleague at DIT Colin Russell.
Click to express your interest today. Applications close 8 July.
https://eu.eventscloud.com/website/8519/&reference=yhlin
---
Share this article...