Leeds FinTech Day – Event Round Up
FinTech North / 3rd May 2019
---
Leeds FinTech Day was a collaboration between FinTech North, Nexus, and Leeds University Business School and took place on 3rd May 2019 at the new Nexus Building at University of Leeds.
The event was one of approximately 35 held around the UK as part of UK FinTech Week, and was also part of Leeds Digital Festival, which ran over 250 events this year. Leeds FinTech Day was the only event to be part of both of these initiatives.
Welcome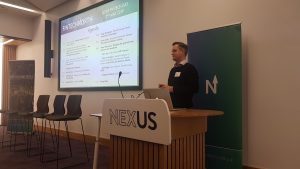 Julian Wells, Director, FinTech North kicked off the event by welcoming attendees and telling us about the upcoming events FinTech North is running – including the Leeds conference on 23rd May.
Chelsea Hardy, Engagement manager, Nexus – University of Leeds was next up to tell us about Nexus at the University of Leeds. The state of the art building is an innovation space for projects that bring together the university and industry.
Nexus is all about bridging business and academia – Chelsea Hardy.
John Smith, University of Leeds
John provided an overview of the projects the University of Leeds is involved in, particularly the business school. He told us of the research excellence within the university and how academics and research specialists are becoming more and more collaborative with industry.
John then told us about the Financial Technology Masters course that the University of Leeds is launching this year. This course brings together knowledge from the business school, school of computing, school of mathematics, ethics and more.
Leeds has a lot going on terms of commercial activity and fintech is a big part of that. So we are bringing together our resources to produce industry experts that can plug into the sector – John Smith.
For those wanting to find out more about the FinTech Masters, go to: business.leeds.ac.uk/fintech.
Chris Sier, Chairman, FinTech North
Chris Sier was next up to discuss the opportunities arising from Universities moving into the FinTech sector by providing not just skills and resources but added R&D to an already innovative and fast-moving sector.
Chris also told us about the recent collaboration announcement between Innovate Finance, Fintech Scotland and FinTech North, called The National Fintech Network. This collaboration will look to will encourage innovators up and down the country to connect and form multiple FinTech hubs and centres of excellence. More information on the Fintech National Network can be found here. Other announcements during UK FinTech Week included the development of Innovate Finance's FinTech for Schools initiative and also the launch of its FinTech Jobs Board. Additionally, the launch of the FinTech Alliance was announced by the Chancellor.
Overall, there is an increased focus being placed on FinTech on a national basis, not just London, which is a positive development and will help the cities and regions of the UK to prosper and develop over the coming months and years.
A collaborative effort across the nation is a great way to showcase the regional strengths in FinTech. – Chris Sier.
Chris identified how recent international missions to the North, ran by the Department of International trade, have shown that the northern powerhouse can hold itself as an international target for fintech opportunities and collaboration. In effect, the north has created a FinTech Bridge with various European countries, especially those in the Nordic and Baltic region.
Regional FinTech Showcase
The event then moved into a showcase predominantly made up of Leeds -based FinTechs.
First direct
Nick Harrison, Commercial Director, first direct was first up in the showcase to tell us about the focus on service and innovation that first direct has pioneered.
first direct was the first bank to have internet banking, and the first to launch a mobile banking app.
Nick told us about their partnership with Banking-as-a-service fintech, Bud, and how that has meant they have now extended their service to helping customers choose financial products by looking at the whole market rather than just internal first direct products. The Bud pilot has now concluded and a service will soon be launched into the main first direct banking app.
We are trying to put banking right into the hands of the customers and really help them make the best decisions in their financial lives. – Nick Harrison
first direct has also partnered with PayKey to launch payments directly within social media applications for instant messaging. This allows customers to pay others without coming out of their messaging apps.
White Label Crowdfunding
White Label Crowdfunding is a Leeds based FinTech that builds white label P2P platforms (it is also the co-founder of FinTech North). The platform can deliver P2P lending as well as equity crowdfunding offerings.
WLCF has an international focus, tapping into talent across the world and serving clients in various countries. Since launch it has built 12 platforms for organisations around the world.
UOWN
UOWN is a property crowdfunding platform that aims to help 'Generation rent' get onto the property ladder by allowing individuals to buy shares in properties from as little as £1. The onboarding and investing process can be done in less than 5 minutes. Investors then receive returns which on new property developments can equate to a 15% return on investment in less than year.
UOWN is not only based in the north, but focused on the north for its property selection and is partnered with Parklane Group (also based in Leeds).
Sandstone Technology
Sandstone is a 22 year old Australian fintech that has also been established in Leeds for the last 15 years.
Sandstone has three main focus areas: deposit account opening and digital banking; loan origination; and automation backed up by AI and machine learning. Sandstone customers include tier one banks in Australia, as well as challenger banks and building societies in the UK, and clients as far afield as Papua New Guinea and Vietnam.
Sandstone's most recent product, DiVA, automates document processing using AI-powered OCR and third-party verification interfaces and uses operator feedback to enhance accuracy.
Kevin Duffy, Partnerships & Relationships manager, The Chartered Banker Institute.
Kevin told us about the Chartered Banker Institute, a professional body for bankers in the UK.
The Chartered Banker Institute is nearly 150 years old and has 32,000 active members around the world. It works with more than 100 banks worldwide and has strong relationships with 15 UK universities, including Leeds University Business School. TCBI is also partnering with the new Leeds University FinTech Masters to offer Chartered Banker status to the FinTech course graduates. This will be the first time the Chartered Banker Institute has offered its accreditation to a FinTech course of a UK university.
We see Leeds as a real centre for banking and technology. There is such a correlation between the University's quality of content in banking and finance and its alignment to our own syllabus – Kevin Duffy.
Panel Discussion
The event then moved to a panel discussion chaired by Chelsea Hardy, Engagement Manager, Nexus. Panellists included:
Chris Sier, HM Treasury FinTech Envoy
Nick Edgar, Senior Director – Growth Finance, CYBG
Felix Irresberger – Associate Professor in Financial Technology, Leeds University Business School
Georgina Mitchell, NED|Trustee|Advisor
On technologies with the most potential,
Blockchain for me, is completely changing things. Changing the whole infrastructure of how we build new offerings – Felix Irresberger.
For me, it's not really about new technologies. FinTech and innovation is about new business models. Start with the business process then use the best technology to achieve that. – Chris Sier
On changing financial services,
Financial services is based on three key things: a scalable platform, a personal and responsive offering, and trust. So, it comes down to how you can deliver at scale, and still deliver something personalised. Any tech that can help bring those two together is really valuable for financial services.  – Nick Edgar.
Traditional players in FS, are trying to learn as much as possible. Challengers and Digital only players will push larger players to change. So that's we (CYBG) are being proactive in talking to and learning from younger, more agile FinTechs and also collaborating with them. – Nick Edgar.
On FinTech adoption,
Not all of financial services understands FinTech. So you need to factor in the financial education aspect. This is relevant for consumers too, just because you are excited about something it doesn't mean it will get easily adopted. – Georgina Mitchell.
The FinTech North Leeds Conference is on 23rd May and is a full-day multi-stream event covering content across: funding, RegTech, MortgageTech, diversity and open Banking. See the agenda here.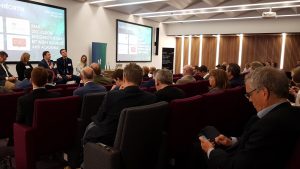 ---
Share this article...