Manchester Forum 7/6/19: FinTech Skills
julian / 7th June 2019
---
The latest FinTech North seminar to take place in Manchester was hosted in partnership with Manchester Metropolitan University and focused on FinTech skills, and the challenge of how universities and businesses can work together more effectively.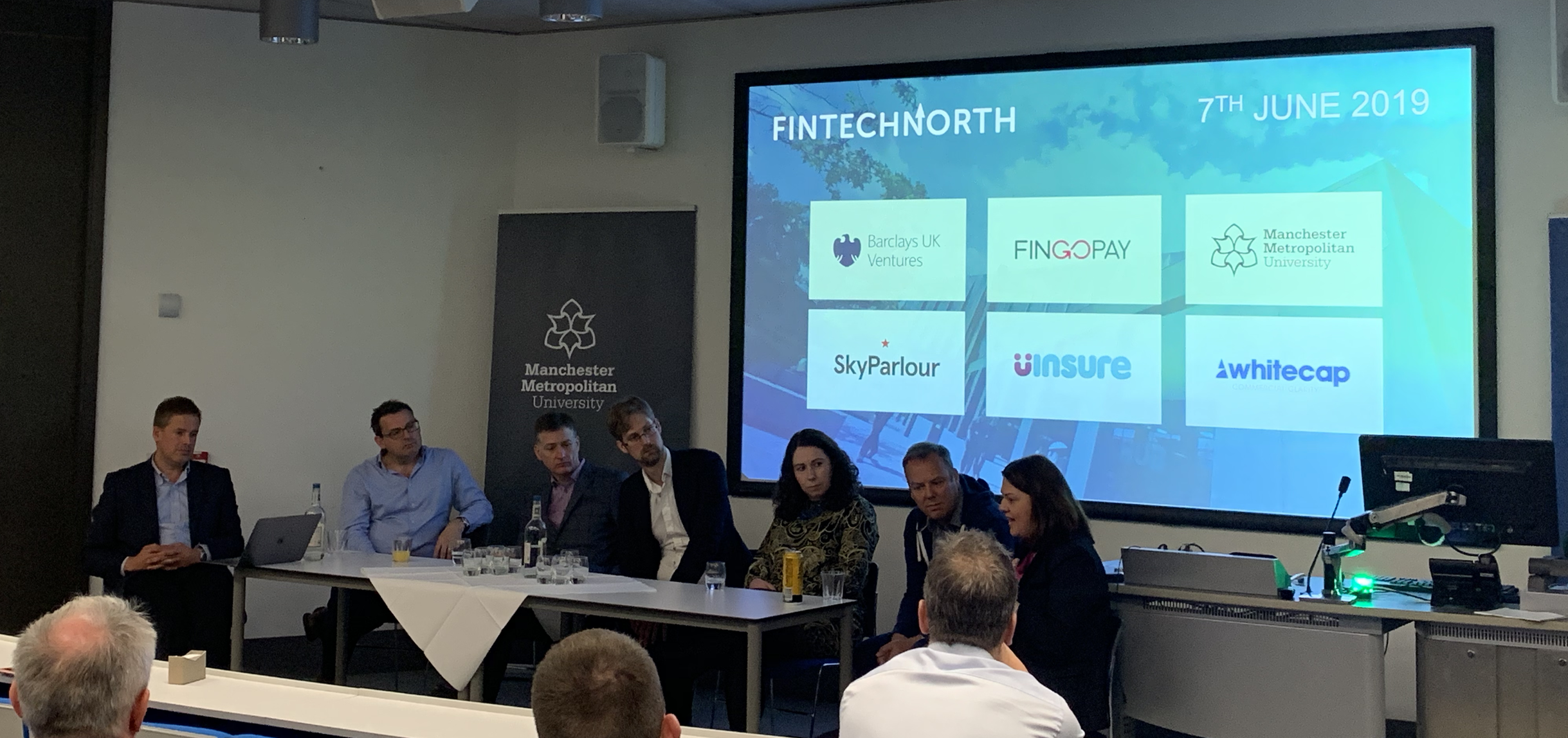 Luke Freeman, who heads Whitecap Consulting's Manchester office, opened the event by welcoming the audience and explaining Whitecap's role as the co-founder of FinTech North.
Luke highlighted the three characteristics that are typically observed in FinTech innovators: ambition, belief, and commitment.
Regional & National FinTech
Julian Wells, director of FinTech North, gave a short update on regional and national Fintech developments, including referencing the recent "UK FinTech State of the Nation" report which was published by Department for International Trade and Innovate Finance. The report found there to be over 1600 FinTech firms in the UK, with 76,500 people working in the sector. The number of firms is set to double by 2030, during which time the number of FinTech jobs is expected to rise to 105,500.
Manchester Metropolitan's MSc in Financial Technology
Anna Egan, who is a Reader at Manchester Metropolitan, presented the university's FinTech Masters programme, which has a fascinating syllabus spanning three key pillars of technology, risk and analytics, and business development and management. The pillar approach to the MSc FinTech course is designed to give students a full outlook on a career in the rapidly developing FinTech sector, ranging from tech skills to management practices.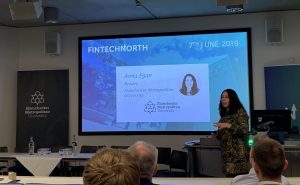 Manchester Metropolitan's MSc in Financial Technology was first launched 20 months ago, and is an example of how the university is developing professional programmes to fit market demand. Manchester Metropolitan was the first university to establish a post-graduate FinTech programme.
Moving forward, Manchester Metropolitan will be offering a blended and flexible approach for students who don't want to do the full programme, which will enable people who are working in businesses and international students to participate.
Barclays Ventures – disrupting from within
Our next speaker was Darren Earnshaw of Barclays Ventures, who has spoken at several previous FinTech North events. Established in April 2018, Barclays Ventures operates within the bank with a remit to be a disruptor in the same way FinTech start-ups aim to innovate and disrupt banking.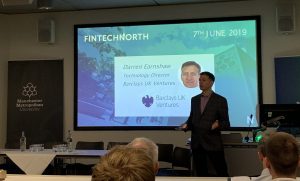 As well as products, services and technology, this also includes the growing network of Barclays Eagle Labs, which now extends to 23 locations around the UK, including Manchester, Liverpool, Leeds, Sheffield and Newcastle in the north. The Eagle Labs are now home to over 500 businesses and more than 1500 co-workers.
Darren explained that the business recruits on potential rather than experience. His advice to FinTechs is to be adaptable, focus on the customer, continually test their propositions and to learn from the insight this provides.
The need for FinTech skills
Niels Pedersen leads Manchester Metropolitan's FinTech Masters course, and is a regular attendee at FinTech North events, along with many of his students.
In his session, Niels explained that a combination of stagnant productivity, and ageing population, increasing automation, and a shortage of STEM skills was leading to an increasing importance being placed on developments such as FinTech, which was leading to a demand for a workforce with appropriate skills.
Niels gave the audience the advice he gives to his students… in order to stay relevant in your field, you should combine your personal interest with technology.
Niels explained that although many things can be automated or improved with technology, there is always a demand for the right underlying skills in the workforce. He illustrated this point with a quote from McKinsey:
"The hardest activities to automate…are those that involve managing and developing people or that apply expertise to decision making, planning, or creative work."
Uinsure: Disrupting the home insurance sector
The first of two presentations from Manchester-based FinTechs came from David Smith, Chief Innovation Officer at Uinsure, an InsurTech business that is making the process of taking out home insurance an easier and more efficient journey for all involved.
Uinsure provides a single policy wording for multiple insurers and works with many major FS brands and also numerous Fintech innovators, with an active programme of open API integrations helping it to collaborate with brokers, lenders, other third parities.
The date Uinsure has been responsible for £83bn of insurance cover, and £1.7bn of buildings and contents cover. The firm has issued 2.25m quotes and is the fastest growing InsurTech in the north of UK.
On the subject of skills and recruitment, David told us that the approach is very people led. The firm is still small enough that a critical part of the process is meeting candidates in a social environment to ensure cultural fit.
Fingopay – secure payments via vein technology
Fingopay is an exciting recent addition to the local FinTech scene, as Manchester has been chosen as its global launch city. Manchester City's Etihad Stadium was the first major venue in the city to offer Fingopay and a rollout programme to other venues is now underway.
Simon Binns, Chief Commercial Officer, explained that Fingopay allows consumers to identify themselves and pay using their finger at retail points of sale, enabling them to link to their payment cards to prove identity and pay with no need for PINs or passwords.
Vein ID technology can offer a highly secure payments solution. In Copenhagen, Fingopay has 2500 users who have completed over 24k transactions, with zero known fraud to date.
Fingopay is working with Manchester Metropolitan on multiple fronts and also aspires to roll out its payments technology on the campus.
Panel discussion
For the panel discussion, the speakers were joined by Angela Yore of Sky Parlour, a PR agency with a strong involvement in the UK and international payments sector. Angela had been in Amsterdam this week for the Money 2020 conference, one of the key global FinTech events.
The panel was chaired by Stefan Haase, director of Whitecap Consulting, and a wide range of topics were covered including the importance of businesses, universities and other stakeholders working together on the skills agenda.
Adaptability was a big discussion point, and it was noted that larger companies are now putting more emphasis on diversity and inclusion.
"Preparing students for the realities of modern working life is a big challenge, but there's also a challenge for people already in work to adapt and develop their skills and experience." – Angela Yore, Sky Parlour
"We are entering an era where the notion of a career is changing. FinTech draws on many different skills and does not lend itself to a linear career where you progress up the ladder in your chosen field. Things have to change." – Simon Binns, Fingopay
"We're talking-to employers and asking them about their future aspirations and those of future graduates, and how this can become more aligned. Things like mentoring and reverse mentoring are a key part of this." – Anna Egan, Manchester Metropolitan
The next FinTech North event in Manchester will be on Friday 13th September at RSM, where the focus will be on FraudTech and Financial Crime: Sign up here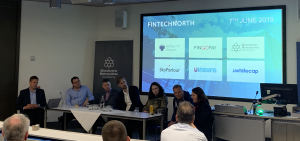 ---
Share this article...