Re-watch & Re-cap: FinTech North Blockchain Forum 23/10
Joe Roche / 23rd October 2020
---
On the 23rd October the FinTech North Community came together virtually to discuss Blockchain applications and use-cases at our 3rd annual Blockchain Forum, supported by global law firm Squire Patton Boggs.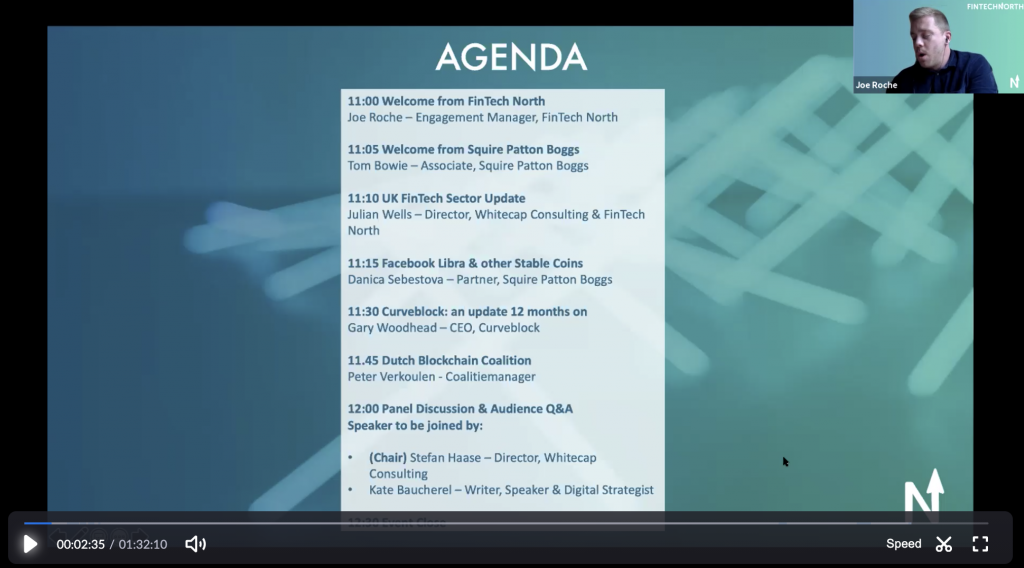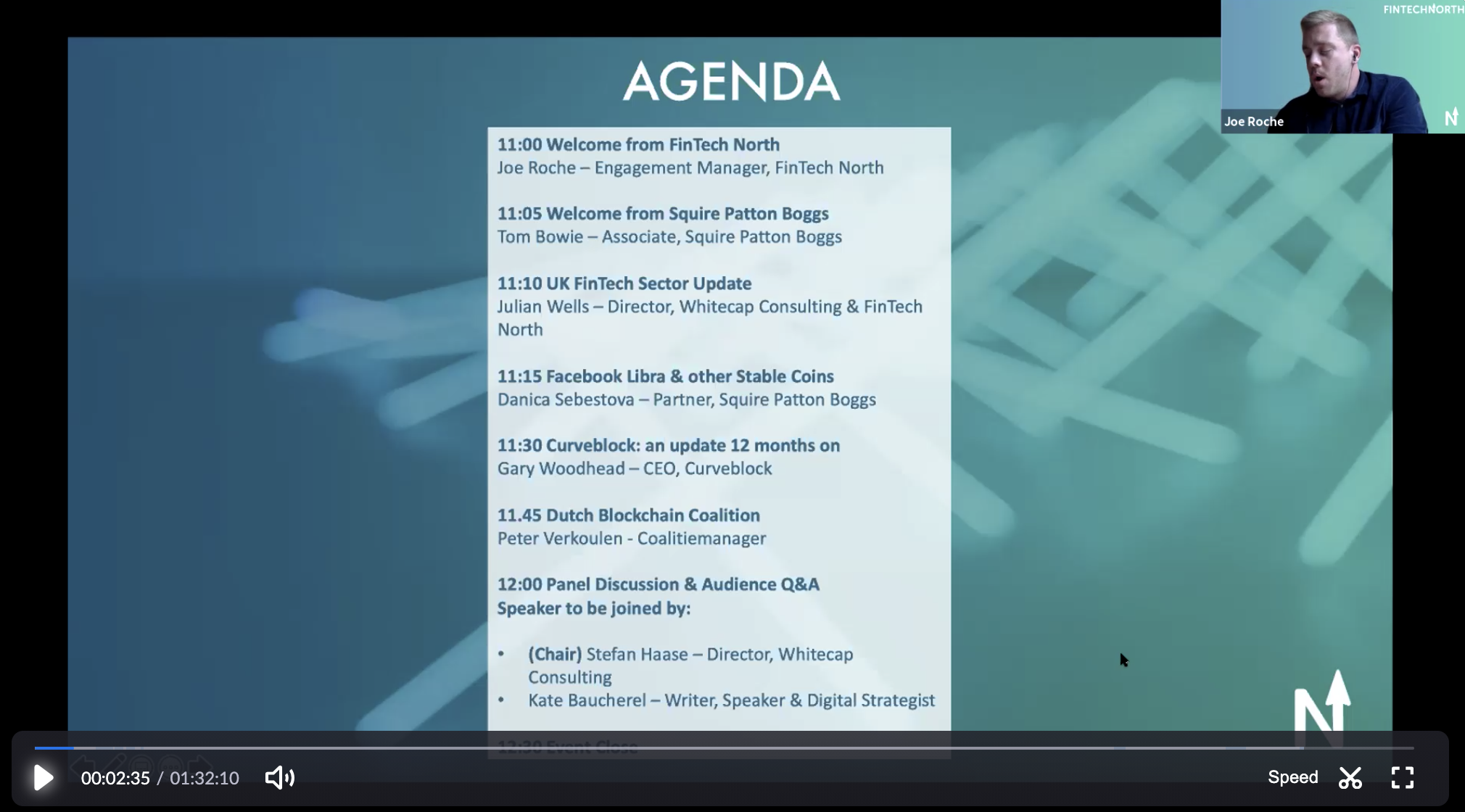 Returning to Blockchain in 2020 allowed us to look back at our previous year's events and to reflect on how things have progressed.
Joe Roche, Engagement Manager at FinTech North, and Tom Bowie, Associate at Squire Patton Boggs, welcomed people to the event before handing over to Julian Wells, Director at Whitecap Consulting and FinTech North, to provide a FinTech Sector Update.
Danica Sebestova, Partner at Squire Patton Boggs, then provided an update on Facebook Libra recent strategy and gave us an in-depth analysis of other stable coins, including JPM Coin and Utility Settlement Coin. Danica's three take-away points were:
We should see issuance of CBDC's by central banks within 5 years
CBDC's will likely run on Distributed Ledger Technology, hopefully Blockchain
Let's plan new business models, taking into account this revolutionary technology
Gary Woodhead, CEO at Leeds-based FinTech Curveblock, then reflected upon a challenging but successful 12 months for Curveblock. Curveblock first spoke publicly at our 2019 Blockchain Forum and have now been through both the Natwest and Silicon Valley accelerators. Curveblock are disrupting the property investment market with ethical blockchain-enabled real estate investment platform, which is open to everyone.
Next, we heard from Peter Verkoulen, Coalition Manager of the Dutch Blockchain Coalition. Peter provided a fascinating overview of blockchain use-cases, including some awesome blockchain-for-good examples.
Stefan Haase, Director at Whitecap Consulting, then gathered our speakers for an interactive audience Q&A and panel discussion.
Our panel was joined by Kate Baucherel. Kate is a writer, speaker and digital strategist who specialises in the application of blockchain and cryptocurrency, and writes not only about blockchain, but also authors the SimCavalier series of near future, high tech cybercrime sci-fi.
Our Q&A was a lively one, as it tends to be when we are discussing Blockchain, and included some excellent contributions  from the Northern FinTech Community.
To re-cap and re-watch the webinar, including the Q&A, please click the screenshot above or click here.
---
Share this article...