The Open Banking Summit: Write-up
FinTech North / 11th May 2023
---
On the 4th of May, FinTech North welcomed over 90 delegates from across the Northern FinTech community to Bruntwood SciTech's No.1 Circle Square facility in Central Manchester for our Open Banking Summit, co-hosted with Open Banking Excellence.
We'd like to say a huge thank-you to all our amazing speakers for their contribution and to the attendees who turned out in numbers!
For those unable to make it on the day, FinTech North have produced a write-up for you to read: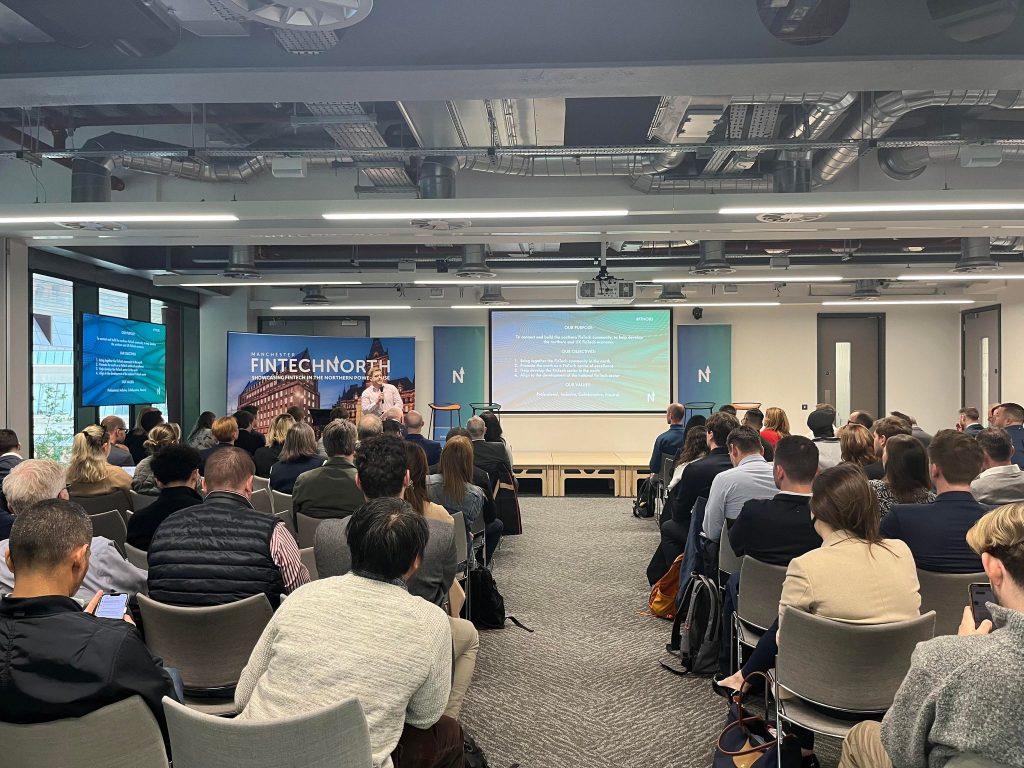 Joe Roche, Engagement Manager of FinTech North welcomed delegates to the event, before promptly passing over to Scot Furness, Business Growth Manager of Bruntwood SciTech to welcome guests once more, and to introduce their No.1 Circle Square facility.
Joe Roche then introduced FinTech North; providing an overview of our objectives, our impact in the sector and our recent events, before highlighting an upcoming opportunity to take part in a FinTech trade mission to Australia and our FinTech marketplace, developed in partnership with NayaOne.
James Kind, Growth Manager of co-hosts Open Banking Excellence (OBE) then said a few words, outlining their work and what's coming next for OBE.
Our first speaker, Julian Wells, Director, Financial Services & FinTech Lead of Whitecap Consulting then set the scene and walked the attendees through their latest report into Greater Manchester's FinTech ecosystem, with key findings such as:
Expected to contribute £1 billion to the local economy in 2023.
FinTech sector employs over 10,000 people.
Core strengths in payments, lending, WealthTech and accounting.
Our first keynote was delivered by Marion King, Chair and Trustee of the Open Banking Implementation Entity. Marion provided an update on OBIE, the impact of Open Banking, where we are currently and what the future holds.
Marion began by touching on Manchester's FinTech ecosystem as a whole, "Manchester has become a real hub for FinTech innovation. This has helped to make it the second-largest tech cluster in the UK, demonstrating the economic benefits open banking is delivering in the UK."
She continued – "Why am I doing this? – Open Banking is a gamechanger. It's an absolute gamechanger – and to be a part of it is a privilege."
MK: "OBIE is now implemented and it's now becoming OBL (Open Banking Limited), a new entity designed for facilitating the ecosystem."
MK: "Open Banking has over 7.5 million users every month. £940 million being transacted. Last year, revenues nearly doubled through revenues generated via Open Banking. This is not going away."
MK: "18 other national jurisdictions planning and implementing Open Banking. This is not unique to the UK. However, many are looking at what the UK has done – to emulate our standards. That is credit to the CM9 and credit to all of you in the room."
Marion then provided her thoughts and insights of what the next 12 months may hold as the recommendations of the JROC report are implemented. She outlined the 5 themes:
Levelling up
Mitigating the risk of Financial Crime
Consumer Protection
Information flow
Promoting a driving more use cases for Open Banking.
MK: "I was really impressed because the report covered all the pain points, things that aren't working well and highlighted what is currently limiting FinTech's."
MK: "All of those 5 themes must be delivered in the next 2 years. So, we've got a lot of work to do."
MK: "My first priority is to protect what we have. My second priority is to crack on with that timeline and the recommendation from the JROC report. Delivery, timeline, consultation…"
MK: "Collaboration – truly working together, as if we all work for UK PLC. In terms of getting this delivered, we must work as one. It has to be ubiquitous."
MK: "The vision of the government is to have an economy of smart data. The first step was Open Banking, Open Finance is the next step. I'm going to be working to partner with trade associations, trade bodies, government departments, pro-active, energised third-party providers, banks. This is all about networking and implementing plans that we can all contribute to."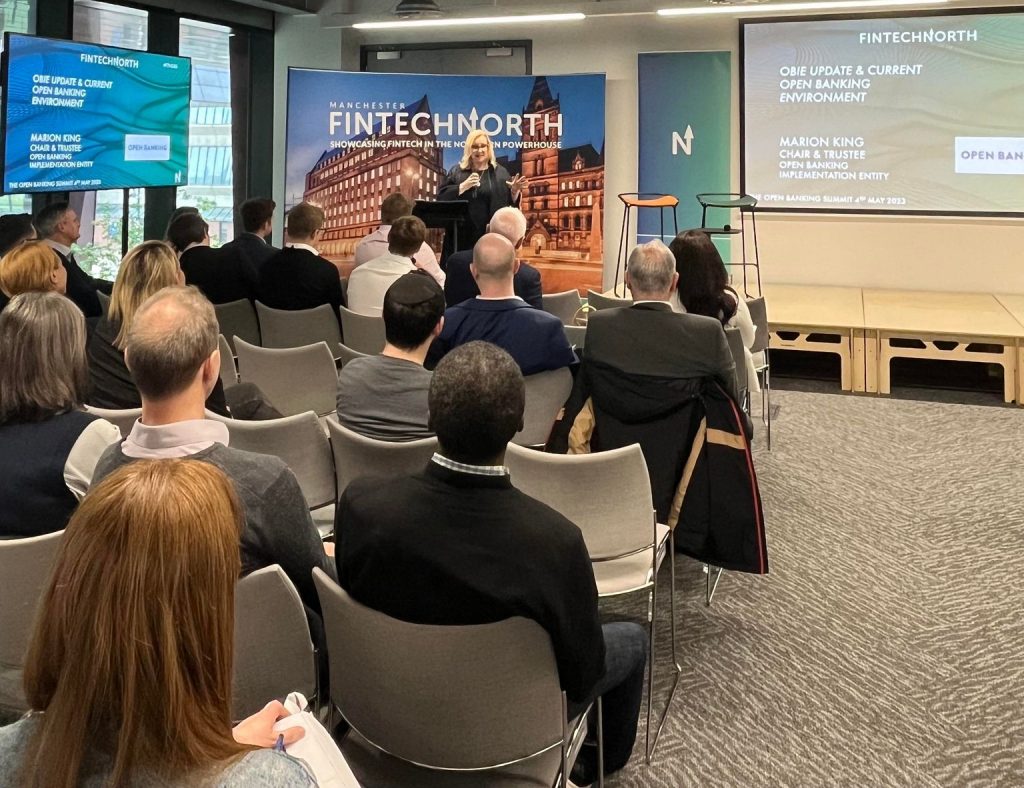 This flowed nicely into our first panel discussion of the day, titled 'The Evolution of Open Banking', chaired by Julian Wells, Director, Financial Services and FinTech Lead, Whitecap Consulting; featuring Gavin Littlejohn, Partner, Potion; Lauren Langton, Head of Advocacy, incuto; Marion King, Chair and Trustee, Open Banking Implementation Entity and David Hendry, CMO, Freedom Finance.
The panel covered themes such as Financial Inclusion, Credit Affordability, JROC, 'levelling up', data and more.
The discussion began with Lauren Langton discussing credit affordability, credit unions and how Open Banking is transforming this landscape – "The credit union market and customers are changing; the banks have constricted lending so there are a lot of near-prime customers. Mainstream lenders are unable to lend to them because there's no profit or circumstances don't fit what they need." 
David Hendry followed up on the theme of tackling financial inclusion; "There is a bias towards age, ethnicity and health – this makes it hard to get a good credit file." 
DH: "To anyone involved in lending – we need to drive forward and include this data for all people. Don't use the data to be exclusive.
Gavin Littlejohn expanded; "Traditional credit scoring would look at the metrics of their previous credit behaviour and not at their current affordability."
GL: "Being able to categorise income distribution into credit repayments, economic needs, economic wants and allocation to savings, through Open Banking, enables the lender to have a better view and increase fairness."
GL: "There are some high street banks that use Open Banking to build an affordability score in their lending process. The value is that it enables them to safely lend to a higher proportion of their existing customers, increasing financial inclusion"
MK: "Being able to draw on a broader set of data on financial crime and risks to lending. The reasons banks don't lend is risk, so we need to start to reduce the risk to draw confidence from data across a broader set, you get a much safer lending and banking system."
Before the lunch break, we welcomed Jack Jones, Co-Head of FinTech at the Department for International Trade, who spoke about the UK FinTech Census – which is set to reach all 2,500 FinTech firms in the UK, asking for feedback on the challenges they face, the support they need and the international markets they would like to break into. You can fill this out here.
After a lunch and networking break, we welcomed Andy Sacre, Head of Payments at Monzo to the stage. Andy talked us through Monzo's new Open Banking offering, the importance of customer experience and VRPs.
AS: "VRPs are the way you can move money from your own accounts over FPS (sweeping). The customer journey you build on top of this is really the most exciting bit."
AS: "If we can make it easier and less friction – that's what customers want. But they also want safety."
AS: "When HMRC did it for tax and AMEX did it for paying off credit cards, that's when the TFL moment happened for Open Banking."
Next up, was our second panel discussion of the day – 'VRPs and Beyond; The Future of Open Banking', chaired by Angela Yore, Founder, SkyParlour; Andy Sacre, Head of Payments, Monzo and Lynsey Hunt, Head of PayIt, NatWest.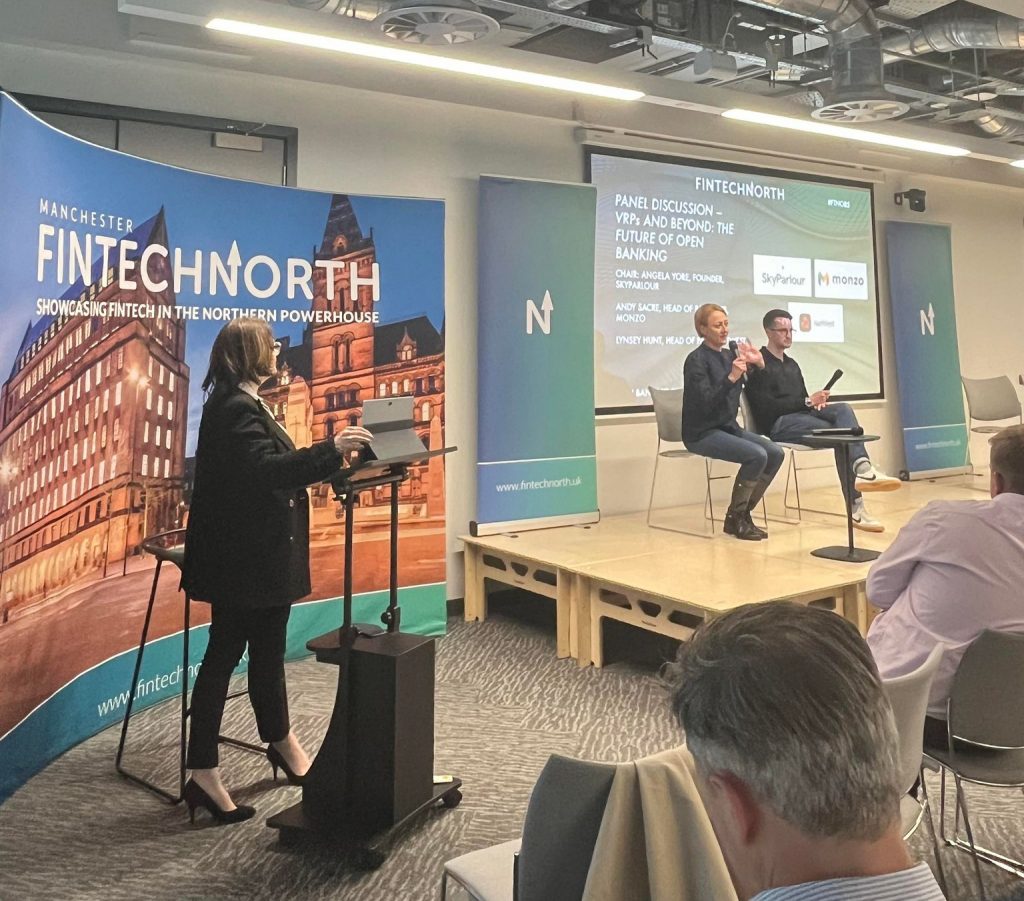 The panel covered themes such as VRPs, how JROC is handling them, breaking through inertia and getting the banks on board.
Lynsey Hunt opened by defining what VRP is, and the difference between sweeping and non-sweeping: "VRPs are setting up the consent for someone to move money on your behalf. The non-sweeping version is me to you. It moves into the retailer space; I pay you for a service and moves into a direct debit. I pay off my credit card every month and once I set up that consent it's very quick and easy.
 The panel discussed what needs to happen for VRP to break through the inertia:
LH: "We need to get the payers to understand the benefits. Customers get to see their bank balance before they make a payment, and it won't allow them to go into an unarranged overdraft. There's more to be done about education." 
AS: "We need to be careful about sharing data with regards to fraud and APPs scams." 
AS: "VRP / Non-sweeping will not take off with its current name. Lots of TPPs are offering different products, but there's no consistency. We need to mutually agree on its branding."
Our final keynote was delivered by Gavin Littlejohn, Partner of Potion – who covered Global Open Finance, discussing themes such as data, regulation, the Open Finance landscape and its future!
GL: "GDPR and PSD2 were developed at the same time in the EU, establishing a customer's rights in their data and how it can be used. Unfortunately these legislative developments did not align on some key aspects, such as the liability framework, the role of consent, and the level of customer control."
GL: "Other markets outside the UK and EU that have developed Open Finance policies have gone beyond PSD2 data scope, which enables a regulated third party to access payments data. India, Brazil and Australia have developed far reaching policies to enable the customer to consent and then port their data from other financial and sometimes non-financial sectors to a third party provider. This will support competition, innovation and drive better customer outcomes"
Our final segment of the day was our 'Open Banking Showcase', which welcomed 7 FinTech's who utilise Open Banking as part of their proposition to the stage to share their innovative offering. Check them out by clicking the link on their company name. We were delighted to hear from:
Lenvi – delivered by Zoe Heron, Business Consultant and Emily Turner, Head of Partnerships
Lenvi's highly configurable and cloud native platform has open & customisable UIs, API and workflow alongside significant functional enhancements including open banking, consumer duty ready compliance support and more.
Earthchain – delivered by Dan Graf, Founder
Earthchain's Carbon Intelligence Platform integrates climate impact experiences into your products and services so that you can become the catalyst to change.
Answer Pay – delivered by Ismail Bhana, Head of Engineering
Answer Pay's certified PaaS platform connects banks and payment service providers to the Request to Pay ecosystem for secure bill payments.
Incuto – delivered by Andrew Rabbitt, CEO and Co-Founder
Incuto enables credit unions and community lenders to grow their businesses and transform into true challenger banks.
AGAM International – delivered by Shabnam Wazed, Founder and CEO
AGAM is an AI driven digital SaaS platform connecting individual and businesses to banks, NBFIs and MFIs to enable instant access to finance.
Credit Canary – delivered by Jim Fell, CEO and Founder
Credit Canary reduces default rates by warning lenders early in real time of credit delinquency.
Tell Money – delivered by Rob France, Chief Commercial Officer
Their services enable account providers to:

Enter the ecosystem with a compliant interface at pace with simplicity
Deliver mandatory and premium APIs.
Deploy innovative tools for customers, harnessing the power of Open Banking.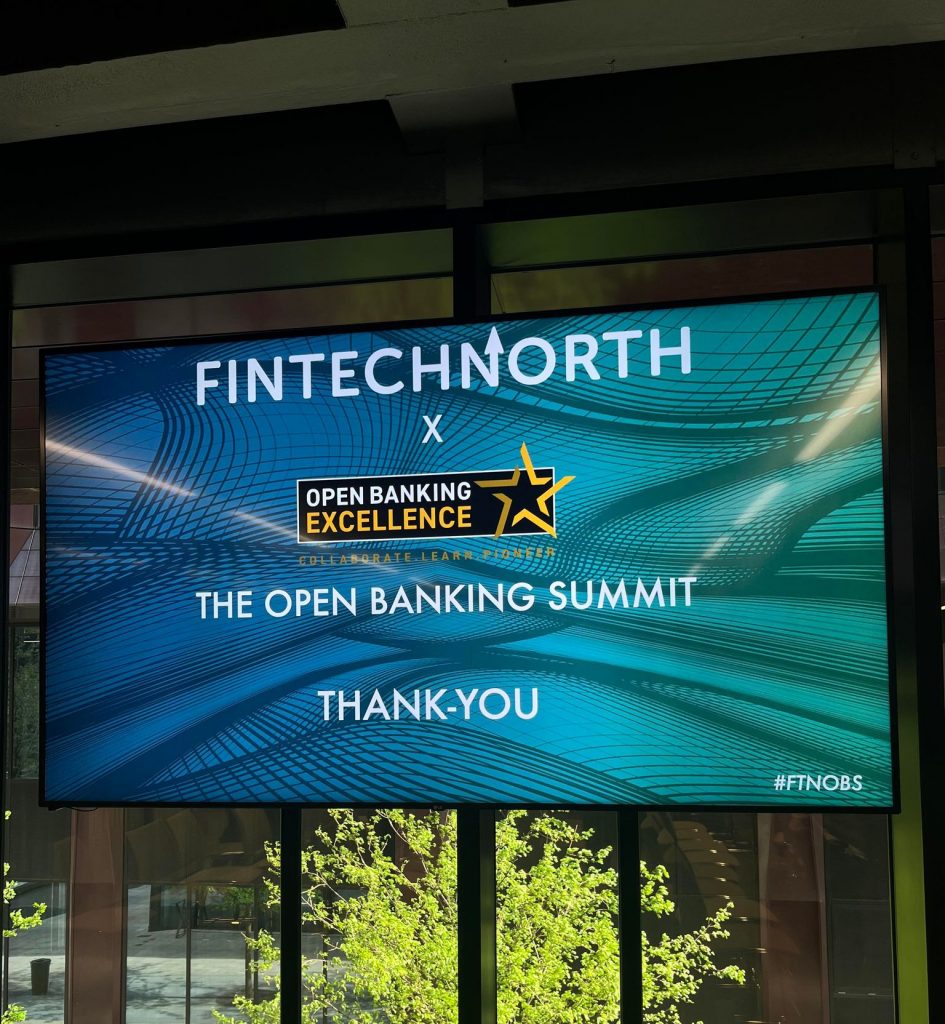 Julian Wells briefly mentioned Whitecap Consulting's upcoming report into opportunities in Open Banking and Open Finance for small businesses, before allowing Joe Roche to close proceedings on FinTech North's 106th event to date!
A huge thank-you to our co-hosts Open Banking Excellence, our amazing speaker line-up for their contribution and to you, our community, for turning out to join us once again.
---
Share this article...