FinTech North Community Survey Findings 2022
FinTech North / 31st March 2022
---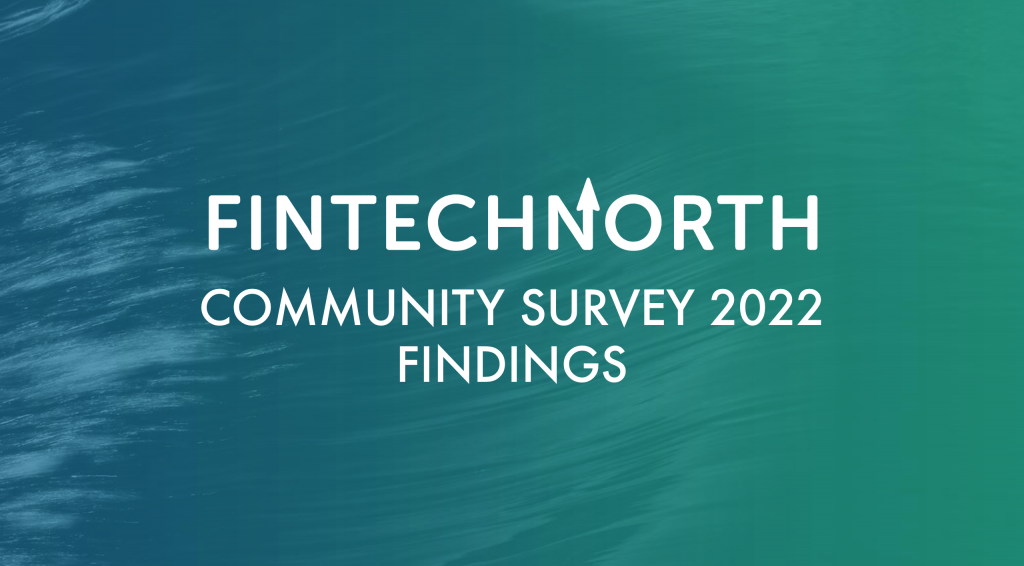 Since our foundation in 2016 FinTech North has been the focal point for FinTech in the Northern Powerhouse, regularly supporting entrepreneurs at all stages of the FinTech life-cycle with relevant connections and business development opportunities.
In 2021, FinTech North continued to adapt. We held 16 events throughout the year, including many a virtual events before our return to face-to-face networking in the form of our hybrid Manchester conference. Sign-ups throughout the year across all of our events totalled 2,480 altogether. This manifests that despite a year of adaptation and challenges for FinTech North, we had brilliant engagement and continued support from the Northern FinTech network.
As a facilitator for the development of the Northern FinTech sector, the community is at the heart of our every move. To ensure we continue to work in a way that appeals most to our purpose and the best interest of the FinTech North community – we released a survey in an attempt to quantify our impact and hear your thoughts.
We're now delighted to share the key findings of this with you; which can be found below:
A big-thank you to all the participants of the survey, it's very valuable for us as an organisation to help inform strategy and understand our community better.
Congratulations to Jonathan Harris – who was selected as the winner for our prize draw. He walks away with a £50 voucher!
Respondent Profile
 Respondents hailed from a wide range of sectors but mainly; the Professional Services sector (31.2%), with 26% FinTech representatives and 20% representing the Technology sector.
There was a good level of senior engagement; 31% of respondents were directors, 10% were CEOs and 17% were founders.
Engagement with FinTech North
Most respondents (80%) attended more than 5 FinTech North events in the last year. 32% of respondents attended between 5-10 events – this was the largest segment. 18% attended more than 10.
Most respondents claim they see FinTech North primarily as "an organisation that delivers interesting FinTech events" (82%), followed by "a source of connections and introductions (64%) with "A source of insight and knowledge" and "an organisation that represents the Northern FinTech community tying on (58%).
Networking continues to be the most valued aspect of FinTech North events by respondents, followed by "Enhancing people's knowledge of FinTech" and "keeping people up to date with FinTech developments". "Career development" was regarded as the least valuable.
Respondents are very likely to recommend FinTech North, reflected in a strong NPS score of 59. In comparison to our last community survey findings from 2019-2020, this has increased from a score of 42.
Webinars / Hybrid events were the most favoured event format (62%) amongst respondents, followed by roundtables (54%) and evening social / networking events (52%). Full day conferences and breakfast seminars hold good interest (48% and 50% respectively).
Industry Perspectives
57% of respondents believe the Kalifa Review aligns well with UK FinTech as a sector. 47% believe it aligns well with Northern FinTech and 38% with themselves and/or their business.
Respondents were asked which findings from the Kalifa review were most relevant to them. Some pertinent points that came up included; Breadth of agenda items, support for start-ups, international marketing, national connectivity, co-ordinated regulatory policies, scale-box initiative and open banking adoption
We asked respondents for their views on the current regulation for FinTech, which generated comments relating to the challenge of complexity for smaller organisations and the difficulties of regulation evolving in line with the pace of development of new technologies and innovation.
Channels of Communication and Engagement
LinkedIn and mailing list were the most popular communication channels between FinTech North and the community (64% and 58% respectively).
Watching live was the most frequent method of participation to FinTech North events (50%).  25% of respondents watch the recordings, 24% read the write-up on our website and the other 24% answered all of the above. These answers are not necessarily exclusive and exhaustive of each other.
Most respondents use the FinTech North website to register for events (60%), to access news and insight (30%) and to read about past events (32%).
Future Developments of FinTech North
The most popular topics of interest at future events were FinTech Collaboration and Partners (68%), followed by a wide range of other themes at similar levels of adoration – Blockchain/Crypto (52%), AI in Financial Services (50%), Future of Payments (50%), Sustainable Finance / ESG (50%), Open Banking and Open Finance (48%), Future of Regulation / Reg-Tech (46%) and Green Finance (46%).
A directory of Northern FinTechs was most favoured as a useful addition to the FinTech North website (72%) by participants, followed by information about FinTech-related incubators and accelerators (50%), links to national FinTech news (48%) and links to other regional FinTech activity – other UK clusters (46%).
Broader industry news was the most requested additional service (58%) by participants, followed by support with access to funding (36%).
We asked respondents about their potential interest in earning CPD points from our events, but it seems that this is not something the community is seeking from FinTech North events.
FinTech North activity in 2022
One of the most significant business issues facing FinTechs in the Northern market (and indeed across Europe) is access to talent. To reflect this, our advisory board strategy sessions have had a focus on talent and skills and driving broader engagement with the academic sector including schools as well as universities and colleges. We hope to eventually provide a FinTech bridge between the academic and private sectors, to increase awareness of the sector, to drive adoption and to ensure as many people as possible can see a career for themselves in FinTech.
We are continuing our work to increase national connectivity within the UK FinTech sector. As part of our role in the FinTech National Network, FinTech North is continuing to have a presence at National FinTech events, raising awareness of Northern FinTech activity. We are also inviting participants from across the national network to take part in our own events.
We are also exploring the creation of an interactive dashboard to better track and quantify the impact FinTech North has on the Northern ecosystems. Watch this space… and if you think you can help with any of this, please reach out!
Furthermore, we're delighted to announce some of our events in the pipeline:
Our Future of Payments conference, in partnership with Discover Global Network, will take place on the 22nd June 2022. The event aims to provide a platform to share ideas, to contextualise Northern FinTech innovation in a global sector, to champion diversity in the sector and feature under-represented founders. We will shine a light on regional FinTech innovation and we will showcase some of the regions brightest and best start-ups and scale-ups.
Also, FinTech North heads to the North East this summer. Introducing our Newcastle Conference taking place on the 14th of July. The FinTech sector in the North East has developed and expanded considerably since we were last in the region, doubtlessly aided by accelerated digital transformation and northern grit and determination. Home to established players such as Sage and Newcastle Strategic Solutions, and innovative FinTech start-ups such as Kani and BottlePay, Newcastle and the North East is fast becoming one of the most exciting FinTech ecosystems in the UK.
We're still developing the agenda for both of these events, and we're looking forward to sharing this with you all soon.
Tickets are now available and accessible via our website and the links below.
Additionally, we're always looking for sponsorship opportunities and for organisations to get involved. If this is something of interest to you, please contact Joe Roche, Engagement Manager at FinTech North (joe@fintechnorth.uk).
---
Share this article...